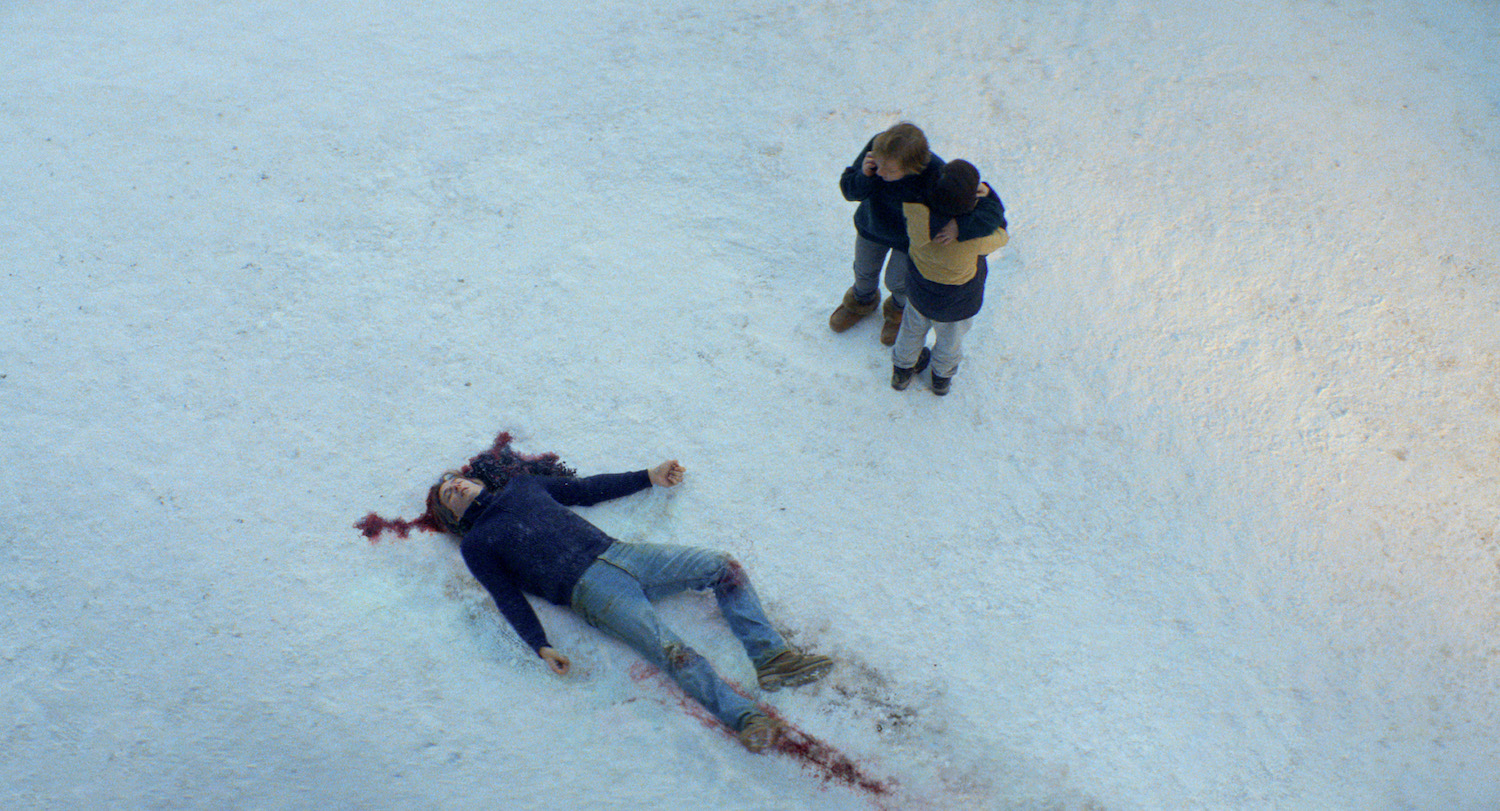 (The Middleburg Film Festival runs October 19-22, 2023 in Middleburg, Virginia. HtN Lead Critic Chris Reed will be providing his usual excellent coverage like this movie review of Anatomy of a Fall. Seen it? Join the conversation with HtN on our Letterboxd Page.)
Winner of the Palme d'Or (top prize) at this year's Cannes Film Festival, Justine Triet's Anatomy of a Fall is a slow burn of a legal thriller, anchored by actress Sandra Hüller's marvelous lead performance. She plays another Sandra—last name Voyter—a successful novelist who, after a fraught opening sequence, quickly becomes the prime suspect in her husband's mysterious death. Suicide, accident, or murder? That is very much the dramatic question.
Triet (Sibyl) is primarily interested in dissecting the way a strong woman is often viewed with suspicion by virtue of her refusal to conform to societal expectations of her. Hüller (Toni Erdmann) imbues the protagonist with both backbone and vulnerability. There's never any doubt that she is guilty of being her own person. As to what happened to her husband, Samuel (Samuel Maleski, Party Girl), you can decide for yourself.
Two other actors stand out, one quite young and the other not human. They are Milo Machado Graner (Stuck Together), as Daniel, the couple's visually impaired son, and the border collie Messi (winner of this year's "Palm Dog" at Cannes for best canine role), who plays the family dog, Snoop. Graner matches Hüller's emotional intensity beat for beat, while Messi proves remarkable in his focus and sensitivity.
Before the shock of Samuel's sudden demise, we never actually see him, though he is present off-screen courtesy of extremely loud music he obnoxiously plays on a loop while Sandra is attempting to give answers to a younger woman interviewing her for a research project. We don't know why he would do this, only that Sandra tries to shrug it off with a laugh, eventually admitting that no, they cannot continue doing the interview, the younger woman leaving with regret. At no point does Sandra ask Samuel to stop.
And then Daniel and Snoop go out for a walk through the snowy Alpine landscapes of France's Savoie region, Daniel's impairment not quite yet registering to the viewer, though he does seem to rely on Snoop's help to make his way along tricky paths. It's beautiful scenery, the sun shining bright. But when they return, tragedy awaits, the same music we heard in the beginning still blaring, blood pooling in the ice and snow.
From there, the movie becomes something of a police and judicial procedural. The latter part proves a little confusing to those used to American courtroom dramas, given that the rules of French justice are clearly a bit different. For that reason alone—assuming that what we are watching is an accurate representation of the system (not that similar American films ever are)—the proceedings hold a certain fascination of the somewhat familiar made less so via translation.
Speaking of translation, that is a key component, given that Sandra is German, her husband was French, and the common language between them was English (Daniel speaks French, though he understands English). In court, Sandra responds to questions posed in French and sometimes answers in that language, though is more comfortable expressing herself in English, her words translated by an interpreter. The film is very much a bilingual experience.
The aggressive misogyny from everyone on the prosecutorial side is breathtaking. It's not Samuel's physical fall that obsesses the State's legal team as much as the metaphorical fall from grace that everyone assumes is Sandra's trajectory. A bisexual woman who cheated on her husband? She must be evil.
Still, no matter the moral venality in the Grenoble courthouse, Triet makes a lot of time for Daniel's sad journey, from passive witness to defender of his mother (even as he misses his father). His exposure to the worst of humanity will break your heart. Even as we wonder, still, did she or didn't she?
It's a fascinating movie that nevertheless ends without quite addressing all the issues it raises. Everyone and every scene are more than watchable—often gripping—yet there's ultimately a narrative vacuum in the conclusion. We realize, as the credits roll, that we were ourselves mere witnesses, rather than participants. We'll remember the experience, but it hasn't marked us as deeply as we hoped it might.
– Christopher Llewellyn Reed (@ChrisReedFilm)
2023 Middleburg Film Festival; Justine Triet; Anatomy of a Fall  movie review