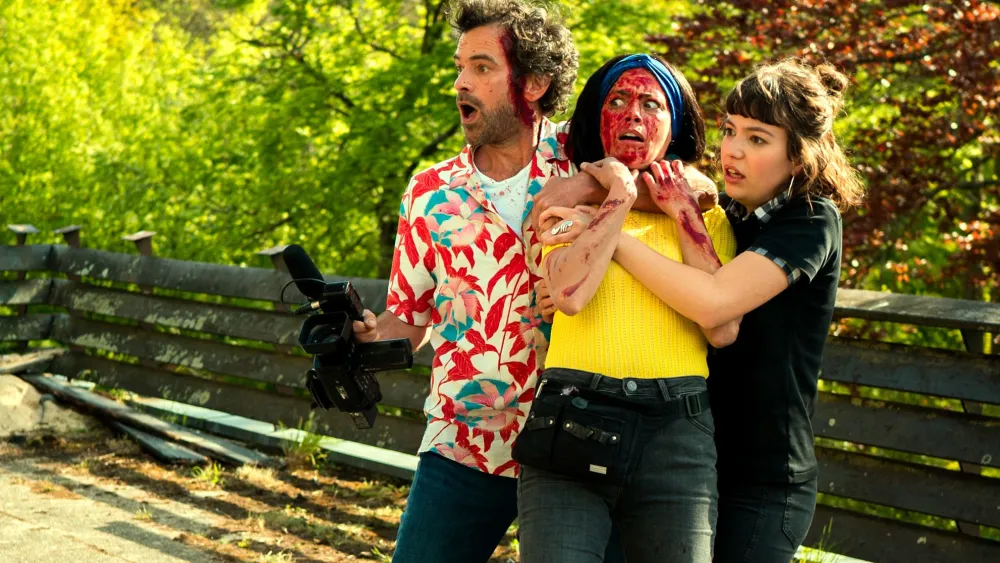 (The 2023 Tribeca Film Festival runs June 7-18 and HtN has a ton of coverage coming like Chris Reed's Breaking the News movie review. Seen it? Join the conversation with HtN on our Letterboxd Page.)
Though I have not (yet) seen Shin'ichirō Ueda's 2017 Japanese zombie comedy One Cut of the Dead, I can attest to the fact that its French remake, Final Cut, offers up one hell of a good time. How much of that is the result of director Michel Hazanavicius' own skill and how much the result of merely copying previous genius is for someone else to decide. But for this critic, the point is currently moot and the creative zaniness on display provides a wealth of cinematic treasure well worth savoring.
Still, one would be forgiven for at first wondering onto what kind of mess one has stumbled. The initial 30 minutes are a chaotic blend of questionable acting, manic camera moves, incomprehensively awkward story moments, and laughable special effects. Have no fear: it is all by careful design, and the plethora of questions raised are soon to be answered.
What we have are three movies in one, though it would spoil the pleasure to overly explain the conceit. Suffice it to say that what is happening at the start is not the main thrust of the piece, even if it is integral to the (surprisingly poignant) finale. At its most basic level, Final Cut is about the joy of artistic creation, and how seemingly futile exercises can lead to profound catharses.
Romain Duris (Eiffel) stars as Rémi, the director within the movie. Or is his name somehow, inexplicably, Higurashi? Why, in fact, do all these distinctly non-Japanese performers have Japanese character names? That mystery will eventually be cleared up, as well (to hilarious effect), but in the opener it is just one of many eyebrow-raisers.
But back to Rémi/Higurashi. Desperate to complete the final scene of his own zombie film, he resorts to drastic measures, up to and including unleashing hordes of actual undead on his cast and crew. We watch as a camera follows, all in one take, the chaos that soon unfolds. Blood is spilled, vomit spewed, limbs severed, and more. Is it supposed to look this cheesy? You know it!
Joining Duris in the mayhem are Bérénice Bejo (Three Peaks, and also the wife of Hazanavicius), Finnegan Oldfield (Corsage), Matilda Anna Ingrid Lutz (Revenge) and a host of other talented actors, all extremely game. The best part of the entire enterprise is, in fact, the boundless enthusiasm of everyone involved. How could we not sit back and cheer?
By the end, Hazanivicius (Godard Mon Amour) has more than justified our own commitment to the process, delivering laughs galore amid the copious gore. There is also an essential sweetness throughout that proves remarkably endearing. These walking corpses are full of life.
– Christopher Llewellyn Reed (@ChrisReedFilm)
2023 Tribeca Film Festival; Michel Hazanavicius; Final Cut movie review