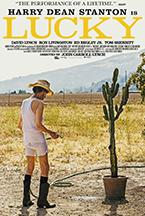 (Earlier this month, the world lost beloved actor Harry Dean Stanton. Luckily, he had a few more films in the can including festival fave Lucky. The film begins rolling out in theaters September 29 via Magnolia Pictures.)
Now that Harry Dean Stanton has died, at 91, Lucky is sure to receive even more warm praise than it surely would have, anyway (though Stanton has one final film, Frank and Ava, still to come). A quirky, loving paean to the actor's 60-year career, the movie is more tribute to triumphant idiosyncrasy than actual narrative, though it is wholly engaging even as such. The directing debut of John Carroll Lynch – a longtime character actor as prolific as was Stanton, known for his work in films from Fargo to Zodiac to The Founder – Lucky revels in the small details, exploring the pleasures of a life lived on its own terms.
Stanton plays the titular Lucky, a chain-smoking nonagenarian who lives alone in what looks like a town in the American Southwest (the film was shot mostly near Los Angeles, with additional dessert footage captured in Arizona). Every day, Lucky performs the same calisthenics at home before beginning his routine peregrination through the dusty streets. A loner, yes, but a somewhat sociable one, he has his regular haunts, where he alternately insults and cajoles those who dare to speak with him. His doctor, played by Ed Begley Jr. (recently Clifford Main in Season 2 of AMC's Better Caul Saul), doesn't know how Lucky has survived so long, given his nicotine habit, so tells him he might as well just keep smoking. And so it goes. He does what he does, both a part of the local social fabric and apart from that same fabric.
Lynch and screenwriters Logan Sparks and Drago Sumonja (this is their first screenplay) initially leave Lucky to his own devices, but they are sly operators, and soon we see a subtle shift in the character's prickly attitude. Fortunately, though they plot a sweetly cathartic moment of emotional connection at the end, they avoid the sentimental trap of life-changing revelations. The final images, of Lucky standing alone in the desert near a tortoise lost by one of the film's incidental characters, keep the story honest. Yes, he is lonely like the rest of us, but content to be who he is.
Lynch populates Lucky with a solid supporting cast, including another Lynch (no relation): the director David (whose latest iteration of Twin Peaks also features Stanton), playing the man with the lost tortoise. He's no actor, hamming it up a little too much, but still a pleasant addition. We also get Tom Skerritt (Stanton's co-star in Alien), Ron Livingston (Shangri-La Suite), Beth Grant (Great Plains), Barry Shabaka Henley (Paterson) and others, who bring great breadth and depth to the film's texture. And while the movie's dramatic arc is small, at the end of its 88 minutes we emerge refreshed, as if from an engaging dinner party spent with beloved (if cranky) old friends.
– Christopher Llewellyn Reed (@ChrisReedFilm)