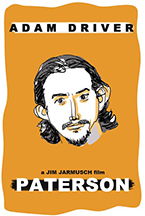 (Jim Jarmusch's Paterson, starring Adam Driver, is a quiet, poetic film that is not to be missed. Keep an eye out as it slowly meanders into theaters this month via Amazon Studios.)
That Jim Jarmusch sure is a wily, veteran filmmaker, huh? One of the quintessential indie filmmakers before there was really a recognized movement called "Independent Film" Jarmusch entered the cinematic dreamscape in the early/mid-eighties. And to me, his films have always had a dreamlike, stream of consciousness to them where characters wander in and out as new landscapes take shape, all the while males and females of all ages, races and cultural background converse like they do in real life; like it's no big deal. And to be clear, as much as I do love Jim Jarmusch and his complete works thus far, few would argue that mileage may vary.
Starting with Dead Man (1995) and continuing his output up until the fantastic Only Lovers Left Alive (how was that three years ago in 2013!?) his films have always had great moments and great performances but didn't always click as a whole. But this years Paterson is a thing to behold. It's every bit a Jarmusch movie but with a brilliant, refined ease that I've never seen in a Jarmusch film but one that fits him well. Or maybe it's just that I'm older and more at ease in the kind of meandering world Jarmusch's films embody? Either way, this slight personal conundrum figures well into the thematics of Paterson overall.
Paterson tells the story of a city of Paterson, NJ bus-driving poet also named Paterson (Adam Driver) but as the film progresses, we see that this namesake is more than just a mere coincidence. Or, is it? As his daily routine plays out we see Paterson wake up just after 6:00 am, eat breakfast and report to work where he is able to let his mind wander freely throughout the workday as his bus route is always the same. As a lover of the written word with what could be described as aspirations to be a "real" (ie; paid) poet, following in the footsteps on fellow Paterson denizen William Carlos Williams, there's scarcely a better world and workplace for him to inhabit. (**Editors note: I was inspired to rediscover Williams' work, particularly his poem Paterson which dovetailed with his idea that a "man is indeed a city" which Jarmusch is clearly playing with here as well…) Throughout Paterson we see Paterson mulling over drafts he's written, ones we're shown via onscreen writing and a staggered voice over from Driver. On his lunch breaks, he makes minor changes that at first seem brought about by a passenger conversation he's eavesdropped on throughout the day but then again, maybe the conversation just reminded him of something else. Like every Jarmusch movie, characters motivations and ideas are not always what we think they are nor do they end up the way we think they might.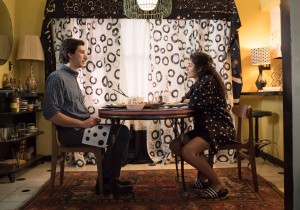 When Paterson is off work he returns to his modest abode which he shares with Laura (Glodshifteh Farahani) a non-stop artistic dreamer who at any given moment is the next Nashville star, the next Cupcake Wars winner or the next sought after interior designer. Laura is the perfect foil to Paterson's seemingly rigid routine and while her constant state of whirling dervish creativity indeed pokes at his sense of calm conventionality, his love for her cannot be denied. And for good reason; she's a beautiful woman and kind soul played perfectly (if not a little too much indebted to Maria de Medeiros' portrayal of Fabienne, Butch Coolidge's (Bruce Willis) beau in Pulp Fiction) by Farahani. Behind every great man is a great woman and if Paterson ever makes his way into the social conscious, she will be the push that got him there. Back to those "coincidences" though…
Throughout the film we see emerging patterns. Twins frequently appear and meander away just as quickly and there's a recurring motif involving waterfalls. Then there's the literal design patterns, typically black and white swirls and circles be they on curtains, cupcakes, dresses or the shirt of a local bartender. And while Paterson, (played beautifully and subtly by Driver) clearly takes notice, he keeps his audacity at these recurring events in check. The whole thematic of things reappearing reminds me a bit of that whole "The Secret" craze from a while back. Remember the book and the whole "law of attraction" trend that said if you merely open your heart, soul and mind to the universe, it will provide you with clues to your path and success? In many ways, Paterson and Paterson himself are just like that. They live their life in real time letting life, love, emotion and dreams glide over them, imbibing their ethereal magic and putting it to use later. The little tidbits of beauty are what strike the characters and the viewer long after the credits have rolled. They also imbue the poetry of the main character as well as the overall film.
– Don R. Lewis (@HammertoNail)