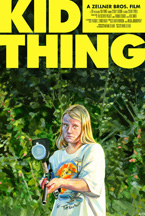 (KID-THING is now available on VOD and opens theatrically at the IFC Center on Wednesday, August 7, 2013, thanks to Factory 25. It world premiered in the NEXT SECTION at the 2012 Sundance Film Festival, had its European premiere in the Forum programme at the 2012 Berlinale. NOTE: This review was first posted in conjunction with its screening as a Festival Favorite at the 2012 SXSW Film Festival. Visit the film's official website to learn more.)
"There's something to be said about the unconditional love of animals," mutters Marvin (producer/DP Nathan Zellner) to his 10-year-old daughter Annie (Sydney Aguirre), during a rare moment of paternal insight. But then he doesn't say anything else; she is left to her own devices with that information. In KID-THING, the Zellner Bros.' second feature film, Annie, the titular character, is in every way on her own, roaming the fields and alleyways of rural Texas with paintball gun and aluminum bat in hand, destroying all she comes across. She sees time and again that human love is not an absolute; it is conditional, finite, a scarcity.
Annie lives with her dad, a simpleton goat farmer, outside of Austin. She doesn't have any friends her own age. She barely goes to school (it's closed due to a "gas leak"). The extent of her contact with others seems to be her dad and his deranged associate Caleb (writer/director David Zellner). Aguirre's cherubically round face and dull eyes convey a childish naïveté but at the same time a worn world-weariness—it's clear that by age 10, she's already seen too much.
With no structure, no guidance, really nothing to do, Annie opts to break things, to bring chaos into the world. When exploring an upstairs closet in her house, instead of moving things aside, she indifferently sends them toppling to the floor; though, as the scene lengthens and settles it becomes clear that she isn't looking for anything in particular, the act of dropping things is both end and means, the same to her as flipping through a book on AIDS or putting on a gas mask.
Kids her own age reject her and Marvin, though well meaning, is unable to provide much more than a bed and microwavable pizza. When Annie requires real advice she goes to the house of a blind, guitar-playing little person who, despite the obtuseness of his answers, appears to be the most mature, adult person in her life. Enter Esther (Susan Tyrell), a woman trapped in a black hole in the forest, desperate for help to escape her dark prison. Annie directs her kindness and attention—her humanity—toward Esther, bringing her peanut butter and jelly sandwiches, Capri Sun, and a Walkie Talkie so she can communicate with her.
Soon enough, Annie begins to resent Esther for her neediness. Esther, very possibly a figment of Annie's imagination—an imaginary enemy—is at once mother figure, alter ego, and all of the traits Annie tries not to let out. It's a testament to the bleakness of the world that the Zellner Bros. create that a 10-year-old's imaginary friend is withholding, faceless, defined by absence.
This bleakness is expressed in part by the patience exhibited in Nathan Zellner's cinematography. Pink clouds saunter across the sky, goats slowly approach the foreground, people just sit there. In one scene, we watch Annie watch Marvin and Caleb scratch scratch cards; perhaps watching someone scratch scratch cards is mundane, but watching someone watch someone scratch scratch cards is nothing short of riveting. If Annie has to sit through this, so do we.
KID-THING opens with an engine's roar, the opening frame a demolition derby. The camera is static, no car in particular its subject. Junk heaps careen through the frame, each car more dilapidated than the last, occasionally colliding into each other. Annie too spends her time smashing into things, but you can't fault her for it. You have to be taught the concept of joy. Someone has to make you smile, it doesn't happen on its own. While Annie throws things at passing cars, smashes birthday cakes, and shoots convenience store clerks with her paintball gun, the thought never leaves that the KID-THING is just a kid.
— Jesse Klein