*WATCH NEW MOVIES AT HOME* — AUGUST '13
First things first: by changing our previously named "VOD Picks" post to "*Watch New Movies At Home*," we aren't telling you to ditch movie theaters in favor of staying glued to your comfy couches. It's just that now more than ever, it seems like high profile new releases are being made available through Video On Demand at the same time as—in many cases, before (here's looking at you, Magnolia!)—they are actually released in theaters. If you don't live in NYC or LA, this is clearly a wonderful development. So, here's the deal: if any of the movies you see below and in future posts are being released in an actual brick-and-mortar movie theater near where you live, go see them there. But if not, well then, just stay where you are, turn on your TV, connect to whichever source gets the job done, and start watching.
PICK OF THE MONTH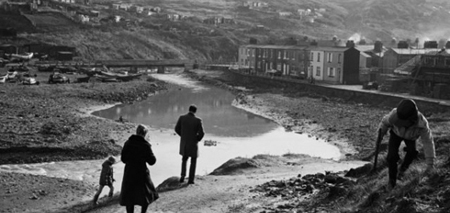 Skinningrove (Cinema Guild) — Once you've experienced this Michael Almereyda documentary for yourself, in which British photographer Chris Killip shares previously unseen photos from his time documenting the landscape and residents of an isolated English fishing village, you'll understand why it won the Short Film Jury Award: Non-fiction at the 2013 Sundance Film Festival. Skinningrove is only 14 minutes long, but its impact is deeper, richer, and more lasting than most of the features you'll see this year. Download it right now. That's an order. (available now: iTunes)
THE REST (IN ALPHABETICAL ORDER)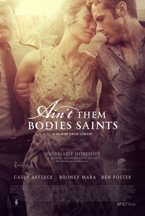 Ain't Them Bodies Saints (IFC Films) — David Lowery spent years doing the indie film juggling act, building serious credits as an editor (Sun Don't Shine, Upstream Color) and writer (Pit Stop), but his prize-winning short Pioneer helped define him as a director. He makes good on all the "filmmaker to watch" buzz with his second feature Ain't Them Bodies Saints. Set in small-town Texas in the 1970s, young outlaw lovers Ruth Guthrie (Rooney Mara) and Bob Muldoon (Casey Affleck) are derailed by a robbery gone awry. Bob takes the blame and the prison sentence, leaving a pregnant Ruth to fend for herself. Four years later, Bob breaks out of jail and returns to reclaim his family. Though framed with well-paced, stark action sequences, Saints digs in, more interested in spiraling repercussions than blunt shows of force (though the visuals and score help maintain a consistent sense of threat). From the tobacco hues to the wafting dialogue, it would be apt to call it slow burn. Lowery's mellow Altman-esque western is a reverential frame for the film's fine cast, including Ben Foster as a police officer in love with Ruth. (Susanna Locascio) (available 8/23: Movies on Demand)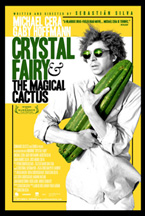 Crystal Fairy (IFC Films) — In Sebastián Silva's second new film of 2013 (Magic Magic is the other), Michael Cera absolutely drills the role of Jaime, an over-exuberant American in a foreign land whose gleeful embracing of every substance imaginable makes him borderline insufferable. But it is Gaby Hoffmann who runs away with the picture. Her portrayal of the titular character is a marvel. At first, we/Jaime think that Crystal Fairy is just another annoying, spaced out, clueless hippie, but during the film's climax, her true humanity is revealed. It's refreshing to encounter a male-directed film that seems like it's heading in a typically chauvinistic direction but turns out to be quite the extreme opposite. (Just to be clear, the official full title for this movie is Crystal Fairy & The Magic Cactus & 2012, which is a much finer title, and the actors apparently did indeed trip on drugs to 'enhance their performances,' which was a much finer decision.) (available now: Movies on Demand)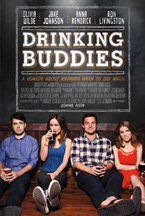 Drinking Buddies (Magnolia) — In sharp contrast to his navel-fellating videography of the past decade, with Drinking Buddies, Joe Swanberg proves to the world that he knows how to make a bona fide movie. Midway through this superficially familiar naturalistic rom-com, which charts the flirtatious relationship between the otherwise committed Luke (Jake Johnson) and Kate (Olivia Wilde), it becomes clear that Swanberg has a very important choice to make: is he going to do the expected thing, or is he going to show restraint time around? Refreshingly, Swanberg takes the mature road, delivering a climax that gets all the way there because it never 'goes there.' (available now: Movies on Demand)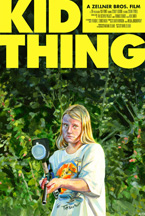 KID-THING (Factory 25) — David and Nathan Zellner's KID-THING opens with an engine's roar, the opening frame a demolition derby. The camera is static, no car in particular its subject. Junk heaps careen through the frame, each car more dilapidated than the last, occasionally colliding into each other. Annie too spends her time smashing into things, but you can't fault her for it. You have to be taught the concept of joy. Someone has to make you smile, it doesn't happen on its own. While Annie throws things at passing cars, smashes birthday cakes, and shoots convenience store clerks with her paintball gun, the thought never leaves that the KID-THING is just a kid. (Jesse Klein) HTN Review and 12 Quick ?s With The Zellner Brothers (available now: iTunes, Amazon Instant, Vudu, Sony Playstation, Xbox, TV InDemand)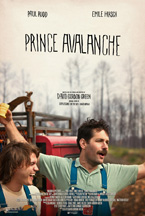 Prince Avalanche (Magnolia) — David Gordon Green's latest is set in 1988 in the wake of a nameless wildfire. Alvin (Paul Rudd) and Lance (Emile Hirsch) are highway road workers tasked with restoring the back roads—really just one—putting down posts, painting those lines, watching them dry. Alvin and Lance's rapport disintegrates, then regenerates. At times they harbor true hate for one another; each exhibits characteristics the other abhors, though perhaps wishes they possessed. Once all is laid bare, they realize that they are not so different, that there isn't just one way not to fit in. Their friendship, like the film itself, is a communion, a commingling of disparate needs and fears, of failures and dreams. Prince Avalanche is never one thing; it's everything at once. (JK) HTN review (available 8/9: iTunes, Movies on Demand)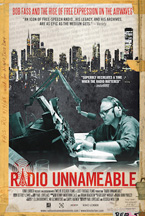 Radio Unnameable (FilmBuff) — If you've never heard the name Bob Fass before, this documentary will right that wrong in a jiffy. Fass is the legendary radio personality at Manhattan's WBAI whose radio show has entertained and invigorated audiences for the past five decades. In the 1960s, Fass was more than a mere entertainer. His studio was a hub for some of the most influential American artists of that era (do the names Bob Dylan, Abbie Hoffman, and Yoko Ono ring a bell?), and his show was responsible for uniting listeners in a way that could never have been done otherwise. Paul Lovelace and Jessica Wolfson incorporate a staggering amount of archival footage into their film, which is equal parts vital history lesson and touching love letter to an unheralded American hero. [Full disclosure: I have an "additional camera" credit on this movie, but my participation was minimal to the point of nil—only one of my shots made it into the final cut—which is why I have no shame whatsoever recommending it here.] (available now: iTunes, Playstation Xbox 360)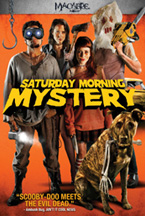 Saturday Morning Mystery (XLRATOR Media) — Mixing laughs and thrills is a dangerous business, but with Saturday Morning Mystery (previously known as Saturday Morning Massacre), Spencer Parsons rises to the challenge and then some. Parsons' contribution to the haunted house genre features a gaggle of paranormal investigators who get more than they bargained for when near-bankruptcy causes them to sign up for a gig that might put them out of business once and for all. Saturday Morning Mystery is an engaging romp that plays like a live-action—and infinitely more R-rated—Scooby Doo episode. (available now: iTunes, Movies On Demand)
Sparrows Dance (Tribeca Film) — Noah Buschel's latest is a lovely New York City fairytale that benefits from exceptionally strong performances by Marin Ireland and Paul Sparks. When an agoraphobic former actress is in desperate need of a plumber, his arrival—and their subsequent budding relationship—challenges her to face up to her fears and literally step back into the world. Buschel injects some bold formal flourishes into the story, resulting in a picture that has a modern heartbeat but the spirit of a wise old soul. (available 8/20: Movies on Demand)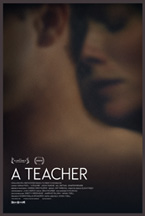 A Teacher (Oscilloscope) — Hannah Fidell's debut features a breakout performance from Lindsay Burge. In this role, Burge's looks make her character initially harder to believe—a high school teacher this pretty has to settle for dating a horny student? really?—but Burge's commitment to her role becomes immediately clear, and her ability to convince us makes it all the more impressive. Fidell and Burge take a sensationalistic premise and turn it into something credible and affecting. (available 8/20: Movies on Demand)
Wild Card of The Month
The Canyons (IFC Films) — Your tolerance for the coke-fueled, slickly spiteful worldview of Bret Easton Ellis will likely determine whether you get a kick out of Paul Schrader's much talked about Kickstarter-funded feature, which stars Lindsay Lohan and *real life porn star!* James Deen. Personally, I just wanted to kick it in the face. Which is to say: mission accomplished, filmmakers?