12 Quick ?s — ZELLNER BROS.
(In connection with the Film Society of Lincoln Center's ongoing "Indie Night" screening series, which is being guest programmed this year by HTN co-founder Ted Hope, we have asked the director of each month's selection to answer twelve quick questions, the only rule being that they shouldn't take longer than twelve seconds to answer each question!)
"There's something to be said about the unconditional love of animals," mutters Marvin (producer/DP Nathan Zellner) to his 10-year-old daughter Annie (Sydney Aguirre), during a rare moment of paternal insight. But then he doesn't say anything else; she is left to her own devices with that information. In KID-THING, the Zellner Bros.' second feature film, Annie, the titular character, is in every way on her own, roaming the fields and alleyways of rural Texas with paintball gun and aluminum bat in hand, destroying all she comes across. She sees time and again that human love is not an absolute; it is conditional, finite, a scarcity. Read Jesse Klein's full HTN review. ***KID-THING screens on Tuesday, July 17, 2012, at 8pm at the Howard Gilman Theater. Buy tickets here.***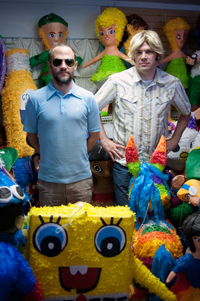 1. What is the first movie you remember watching that made you want to make a movie yourself?
Not a very hip or intellectual answer, but Monty Python and the Holy Grail.
2. Name a critic or work of criticism that influenced or inspired you as an artist.
Siskel & Ebert's At The Movies.
3. What would you like to see more of in American independent film?
Action, Animals
4. What would you like to see less of in American independent film?
Jibber-Jabber
5. What movie made you laugh the hardest?
The General
6. What movie are you most "embarrassed" to say made you cry?
When the fat Ewok dies in Return of the Jedi. It's sad.
7. What universally upheld cinematic masterpiece do you just not respond to no matter how hard you try?
Lawrence of Arabia. We prefer Doctor Zhivago.
8. What movie did you not appreciate the first time around but fell in love with upon second viewing?
Barry Lyndon
9. Which book would you most like to adapt into a film?
Cat's Cradle
10. What movie would you most like to see remade (i.e., the original had a great premise but poor execution, or great script and director but poor casting, etc.)?
It's Alive III: Island of the Alive, or Shame remade as a comedy.
11. If you were asked to teach a class in editing and had to choose one movie to focus on for the whole semester, what would it be?
All That Jazz or most any Russ Meyer movie.
12. If you could go to a movie theater tonight and watch a 35mm print of any movie ever made, what would it be?
Even Dwarves Started Small