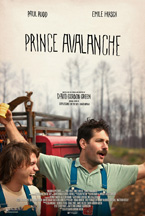 (Prince Avalanche is now available on DVD
, Blu-ray
, Amazon Instant
, and iTunes. It was released theatrically and on VOD by Magnolia Pictures on August 9, 2013. It world premiered at the 2013 Sundance Film Festival and next screened at the Berlin Film Festival, where David Gordon Green took home the Silver Bear Award for Best Director. This review was written after the film screened at SXSW, and was first posted in conjunction with its appearance at the Tribeca Film Festival.)
Some filmmakers tell the same story, albeit in different ways, again and again. Similar themes are explored, familiar people and places pop up, each effort another strand in the greater world that is being woven. Other storytellers refuse to stay put, constantly seeking out new terrain, searching for a new way to see. Neither style is better or worse, each provides endless material to mine—it is the difference between depth and breadth. David Gordon Green falls at an interesting point on this continuum.
He started with a modern masterpiece, George Washington. That film brought back a Malick-chic that has become more ubiquitous with each passing year. Cinematographer Tim Orr's lush yet understated work framed the kids, all non-actors, in such a way that was at once hopeful and hopeless. The film announced itself, loud and clear. Sophomore effort All The Real Girls kept the aesthetic but told a new story, that of an imperfect young love, with all the hurt and confusion that comes with it. Undertow and Snow Angels followed and though there was a slight dip, there was a definite continuity between the works, a unity of vision. Then Green went in a completely different direction.
Pineapple Express is many things: a buddy flick, a proud throwback to B-movies, a stoner romp, an all-out comedy, and so a total departure from his previous work. The film has shreds of evidence linking it back to the earlier films: the slack-jawed, jokey tone of Rico Rice (Paul Schneider) in George Washington and Bust-Ass (Danny McBride) in All the Real Girls can be found in Seth Rogen and James Franco's man-child camaraderie. Your Highness and The Sitter (not to mention his contributions to Eastbound and Down) went even further—Your Highness went way further—into the crass underbelly of modern comedies. Based on the dichotomy evident up until this point, it was unclear where he would go next. The Clint Eastwood-narrated Super Bowl car commercial gave many fans the hope that this was a return to Green's George Washington days, and true to form, he has returned with a film that melts all his myriad influences and sensibilities into one coherent, unified vision: Prince Avalanche.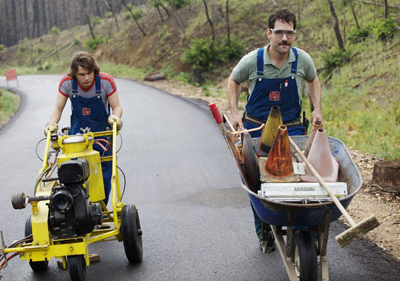 Over Labor Day Weekend in Bastrop County in 2011, three fires converged into one, destroying nearly 1700 houses, burning up 34,000 acres, making it the most destructive wildfire in Texas history. The charred homes and decimated landscape make for a tragic, almost ethereal, backdrop for two men slowly trying to put it back together again, one yellow painted line at a time. Set in 1988 in the wake of a similar, nameless wildfire, Alvin (Paul Rudd) and Lance (Emile Hirsch) are highway road workers tasked with restoring the back roads—really just one—putting down posts, painting those lines, watching them dry.
Alvin runs the show and has hired Lance as a favor, the little brother of his adored, though absent, girlfriend Madison. When early on Lance changes the music on the ghetto blaster, Alvin quickly puts a stop to it, finally demanding the compromise that they "enjoy the silence." Lance is crass, horny, impatient, regaling Alvin with stories of lascivious escapades; meanwhile, Alvin is mild-mannered and contemplative, spending his weekends alone camping, writing letters to a girlfriend he could just as easily go home and see.
This time off is not as prudish as Alvin originally lets on. Left to his own devices, he seems most at home without the obligation and pressure of making himself understood to the outside world. He talks to himself, takes enough painkillers to tranquilize, blurring what he thinks, what he sees, and what he thinks he sees. In the ashes of a destroyed home he finds a woman (played by Joyce Payne, a woman who actually lost her home in the Bastrop fires) looking through the rubble, her erased past, for something she no doubt will never find. The surreality of the moment does not escape Alvin but it breaks his heart all the same. The world he has created in his head is just as sad and complicated as the one he has in real life.
Yet amidst the anguish is laughter. That is Green's gift to Lance and Alvin: the ability to work through the frustration and sorrow of their predicament with humor. They yell at each other, hurl insults, throw wrenches, chase each other through the woods, but when one is down and can't get up, the other is there, perhaps begrudgingly, but there all the same, to pick him up. Eventually, they see the lighter side; at their lowest, they help the other to see how pathetically ridiculous they are. Through that, they are able to learn, grow, and move on together.
Alvin and Lance's rapport disintegrates, then regenerates. At times they harbor true hate for one another; each exhibits characteristics the other abhors, though perhaps wishes they possessed. Once all is laid bare, they realize that they are not so different, that there isn't just one way not to fit in. Their friendship, like the film itself, is a communion, a commingling of disparate needs and fears, of failures and dreams.
Prince Avalanche is never one thing; it's everything at once.
— Jesse Klein