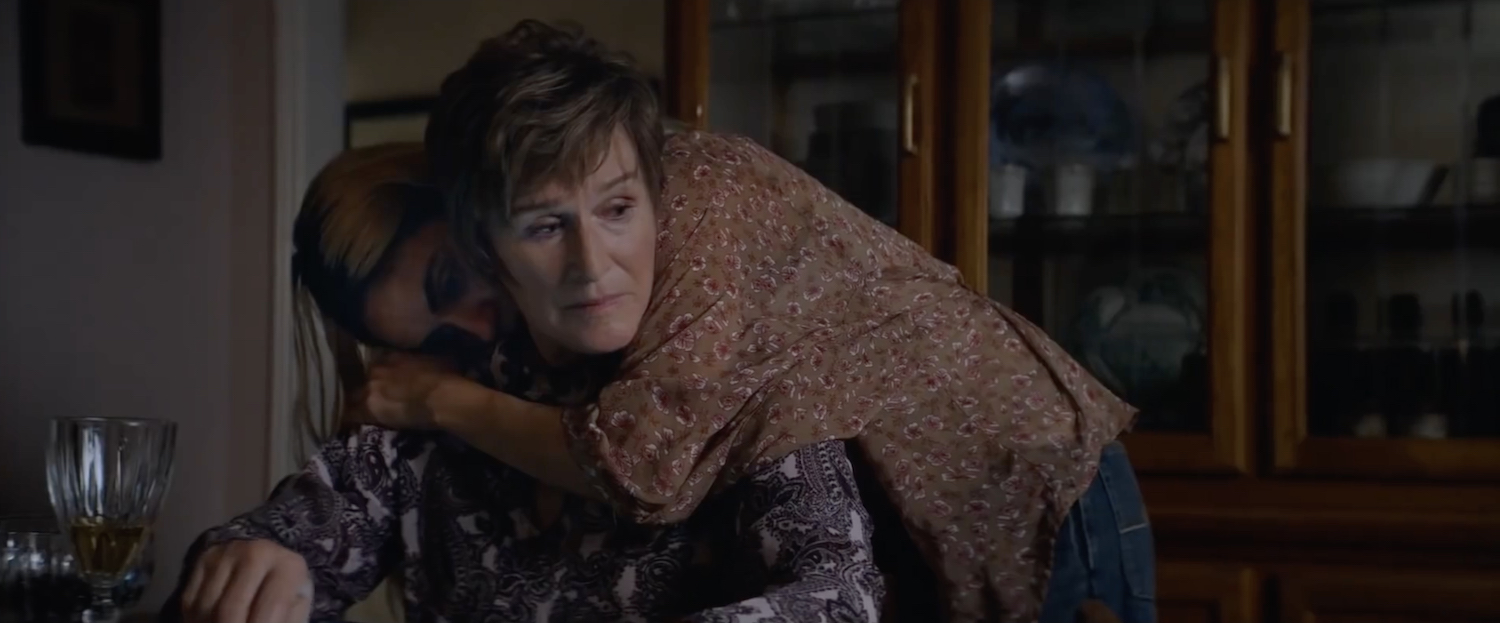 (Rodrigo García's latest drama Four Good Days is in theaters now as well as on VOD. Like what you see here on Hammer to Nail? Why not give just $1.00 per month via Patreon to help keep us going?)
Four good (as in clean) days is all Molly needs before she can receive a much-needed opiate-antagonist shot that will keep her body from responding to heroin. For Molly, at 31 and after well over a decade of devastating addiction, that short period of time poses a significant challenge. With most of her teeth gone and the face and body of a much older person, she is a physical – not to mention mental – wreck of a person. Will she make it? That is indeed the question in Four Good Days, the new film from Rodrigo García (Last Days in the Desert), which is based on a Washington Post article by Eli Saslow about a real-life addict, Amanda Wendler. 
Surprisingly quiet for a story as harrowing as this, the film features strong performances from its two leads, Mila Kunis (Bad Moms) and Glenn Close (Hillbilly Elegy), who star as Molly and her mother, Deb. We actually start with Deb after an elliptical opening montage of street and beach scenes colliding (past memories, we assume). Deb lives with her second husband, Chris (Stephen Root, Uncle Frank), comfortable enough but working what looks like multiple jobs to keep up. When the prodigal Molly shows up one day out of the blue, strung out and claiming a desire to get sober, Deb is anything but thrilled. The last time (and the time before, and the before that) she trusted her daughter, she lived to regret it, given all the items stolen from her. She is therefore hardly inclined to want to help.
Still, that parental bond runs strong, and though she won't let Molly inside, Deb agrees to drive her to rehab, which is where they both learn about the ostensibly magic injection. But you can't get it unless your body has detoxed, which means…four days sober, or at least, four more days after the initial stay. With no place to go, Molly begs Deb for a chance. What is a mother to do, especially since everyone else, including husband number one, has given up. So begins a slow, tentative reconnection between the two, the audience all the time wondering how genuine Molly's intentions may be.
Along the way, we learn more about each person's backstory, including how Deb left the family for a while when Molly was young. Neither García, as director, nor he and Saslow, as co-writers, ever pass judgment on their protagonists for past decisions. Life is hard, mistakes happen, and addiction is an illness whose sufferers deserve compassion, however impossible their behavior. 
Beyond the fake rotten teeth, Kunis does not present her character with any kind of misery-porn ostentation: she's just a woman struggling to recover. Likewise, Close delivers solid goods as an eternally frustrated, guilt-ridden and conflicted mother. Tales of addiction can sometimes wallow in maudlin details and miss the mark. Not so here, where despite a somewhat shaky ending (narratively speaking), the elements nevertheless come together to offer a moving study of what can happen with a little faith.
– Christopher Llewellyn Reed (@ChrisReedFilm)