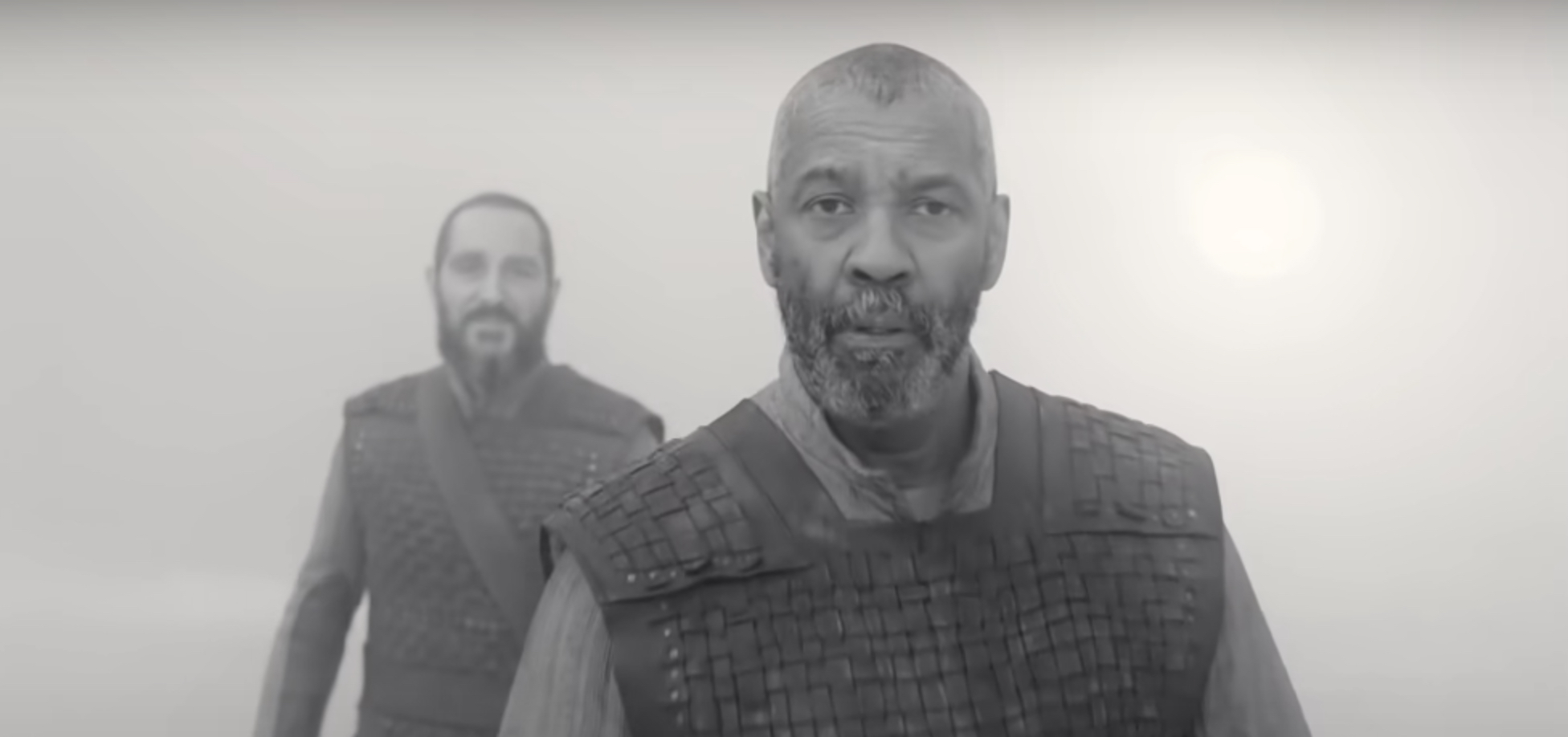 (Just in time for Oscar season is Joel Coen's The Tragedy of Macbeth. Matt Delman has this movie review of The Tragedy of Macbeth which is in theaters now and globally on Apple TV+ on January 14, 2022 via A24. Like what you see here on Hammer to Nail? Why not give just $1.00 per month via Patreon to help keep us going?)
For Joel Coen's first solo directing outing, he has chosen to make an impressionistic yet accessible retelling of the famous Scottish play. The intimacy of the sets make it feel like the film takes place in a magical black-box theater. Fog often obscures backgrounds, or the camera pans up to a digitally enhanced sky. A torrent of leaves blows through the windows. Coen and his DP Bruno Delbonnel create such striking imagery that can at times overshadow the dialogue, but the phenomenal cast really sink their teeth into the material and make it come alive. Even younger audiences with attention deficits who may find Shakespeare's language difficult to comprehend on the page, will enjoy Coen's cinematic bravura in bringing the classic story back to life in such a stunningly entertaining way.
The story centers on a marriage of Macbeth and Lady Macbeth, played by Denzel Washington and Frances McDormand. A murder, betrayal, and impending war sends them reeling. While individually the two leads light up the screen, it's hard to buy into them as a couple, especially knowing that McDormand is married to the director. In one soliloquy, Lady Macbeth creeps down the stairs on a midnight spying mission, and at the very end she gives a glance directly at the camera, breaking the fourth wall as is often done on the stage. 
In some ways, Coen stays true to the source material's theatrical roots, and other times he completely smashes the rules. The most exciting example of this is Kathryn Hunter who plays all three witches. Her background as a British thespian is fitting, but what she does in her performance is otherworldly. She talks to herself in different evil voices —morphing seamlessly from a bird to a witch to a shadow and back again. Hunter undeniably steals the show, though it was also a highlight to see Stephen Root in a short but comical role that felt very Coen-esque.
Nobody can predict how far The Tragedy of Macbeth can go in the Oscar race, but we can be sure that high schoolers will be watching it on their AppleTV to get a leg up in their English class. A Best Picture nom is certainly a possibility, and the cinematography should be honored, as long as the Academy likes German expressionism as much as the virtual expansiveness of Dune. Both have their merits. Though in some ways The Tragedy of Macbeth is a lot like Dune, with its betrayals and powerful royal families. In Coen's black-and-white epic, Denzel brandishes sword and dagger in a fight for supremacy. As we all know, spilling blood is never simple. Heads will roll.
– Matthew Delman (@ItsTheRealDel)
A24 Apple TV +l; Joel Coen; The Tragedy of Macbeth review