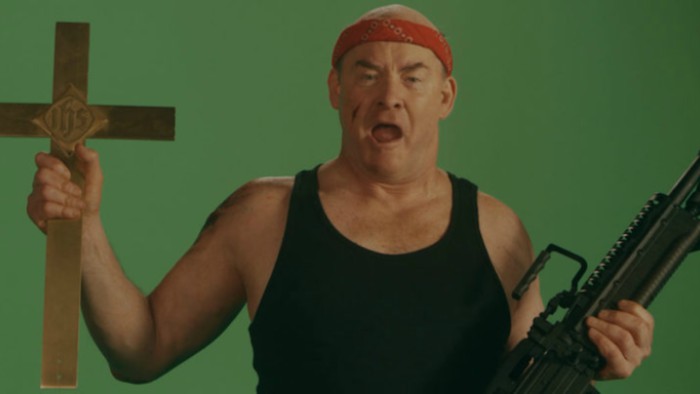 (Luke Barnett and Tanner Thomason's religious satire Faith Ba$ed premiered at the Santa Barbara Film Festival. Even though crowds have yet to see it, it managed to raise the ire of Fox News and Breitbart so, it's definitely worth checking out! Like what you see here on Hammer to Nail? Why not give just $1.00 per month via Patreon to help keep us going?)
A jaunty, broad comedy of irreverence, Faith Ba$ed may appear, initially, to target the tenets of Christianity – it certainly offers many jokes at its expense – yet is ultimately more a goofy bromedy (that's "bromance" + comedy) than anything else, merely using the church as background, rather than primary focus. When lifelong best friends Luke and Tanner – played by the eponymous Luke Barnett (who also wrote the film) and Tanner Thomason – decide to do something about their thirtysomething loserdom by making a movie, they take inspiration from the fact that Christian-themed films always seem to do well with their principal demographic. The guys' motives are a combination of the mercenary and altruistic, as they need money (and a way out of do-nothing lives) both for themselves and for Luke's father, a pastor whose house of worship is behind on the mortgage. And so the stage is set for some very silly shenanigans, many of which, if not all, produce some solid laughs.
Barnett and Thomason have excellent rapport, alternately sweet and selfish, as the scene requires, and always sophomoric, as befits the tone. When we first meet them (as adults), the former is a pool cleaner/herbal tea salesman, the latter a bartender. Prior to that, in a prologue, we see them, 25 years earlier, watching their favorite celebrity, Butch Savage (David Koechner, Bernard and Huey), shoot his way through cheesy action sequences galore. With cinematic influences like this, it's no wonder they think that anyone can make a movie.
Director Vincent Masciale (Fear, Inc. – also penned by Barnett) keeps the manic mayhem moving along nicely, never allowing any one dumb punch line to linger for too long (and a lot of the dumb ones actually land). In addition, the film is buoyed by a stellar supporting ensemble that includes such heavy hitters as Jason Alexander, Margaret Cho and Lance Reddick. Together, cast and crew make make the foolishness work.
Though not always. As much as I love Alexander from his years on Seinfeld, his part here, as a pyramid-scheme-touting sleazy salesman, never quite makes narrative sense, although he has his comedic moments. In addition, at times the dialogue and situations linger on bits that would best be plowed through quickly. Most often, however, Barnett and Masciale get the spirit right, delivering an enjoyable comic confection that pokes delightful fun at the art of filmmaking, itself. You won't need a leap of faith, then, to appreciate Faith Ba$ed.
– Christopher Llewellyn Reed (@ChrisReedFilm)