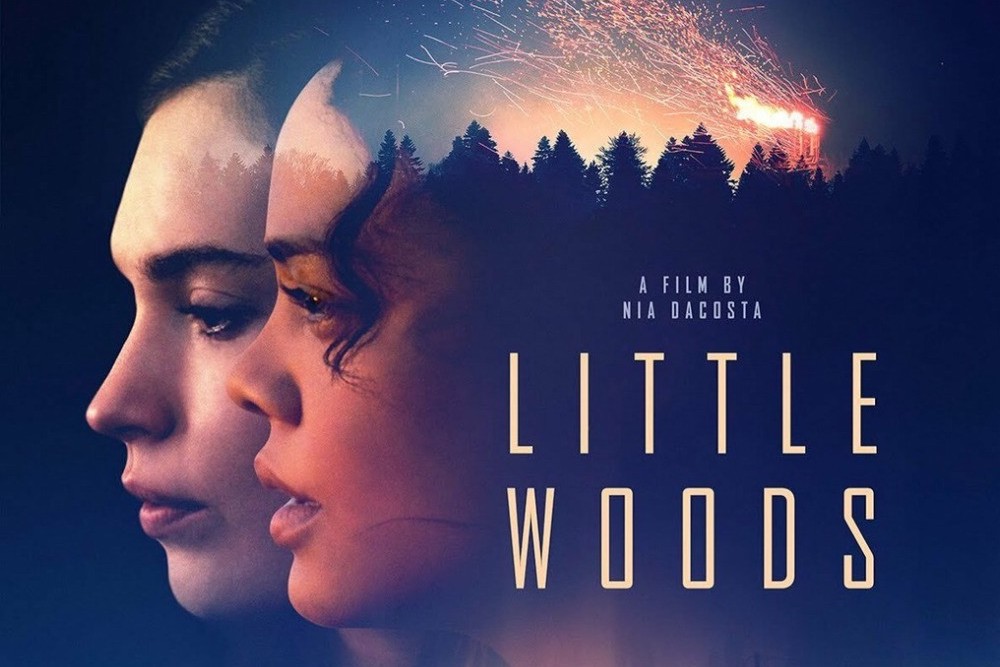 Lead Critic Chris Reed submits this review which he saw at the Middleburg Film Festival ran October 18-21 in Middleburg, Virginia. Like what you see here on Hammer to Nail? Why not pay just $1.00 per month to help keep us going?) 
Nia DaCosta's debut feature, Little Woods, begins with a late twentysomething (or so) woman, Ollie, digging up a mysterious package in a forest, in morning or evening twilight. Her task done, she walks down a country road, only to find herself chased by a pickup. Smash cut to her sudden awakening, and we assume it's a dream, though we soon learn that some nightmares remain even after sleeping. Ollie, it seems, cannot escape her demons, real or imagined, trapped as she is in her native North Dakota, where the oil boom makes legitimate money for everyone but the locals. All she can do is sell illegitimate OxyContin to the drillers; that is, that's all she could do, before, but by the time we meet her, she's on parole, her drug-selling days behind her.
Ollie is played by Tessa Thompson (South Dakota), a highly skilled actress who telegraphs intelligence and emotion with little externalization. Here, she is almost vacuum-packed, so tightly sealed are her thoughts and feelings. Recently orphaned after the death of her mother, she takes care of the family house while also struggling to help her sister Deb – played by Lily James (Cinderella) – single mother to a young son, who lives in a trailer illegally parked in a commercial shopping center. Recent arrest notwithstanding, Ollie is the responsible one, so when the bank threatens foreclosure on the house, which she hopes to pass on to Deb once she, Ollie, moves to Washington (the state) for a fresh start, it's up to her to figure out where to find the $6000 that could solve their problems. The fact that Deb is pregnant again doesn't help.
That's a lot to manage, both for Ollie and for a film of this scale, but both Ollie and DaCosta are up to the challenge. Spare in her writing and expressive in her visuals, DaCosta works with an adept assurance that belies her dearth of experience behind the camera. Unafraid to leave much unsaid, she does exactly that; her characters speak as people do when they have long history, without unnecessary exposition. Every utterance (or lack thereof) and every look matter. There is no excess here, just like there is no abundance in the forbidding, cold landscape that swallows all ambition. Despite the danger of Ollie's area of expertise, we root for her to succeed. After all, what are her other options?
I particularly love the relationship between the sisters. Ollie is darker, Deb pasty white, and we never do learn whether one is adopted, or both, or if they have the same mother but different fathers. It doesn't matter, for their bond runs deep, forged in the cauldron of a mutually shared troubled childhood. Thompson and James make a fine pair, matching each other resentment for resentment, kindness for kindness. The other actors – including Lance Reddick (Deputy Chief Irving on Amazon's Bosch), James Badge Dale (Spectral) and Luke Kirby (Touched with Fire) – deliver, as well, but the movie belongs to its two leads, as gripping and engaging to watch as the movie, itself. The story may be bleak, but the discovery of a talent as bright as DaCosta's is as hopeful as it gets.
– Christopher Llewellyn Reed (@ChrisReedFilm)
Like what you see here on Hammer to Nail? Why not pay just $1.00 per month via Patreon to help keep us going?