THE CURBSIDE CRITERION: WOMAN OF THE YEAR
(We here at Hammer to Nail are all about true independent cinema. But we also have to tip our hat to the great films of yesteryear that continue to inspire filmmakers and cinephiles alike. This week, our "The Curbside Criterion" continues where HtN staff can trot out thoughts on the finest films ever made. Today HtN Lead Critic Chris Reed goes deep into this voluminous release of George Stevens' Woman of the Year .)
If for no other reason than that it marks the first of nine collaborations between on- and off-screen partners Katharine Hepburn and Spencer Tracy, George Stevens' 1942 dramedy of sexual manners, Woman of the Year, would be well worth watching. Since it is also the winner of the 1943 Oscar for Best Original Screenplay, it offers much more than just the joy of seeing two of Hollywood's greatest actors fall in love. Full of witty banter and sharply observed insights into male-female dynamics, the movie delivers the narrative goods and then some. Unfortunately, an ending engineered after early preview screenings indicated that audiences wanted to see Hepburn's dominant career woman brought down a peg mars the otherwise delightful experience. Still, it is an important part of movie history, and a mostly enjoyable viewing experience.
Now, in a beautiful 2K restoration, comes Criterion's Blu-ray treatment of the film. With crisp, high-contrast black-and-white images that showcase director Stevens' innovative approach to camera and lighting, the movie has always been a superlative example of the chiaroscuro techniques of the period. With this release, the film's cinematography shines anew. Hepburn and Tracy have never looked better: she was 35 and he was 42, and both were in their prime, both as actors and movie stars.
Still, Hepburn was only recently recovering from a downturn in her career in the late 1930s that she successfully reversed with 1940's The Philadelphia Story, a film she, herself, picked as a tool to change her fortunes. She knew that she came off as arrogant, and that viewers liked her more if she got something of a comeuppance. Tracy's career had only been moving up throughout the 1930s, with films like Captains Courageous (1937) and Boys Town (1938) garnering him back-to-back Oscars (Hepburn had won in 1934, for Morning Glory, but did not win again until 1968 and Guess Who's Coming to Dinner). That pattern, of arrogance and comeuppance, repeats itself here in Hepburn's character, for better and for worse.
Hepburn plays superstar political journalist Tess Harding. Tracy plays Sam Craig, a sports columnist at the same newspaper. She's all fashionable poise, while he looks like a well-lived-in suit. After an initial rivalry over the importance of baseball vis-à-vis the growing threat of war un Europe, they fall for each other. It's not an easy match, however, and one of the weaknesses of the story, for me, is that it's never entirely clear why Tess should find so appealing, other than the fact that he is played by the charming Tracy: they have absolutely nothing in common. Leaving that issue aside – inherent to virtually all romantic comedies – the movie breezes along, mixing the serious and the comic to great effect. And despite the unfortunate conclusion, I was happy to see (it had been a while since I had first watched the film) that Sam is not the one who wants Tess to give up her career, but merely the culture of the time.
With many illuminating special features, this is a wonderful Blu-ray to own for cinephiles, as well as for fans of Hepburn and/or Tracy and/or Stevens. In fact, there is almost too much material to handle (though nothing like what is in Criterion's overwhelming Guillermo del Toro Trilogia) What follows is a brief review of each included extra, including the booklet essay.
BOOKLET:
 "A Woman's Place," Essay by Stephanie Zacharek, Chief Film Critic at Time magazine: This is more of an analysis of the movie and its themes than a history of its production. As such, however, it is a very solid essay. I like Zacharek's breakdown of the sexism of the time and how the producers, writers and director tried to respond to the initial audience reaction. Much of what is in the essay is also covered in the other special features, albeit here it is in a more concentrated form. Her discussion of the stars' romance, and how it blossomed on the set, is lovely.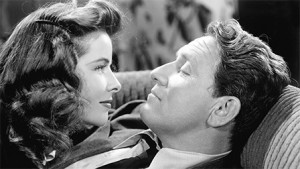 DISC:
There are 7 special features:
2017 Interview with George Stevens Jr. (6:13): I have only major comment, which is "Why is this interview so short?" George Stevens Jr., the son of the director, is a noted film scholar, and worked on many of his father's films, starting with Shane (1953). He packs a lot of information into this brief video space, but we end up feeling short-changed. Yes, I said there was near-overwhelming content on the disc, but it's a shame to cut corners here.
Excerpts from 1967 Audio Interview with George Stevens on Woman of the Year (16:54): At least we get almost 17 minutes of the director's voice right afterwards. We learn quite a lot about the production history of the film – information repeated in some of the other special features – all of it interesting. Hepburn, we learn, is the one who insisted on casting Tracy (Zacharek mentions this, too). We also hear a little bit about Stevens' difficulties with his producers. Great stuff.
2017 Interview with Marilyn Ann Moss, author of Giant: George Stevens, a Life on Film: "American Romantic: George Stevens and Woman of the Year" (14:23): This is another solid extra, with Moss walking us through some of the historical context of when the film was made. She repeats what we just heard Stevens (père) say about Hepburn asking for Tracy as he co-star (even though they had never met). Even more interestingly, she gives us the backstory of how Hepburn and Stevens originally met, on the set of Alice Adams (1935). It turns out Hepburn, after working with a director like George Cukor on Little Women (1933), desired a "masculine director," and so requested Stevens, helping to launch his own career. They purportedly then had an affair. Nothing better than good history married to juicy gossip.
"Katharine Hepburn: Woman of the Century" – 2017 Interview with author and journalist Claudia Roth Pierpont, author of American Rhapsody: Writers, Musicians, Movie Stars, and One Great Building (20:08): I love this interview. Pierpont takes us into Hepburn's ups and downs, discussing audiences' growing irritation with her in the late 1930s, and how she made a comeback through the comeuppance at the end of The Philadelphia Story. I love how she breaks down Hepburn's appraisal of her professional need for Tracy, whom she thought could give her sex appeal the way Ginger Rogers gave it to Fred Astaire. Pierpont has a lot of fun with how Woman of the Year reverses the usual gender stereotypes (until the end), with Tracy as a needy spouse who complains that his wife doesn't pay enough attention to him. Indeed, that is part of the appeal of the movie. A wonderful addition to the disc.
George Stevens: A Filmmaker's Journey (1984 documentary by George Stevens Jr.) (111:30): So this, perhaps, makes up for the lack of Stevens Jr's voice, above, although the documentary feels a little dated (and it's not short). It takes us through the totality of the director's career, and is filled with great talking heads from folks like Ginger Rogers, Fred Astaire, Douglas Fairbanks Jr., John Huston, Joseph L. Mankiewicz, Frank Capra and more, all of whom were contemporaries of Stevens and still alive when this film was made (Stevens, born in 1904, had died in 1975). It's worth watching for their testimonials, alone.
The Spencer Tracy Legacy: A Tribute by Katharine Hepburn (1986 documentary by David Heeley) (86:34): Another substantial documentary, this one focuses on Spencer Tracy (born in 1900, he had died in 1967), and is narrated by its on-screen hostess, Katharine Hepburn (born in 1907, she would not pass away until 2003). I love Ms. Hepburn, but she is a bit much here, and this ends up feeling like a corny hagiography if there ever was one. I also hate how she glosses over the details of her affair with Tracy, even when she interviews his daughter from his marriage (a devout Catholic, he never divorced his wife). Still, amidst all the cheese, there is some good information, and we learn some interesting tidbits, such as the fact that Tracy played polo with Will Rogers. Given that I associate the sport with aristocracy and both of those men with the often rough-around-the-edges characters they played, that was quite a surprise. So, it is by no means a total loss.
Trailer (2:29): It's too bad that no one tried to restore this trailer (it looks terrible), but it is nevertheless a good example of the style of the period.
And that's it. Mostly all excellent extras, and even if, like me, you don't like all of them equally, they still make for a great collection.
– Christopher Llewellyn Reed (@ChrisReedFilm)