THE CRITERION CORNER: TRILOGIA DE GUILLERMO DEL TORO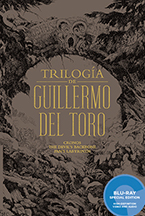 (We here at Hammer to Nail are all about true independent cinema. But we also have to tip our hat to the great films of yesteryear that continue to inspire filmmakers and cinephiles alike. This week, our "The Curbside Criterion" continues where HtN staff can trot out thoughts on the finest films ever made. Today HtN Lead Critic Chris Reed gets comfy with Guillermo del Toro's Trilogía de Guillermo del Toro (Cronos / The Devil's Backbone / Pan's Labyrinth, the massive packaging of some of his earlier works.)
An exhaustive (and occasionally exhausting) collection, Criterion's newly repackaged Blu-ray "Trilogia" of director Guillermo del Toro's three Spanish-language films – consisting of three previously released discs of Cronos (2010 Blu-ray), The Devil's Backbone (2013 Blu-ray) and Pan's Labyrinth (2016 Blu-ray) – is just what every fan of the Mexican master's work needs. Filled with an almost overwhelming number of special features – not all of which are equally strong, but which together provide a meticulously comprehensive overview of del Toro's method (and madness) – this trilogy is also a must-have for those who enjoy thinking about how and why films are made. The better Criterion products take us on beautiful, near-mystical journeys into the obsessive worlds of the great artists of the cinema, and this particular release is definitely among the best that Criterion has to offer, even if all material here is available on the stand-alone discs (which, if purchased separately, cost more than this combo package). Plus, it is a truly hallucinogenic experience to submit oneself to so much del Toro all at once. It may take me months to recover, and that is a good thing.
Guillermo del Toro (1964 – ) has spent his career alternating between big Hollywood fare and more artistically ambitious work. A consummate craftsman, del Toro has brought real panache to most of his blockbusters (Pacific Rim being the one exception), including Blade II and Hellboy, as well. Even when one may quibble with his overall narrative – as I did with the eerily lovely misfire, Crimson Peak – most of the time it is hard not to see the ambition and stunning attention to visual detail with which he layers his movies. He is a born fabulist, and nowhere is this more evident than in the films made in his native tongue, where he mixes horror and fantasy in a provocative mashup of genres that, in the case of The Devil's Backbone and Pan's Labyrinth, is further combined with the grim realism of war, a fusion of magic and terror that is as profound as it is unsettling. When life is too horrible to describe in literal terms, the only way to fully explicate the barbarity of the human race is through metaphor. And at that, del Toro truly excels.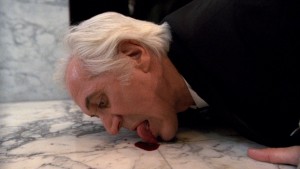 First up is Cronos, del Toro's debut feature, released in 1993. Set in Mexico City, it follows sexagenarian Jesus Gris, whose days are filled with the sleepy pleasures of running an antique store and doting on his young granddaughter Aurora. One day, a mysterious American comes looking for an old statue of an archangel, and when Jesus takes it upon himself to examine the contents of its base, he discovers an ancient mechanical device which confers eternal life on its user…at a price. Cronos offers a wonderful twist on classic vampire stories, showcasing the director's charming ability to update and refresh tired genres. Federico Luppi, who would go on to play the doctor in The Devil's Backbone and the father of Princess Moanna in Pan's Labyrinth, is perfect as Jesus, debonair one moment, licking blood off a bathroom floor the next. Ron Perlman plays the heavy, and he too would continue working with del Toro, appearing in Blade II and playing the titular character in both Hellboy films. But as wonderful as they both are, it's the cronos device, itself, that is the real star, designed with love and care on a relatively limited budget, simultaneously foreboding and enchanting, whispering dreams of grandeur as it sinks its golden claws into unsuspecting flesh. Along with the compelling performances, it lends the film an aura of the spectacular that marks Cronos as a truly auspicious first film, announcing the arrival of a great talent.
Next is The Devil's Backbone, released in 2001. Del Toro once more uses horror in service of a universal tale about the human condition, this time by setting his story in 1939, at the tail end of the brutal Spanish Civil War. The film was produced by the Almodóvar brothers, Agustín and Pedro, so it is no wonder that it features Marisa Paredes, longtime stalwart of the latter's many movies, including High Heels, The Flower of My Secret, and All About My Mother, among others. She plays Carmen, headmistress of an isolated orphanage populated by boys abandoned by those fighting the forces of soon-to-be-fascist-dictator Francisco Franco. The film focuses on one boy in particular, young Carlos, whose arrival sets in motion a series of events involving a ghost, gold and a very greedy villain. As mentioned above, Luppi returns as the doctor, filled with unrequited longing for Carmen. She, in turn, only has eyes for a former charge of hers, now grown into a hunky young man named Jaciento, played by Eduardo Noriega (Open Your Eyes). Intrigue abounds, but none more so than the mystery of "the one who sighs," who may be the spirit of boy gone recently missing. The film's disparate threads are brilliantly interwoven into a creepily cohesive whole where the horrors of the real world are more frightening than anything the supernatural realm can offer.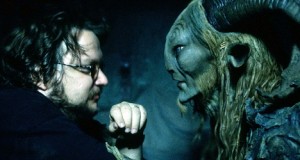 Finally, there is Pan's Labyrinth, released in 2006, winner of three Oscars: for Best Cinematography, Art Direction and Makeup. Also set in Spain, though this time 5 years after the end of the Civil War, as fascist forces are cleaning up the remnants of the Republican, a magical amalgam of fantasy and harsh realism in which the two worlds are inextricably blended, the one influencing our perception of the other, and vice versa. We follow young pre-teen Ofelia as she travels with her newly married (and very pregnant) mother to a military outpost where the brutal Captain Vidal – that mother's new husband – presides over the efforts to eradicate the remaining rebels in the woods. Starring Sergi López (With a Friend Like Harry) as the sadistic Vidal, Maribel Verdú (Y Tu Mamá También) as Mercedes, the housekeeper who secretly aids the guerilla fighters, and a very young (but spectacular) Ivana Baquero (The Shannara Chronicles) as Ofelia, the movie is the true masterpiece of this collection. On the road to her new home, Ofelia encounters a particularly attentive stick bug, which she correctly surmises is a fairy. Soon it leads her to an encounter with an ancient faun (in Spanish, the film is titled "The Faun's Labyrinth") who tells her that she is actually the lost Princess Moanna, daughter of the King of the Underworld, and gives her three tasks to help restore her original identity. The rest of the movie cuts back and forth between the real and the fantastic, and as with The Devil's Backbone, the terrors of the latter pale in comparison to those of the former (embodied by the most horrifying monster of all, incarnated by the great López).
All three films are presented in their original aspect ratios – variants on the wide variety of widescreen formats of our day – and scanned in 2K processes for a stunning high-definition presentation; all video and audio elements are superb. In addition to the movies, the package contains numerous special features – briefly reviewed, below – and a booklet containing essays on each film plus pre-production notes and sketches by del Toro and his collaborators. It's an impressive bundle, for sure. My advice is to take it slowly, rather than binge-watch the entirety as I did; it is to be savored, not gobbled in one bite. However you choose to consume the contents, however, there is no doubt in my mind that you will emerge from your cinematic repast both sated and hungry for more del Toro.
What follows are my thoughts on the extras on each disc and in the booklet.
BOOKLET
The booklet opens with an overall introduction by author Neil Gaiman and then includes essays on each movie: film critic Maitland McDonagh writes on Cronos; critic Mark Kermode on The Devil's Backbone; and critic Michael Atkinson on Pan's Labyrinth. Beyond Gaiman, who has nothing much of interest to say, each writer brings her or his unique perspective to that particular film, creating mostly insightful companion pieces that illuminate hidden meanings and unknown production facts. I particularly like McDonagh's description of what makes Cronos special: "But everything that made Pan's Labyrinth so much more than a run-of-the-mill spook tale was already evident in Cronos: the dark depiction of childhood, the deep understanding of mythic imagery, and the rich, complex relationships that drive everything the characters do, for better or – all too often – for worse." Indeed, it all begins at the beginning. In addition to the essays, we find notes and drawings used by del Toro to guide him as he made the film. Some of these are also featured in the video extras, but it's nice to have them in tactile form, as well. Overall, it's a very fine and substantial supplement.
EXTRAS on DISC ONE (Cronos)
There is not one, but two, commentary tracks here, the first by del Toro and the second from his producers (both from 2002, recorded for the first DVD release); truly, a cornucopia of riches, though del Toro's is by far the richer, in terms of interesting information about the construction of the film. I love his description of how he made the 13 replicas (13!) of the cronos device, using his father-in-law as resident designer, and how he had to sell his van to create the interior of said device (which was far bigger than the exterior, since he couldn't afford a miniature model and the macro lenses that would require. Keeping it all in the family, del Toro's grandfather designed the mystical insect that resides inside of the device. Del Toro also talks at length about how horror movies work best when illuminating something human in ourselves, and how he likes to always include children in them because he sees the horror genre as a logical extension of fairy tales, a guiding through line among all three films in the collection.
Other extras include Geometria, a short 6-minute student film that del Toro made in 1987; an interview with del Toro about Geometria; a walking tour of "Bleak House," del Toro's second residence that he uses as a repository – more like a giant reliquary – for his books and many coveted objects, collected over the years; a 17-minute interview about the making of Cronos (the best of this bunch); a 12-minute interview with cinematographer Guillermo Navarro (brother of one of del Toro's crucial producers, Bertha, who is featured on the second commentary track, above), who would later go on to win an Oscar for Pan's Labyrinth; a 7-minute interview with actor Ron Perlman; a 5-minute interview with actor Federico Luppi (the only interview conducted on the set of Cronos, as the rest are from 2009 or 2010); a gallery of stills from the pre-production and production of the film; and the trailer (not the finest example of its kind). Though much of it is repetition from the commentary tracks and booklet, it is great to hear the same information from different perspectives, and Geometria, itself, provides a lot of insight into the director that del Toro would become. Other than the silly trailer, there are no false notes here.
EXTRAS on DISC TWO (The Devil's Backbone)
Here we have but one commentary – just as well, since I was starting to feel tired after the first disc – and though it is fascinating and full of terrific information about the movie, that information does not always line up with what we are seeing on screen; it's much more rambling, as del Toro confesses it will be in the opening. This is because it is the second commentary he recorded (in 2004), and he alludes to the first commentary (for some other release) as being much more straightforward. As a result, we don't get much in the way of production history, though what we do hear provides a wealth of insight into del Toro's thought process and the meaning behind certain scenes. In particular, he talks a lot about the history of the Gothic tradition, its elements, its development over time, and its evolution from fairy tales (which we have already heard him discuss on the Cronos disc…clearly this is a major obsession of his). He brings up Horace Walpole's The Castle of Otranto (1764), considered the first Gothic novel, and discusses how in Gothic literature the plot is always linked to a piece of architecture, as well as to an object of value (such as treasure) and suppressed carnal desires, all of which he worked into The Devil's Backbone. So, disjointed and amorphously structured though it may be, the commentary still provides a lot of great background.
The rest of this disc features a combination of material from 2004, 2010 and 2013: there's a very short introduction to the disc from 2010 (not very useful); a special interactive feature where you can turn on the thumbnail sketches that del Toro used for pre-visualization, in lieu of the subtitles, to compare them to the final scenes; a 13-minute interview, "Summoning Spirits," in which del Toro discusses Spanish Gothic (good, though by now there is some repetition in what we are learning); a really solid 27-minute making-of documentary, from 2004, in which we hear del Toro speak Spanish for the first time, and where we learn quite a lot about the creation of the orphanage set and props and special effects; another del Toro interview, this one from 2010, entitled "Spanish Gothic," 17 minutes long, which repeats quite a lot we have heard before, but does trace the evolution of the original script from its Mexican setting to the Spanish Civil War, and explains the provenance of the "Devil's Backbone" title, as well, and further mentions how both "The Devil's Backbone and Pan's Labyrinth were constructed to rhyme" (love that phrase). But soft! What light from yonder window breaks? There's more!
The thing about del Toro is that even when I start to feel exhausted from the almost-excessive number of special features on these discs, I then start to listen to/watch/read the next one and find myself once more sucked in, since the man has just an encyclopedic knowledge of so much. And so we also find the following extras: a "director's notebook," which features an interactive animation of del Toro's sketchbook, in which you can click on certain icons to access pop-up video "pods" where del Toro discusses his motivations and/or processes for that part of the movie; an 11-minute interview from 2013, "Designing The Devil's Backbone," about the visual influences on the movie, including the Spanish graphic novel Paracuellos, by Carlos Giménez, who would go on to draw the storyboards for this movie and Pan's Labyrinth; 4 deleted scenes, which don't add much to our understanding of the movie, unless you watch them with the optional commentary track, and then del Toro does add some further insight into the construction of the film; another piece entitled "Sketch, Storyboard, Screen," which offers side-by-side comparisons of thumbnail sketches, storyboards and scenes; and the trailer, which tries desperately hard to hide the fact that the movie is not in English, since we hear no dialogue and see only title cards. Finally, there is an excellent 14-minute interview with Spanish Civil War scholar Sebastiaan Faber, author of Exile and Cultural Hegemony, that provides much needed (and appreciated) historical context for the film. That's a lot, I know! We certainly get our money's worth here.
EXTRAS on DISC THREE (Pan's Labyrinth)
And yet the extras keep coming! There's still one more disc. And it's the best film of the package, by far, even though I really like the other two. There is the obligatory dense commentary from the director, from 2007, which overflows with a wonderful mixture of production history and analysis. I found it fascinating to hear del Toro discuss how much the world had changed in the five years since The Devil's Backbone (which came out just after the 9/11 terrorist attacks), and how he chose the time period of Pan's Labyrinth – 1944, five years later – to mirror the chronological transformation of the real world. And this is a constant theme in Pan's Labyrinth, how the real and the fantastic come together, their boundaries impossible to discern. Del Toro explains the origins of the story and how it evolved, continues his theme of the intersection of fairy tales and horror, and reveals how and why he chose to include such brutal violence in the movie. I think my favorite (though disturbing) fact that I learned is that the scene in the woods where the fascists overtake a band of rebels and kill them all features, as victims of Captain Vidal, the young actors who played the two lead boys in The Devil's Backbone. They escaped one fascist only to fall prey to another…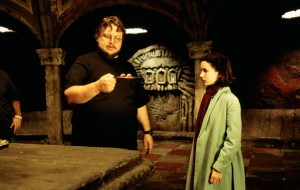 After such a brilliant commentary track, what more is there to discover? Quite a lot, it turns out. We also have "The Spirit of Fairy Tales," a wide-ranging (and interesting) 39-minute conversation, recorded this year, between del Toro and German fantasy author Cornelia Funke, who, as it turns out, is writing the novel version (not a novelization, they both say!) of Pan's Labyrinth. There's another "director's notebook" with the same kind of animated version of del Toro's sketchbook, again with explanatory video "pods," the best of which features Emilio Ruiz, the designer of the miniatures used in the fairy kingdom sequence that opens the film. Then there are 4 documentaries (four!), of varying lengths (the longest is 30 minutes, the shortest is not quite 3), that provide perspectives on the fairy tales that inspired the movie, the design of the creatures (my favorite, featuring Doug Jones, the actor who plays the faun and the "pale man" with eyes in his hands), the color palette (another obsession of del Toro's, mentioned in all the commentaries) and the music. Actor Doug Jones gets his very own 25-minute interview, recorded this year, in which he discusses his long relationship with the director (he worked on Mimic and Hellboy, as well) and the challenges of acting while wearing complicated contraptions on his body. There's a barely 3-minute sequence taken from Ivana Baquero's audition tapes; a series of 4 "prequel comics" that provide origin stories for some of the creatures (not my favorite); several very short "video comparisons" that showcase the development of the music, the design of the green fairy, and the evolution of the visuals from thumbnails to final scenes (also not my favorite); and, finally, a large collection of trailers used to promote the movie, back in 2006.
Yes, it's a Herculean task to watch everything on all three discs and to read the booklet, but I did it. And though I often found myself overwhelmed, I do not regret for one moment the effort it took to get through it all, for Guillermo del Toro is a man well worth knowing. And know him you will, if you follow my lead, buy the "Trilogia," and dive head-first into its treasure trove of contents.
– Christopher Llewellyn Reed (@ChrisReedFilm)