THE CURBSIDE CRITERION: MOONSTRUCK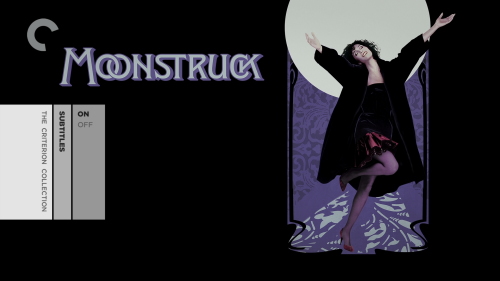 (We here at Hammer to Nail are all about true independent cinema. But we also have to tip our hat to the great films of yesteryear that continue to inspire filmmakers and cinephiles alike. This week Brad Cook takes a liking to the new Blu-Ray release of Moonstruck Nicolas Cage and Cher's 1987 charmer. Like what you see here on Hammer to Nail? Why not give just $1.00 per month via Patreon to help keep us going?)
Moonstruck might seem like an odd choice for the Criterion collection, but they also put their unique spotlight on The Rock and Armageddon, so their tastes are, shall we say, wide-ranging. And Moonstruck is, as far as I'm concerned, more enjoyable than those Michael Bay movies. It may seem hokey now, especially since Nicolas Cage has become a caricature and a lot of people imagine that music video on the battleship when they think of Cher, but try to drop your preconceived notions and just appreciate this 1987 film for what it is: a classic fairy tale wrapped in a modern romantic comedy.
Cher plays a widow named Loretta, who works as a bookkeeper in Brooklyn (how much is that place worth now?) and comes from a traditional Italian family. She blames herself for her husband's untimely death and believes she has a cloud of bad luck hanging over her head, mostly because she didn't adhere to traditions as part of the marriage. When her current boyfriend Johnny (Danny Aiello) proposes, she sees an opportunity to right past wrongs even though she's not really in love with him. Her parents' traditional attitudes certainly factor into the equation too.
Johnny suddenly needs to fly to Italy to tend to his dying mother, and he tells Loretta to meet with his estranged brother Ronny (Nicolas Cage) so she can invite him to the wedding and end the bad blood between them. Ronny turns out to be a one-handed baker who's rough around the edged but loves opera, and you can probably see where the plot is headed from a million miles away.
The plot's predictability is not a major impediment to Moonstruck, however. Screenwriter Patrick Shanley's script is a whip-smart commentary on love, both the traditional and non-traditional variety, and the cast brings the vivid dialogue to life in a way that feels like the film could easily be a stage play. (Unsurprisingly, Shanley stepped out of the theater world for this movie.)
The film arrives in this Criterion edition with a new 4K restoration overseen by director Norman Jewison, who's currently 94 years old and is about as old school as you get in the film industry. I hadn't seen Moonstruck in years, but I trust that this is how the movie should look on your TV.
Criterion commissioned a pair of new bonus features for this release: an interview with Shanley and a chat with scholar Stefano Albertini, who discusses the way opera is used in the film to supplement the fairy tale feel of the story. The Shanley interview runs about 16 minutes and covers his childhood, his involvement in theater, and why he made a foray into screenwriting.
The rest of the extras were either ported over from past releases or were recorded a while ago but not used until now. I have no prior home video editions of Moonstruck, so I'm not 100 percent certain which category each of these fall under, except obvious ones like the first entry here:
• Audio commentary with Cher, Jewison, and Shanley: This is from 1998. The principals were recorded separately, which helped avoid the pitfalls that often beset group commentaries, but that approach also didn't let them play off each other. Cher's part is mostly anecdotes from the production while Jewison and Shanley have a lot to say about the nuts and bolts of movie storytelling. Smart move to change the title from the original, The Bride and the Wolf.
• Introduction by Cher (11 minutes): This title is a bit misleading, since it sounds like something Cher recorded for you to watch before the film. It's actually a 2013 AFI interview with Leonard Maltin that preceded a screening of the movie. At any rate, Cher repeats some of the same stories she tells in the commentary, but there's some new stuff here too.
• AFI's 100 Years … 100 Passions (12 minutes): The title on this one is also a bit odd. It's an AFI interview with Danny Aiello from 2002. He was one of my favorite "Oh, yeah, that guy is in a ton of stuff" character actors. He made everything he was in just a little bit better.
• City Lights: Norman Jewison (33 minutes): This is a 1987 episode of a Canadian TV show in which the director discusses the upcoming Academy Awards, where Moonstruck had six nominations. He expresses much of the mixed feelings I have about the Oscars: on one hand, I appreciate the historical value of the awards and what they mean, but on the other hand, why have people like Orson Welles been repeatedly shafted? (Yes, I know the answer: interpersonal politics. I bet even early hunter-gatherer tribes were full of that nonsense too.)
• Today: Cher, Nicholas Cage, and Olympia Dukakis & Vincent Gardenia (13 minutes): This comprises three 1987 excerpts from the morning talk show during which various cast members were interviewed. The clips are fun in a Wayback Machine kind of way, but they're not long enough for much substance to emerge, which, yes, is pretty much always the case with these kinds of interviews.
• Moonstruck:  At the Heart of an Italian Family Documentary (25 minutes): This is a featurette from 2006 that features Jewison, Shanley, and members of the cast and crew discussing the making of the movie. Plenty of behind-the-scenes footage is included too. This looks like it was created for an old DVD.
• Harold Lloyd Master Seminar (37 minutes): From 1989, this audio-only piece features Shanley talking about writing. It's definitely a must-listen for aspiring writers of just about anything creative, since, in the end, storytelling is storytelling, whether it's destined to be read or watched.
• Music of Moonstruck (6 minutes): Jewison and composer Dick Hyman talk about the film's score.
The film trailer rounds out the disc. Criterion also included a fold-out print piece with an essay by critic Emily VanDerWerff.
– Brad Cook (@BradCWriter)