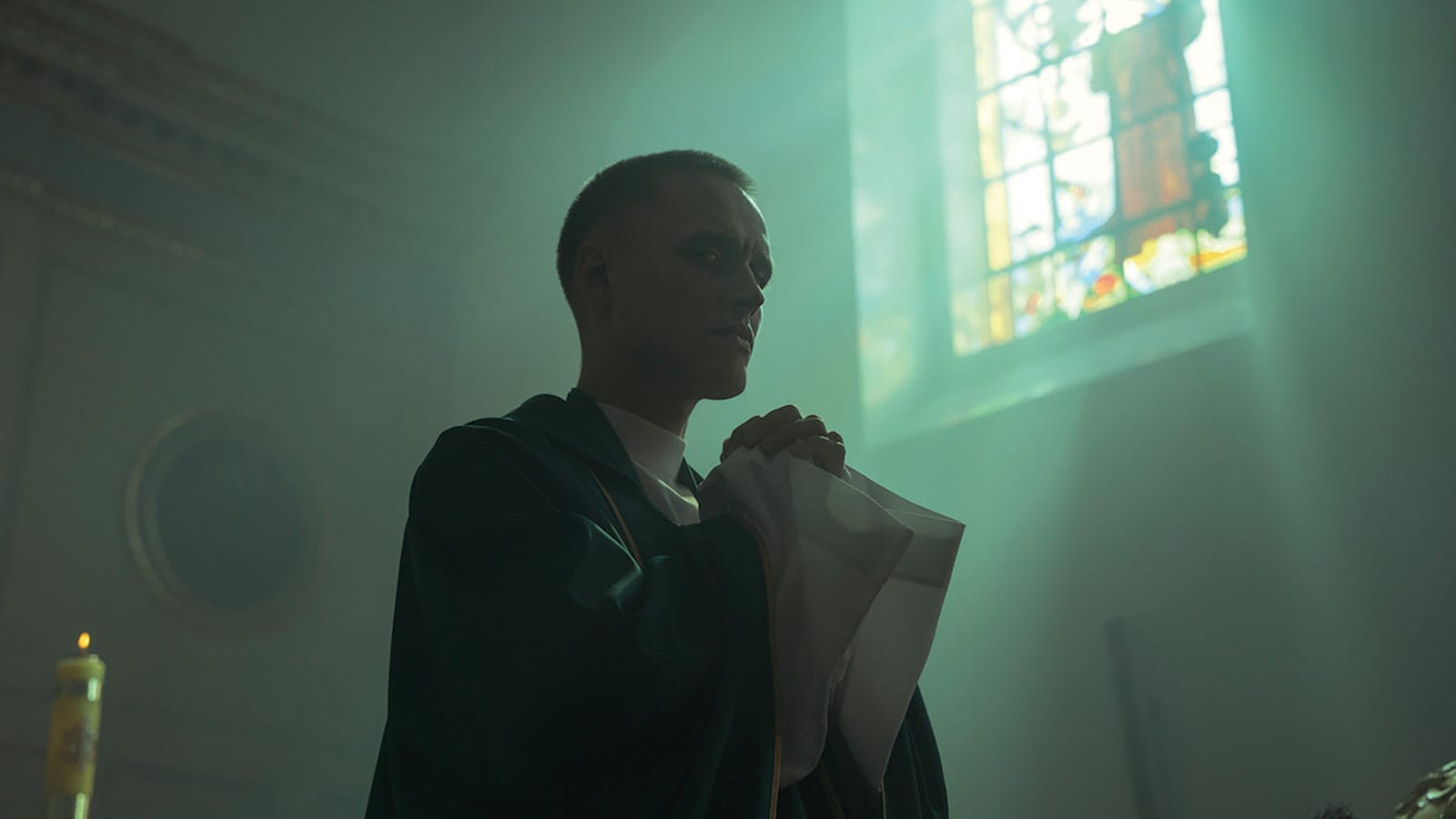 (After a highly successful festival run, Jan Komasa's Corpus Christi is available now on VOD. Like what you see here on Hammer to Nail? Why not give just $1.00 per month via Patreon to help keep us going?)
Polish director Jan Komasa (Warsaw '44), in Corpus Christi, gives us something I hadn't yet seen on screen: a convict priest. A murderer and a bit of a cokehead, twentysomething Daniel (the magnificent Bartosz Bielenia) is due to report to a sawmill upon release on parole from prison, though he had hopes to continue his abandoned seminar training. Though his jailhouse mentor, Father Tomasz (Lukasz Simlat), has patiently explained that such dreams are a non-starter, the delusion runs strong. Upon arrival at the provincial town where the mill is located, he goes to the local church, instead of his new job, and with the clerical collar he has somehow pilfered (perhaps from Tomasz, whose name he will soon steal, as well), he poses as an itinerant young clergyman, just ordained, on a journey of discovery. It's perfect timing, as the town's own priest takes ill. Who better to fill in than Daniel?
That's the departure point of this fascinating, if deeply unsettling, narrative. Faith may run deep in Daniel, along with a will to do good, but the demons of his past prove hard to outrun. And yet, a profoundly flawed minister may be just what the traumatized flock who make up the local citizenry may need. As we soon discover, a recent fatal accident has taken the lives of a number of popular young folks, all in one car, and though the driver of the other vehicle died, as well, no one can forgive him, taking their anger out on his lonely widow. Though inexperienced (and, remember, not an actual priest), Daniel quickly ingratiates himself with the residents through his unconventional preaching, where he speaks from the heart, turning the heretofore staid Catholic mass into something closer to a Protestant revival meeting. Soon, he realizes the massive emotional wound that threatens to consume the town, and sets out to heal the parishioners.
An opening title card declares that this is "inspired by real events," and I would love to see the documentary about what actually happened. But nothing can compare to the angelic face of Bielenia, his enormous eyes and skeletal face alternating between the ecstasy of communion with God and the fear of being caught. We feel his genuine calling so profoundly that it comes as a shock to see him blow off steam through drugs and alcohol; likewise his growing attachment to Eliza (Eliza Rycembel), a woman of about his own age whose brother died in the aforementioned crash. Will their friendship remain platonic, or will Daniel break one more taboo? And what to do if the real Father Tomasz shows up?
As much high-stakes psychological thriller as Passion play, Corpus Christi is never less than riveting, the compelling performances focusing our attention on the nuances of life at the intersection of good and evil. Daniel is both monster and saint, guiding those who need him towards a better understanding of the world. He may be imperfect, but the movie is not, though its enigmatic, brutal ending may disappoint those looking for perfect resolution. A satisfying conclusion would blunt the edges of Komasa's shattered mirror of a movie, however, which here reflects back our own sins. Beware those ready to throw the first stone at the glass.
– Christopher Llewellyn Reed (@ChrisReedFilm)