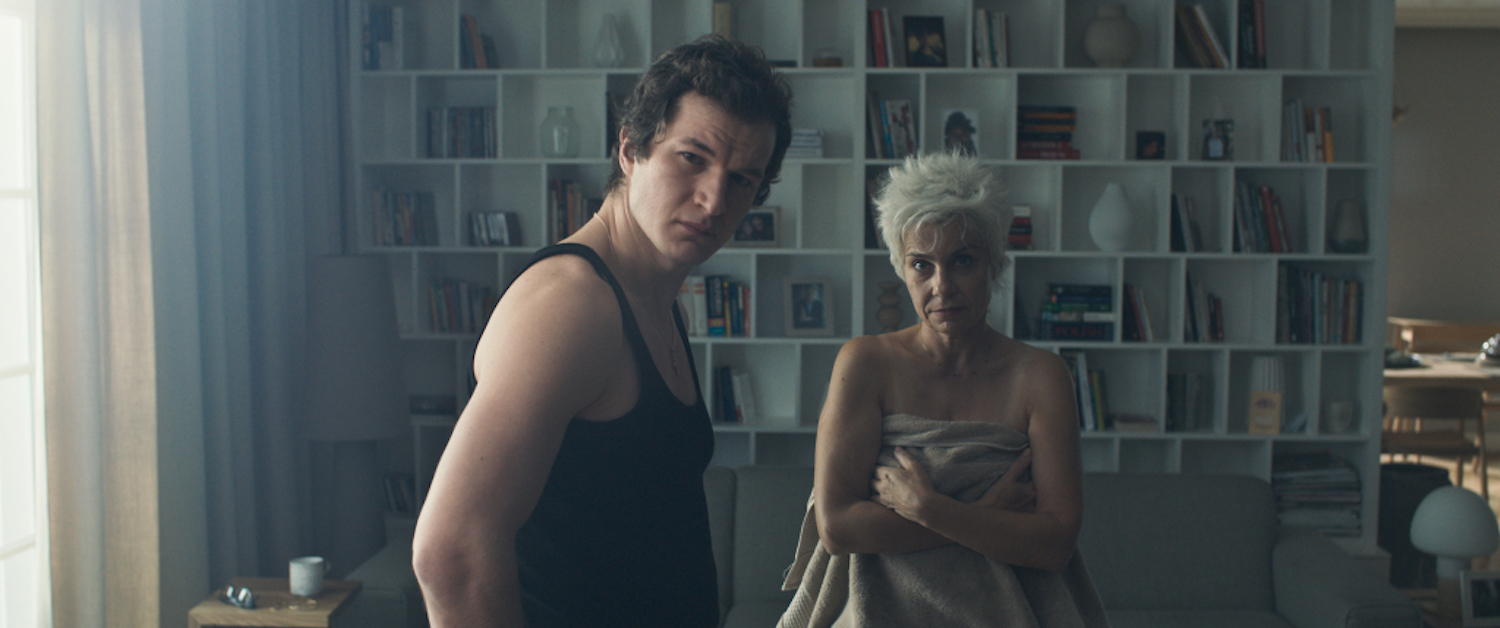 (Małgorzata Szumowska and Michael Engłert's Never Gonna Snow Again will be available to stream on Friday, July 30 via Kino Lorber. Like what you see here on Hammer to Nail? Why not give just $1.00 per month via Patreon to help keep us going?)
What happens when a mysterious stranger, not from these parts, walks into town? His presence shakes things up, upending the neat and tidy quotidian order. Men and women are drawn to him in different ways, wanting to either be him or be near him. Such is the frequent set up of Westerns of yesteryear, but in Never Gonna Snow Again, the latest film from frequent collaborators Małgorzata Szumowska (The Other Lamb) and Michael Engłert (here making his directorial debut, while also continuing his work as Szumowska's cinematographer and co-writer), the conventions of the once-ubiquitous Hollywood genre are appropriated for their own unique purpose. 
Set in a wealthy gated community near the Polish capital of Warsaw, the movie functions as a meditation on social class and immigration (with a titular illusion to our burgeoning climate crisis added for good measure). It's more than just a modern-day "Eastern," however, but a tale as universal as it is specific, offering insights and entertainment for all to savor. Adding layers of additional meaning to the narrative, there are shades of Jean Renoir's 1932 Boudu Saved from Drowning (and/or Paul Mazursky's 1986 American remake, Down and Out in Beverly Hills), as well.
When first we meet Zhenia (Alec Utgoff, Our Kind of Traitor), he emerges from darkened woods, dawn not yet breaking, slowly making his way from the wilds to civilization. Lights flicker upon his passage, which could be coincidental, or an indication of something supernatural. As we will learn, he hails from near Chernobyl, in Ukraine, and so, as everyone jokes, must be radioactive (and in yet another cinematic reference, demonstrates possible telekinetic abilities à la the child in Andrei Tarkovsky's 1979 Stalker). 
His real power, however, comes from his apparently near-magical massage techniques; that bag he carries over one shoulder is a portable table, which he sets up in the houses of his various clients. They all live in the same sprawling complex of identical fancy homes, and there he uses his hands to relieve the strains of stress, anxiety and, in one case, sickness. Even the companion animals can expect some expert physical therapy, as witness the one very lucky bulldog who enjoys some quality time with Zhenia. But what about our protagonist's needs? Who takes care of him? No one and everyone.
In occasional flashbacks, we see the boy Zhenia with his now-dead mother (victim of the region's 1986 nuclear disaster), though the drama's central character remains otherwise very much a cypher (much like the hero in the aforementioned Westerns). His status as outsider marks him as both strong and helpless: everyone tells him their problems, even as he remains at their mercy. Most speak to him in Polish, while he almost always answers in Russian. Words are no impediment to communication, though; body language says it all. Just as with immigrants everywhere, he is desperately needed, bringing a vitality that the longtime locals, here all spoiled with riches, no longer possess. 
Beyond Utgoff, perfect in the role, the ensemble offers appealing support, imbuing the characters' existential ennui with full humanity. They include Andrzej Chyra (Walden), Krzysztof Czeczot (Exterminator), Agata Kulesza (Ida), Maja Ostaszewska (I Am Lying Now), Weronika Rosati (I'll Find You) and Lukasz Simlat (Corpus Christi), among others. The entire cast takes the simple premise and gives it rich backstory, their performances filling in the gaps purposefully left blank by Engłert and Szumowska. By the end, we have witnessed a dream, wrapped in a riddle, inside a metaphysical study of 21st-century torment. Will it snow again? Maybe. But for now the times ahead look tempestuous.
– Christopher Llewellyn Reed (@ChrisReedFilm)