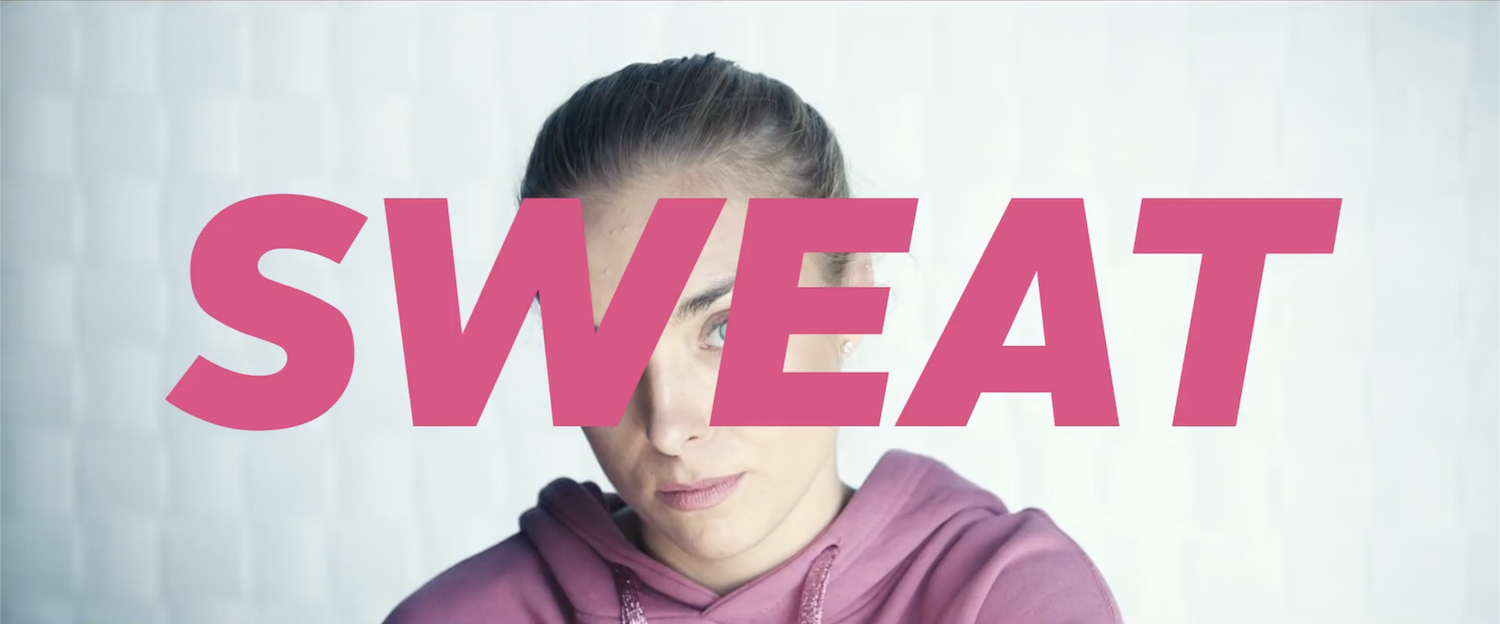 (After a stellar showing at Cannes, Magnus von Horn's feature Sweat is in theaters NOW and drops on Mubi July 23rd. Like what you see here on Hammer to Nail? Why not pay just $1.00 per month via Patreon to help keep us going?)
Polish fitness instructor Sylwia Zając leads her students through dynamic exercises in a sleek Warsaw shopping mall, the camera restlessly whipping between her, them, her assistant Klaudiusz and back to her in an almost dizzying visual pirouette, our eyes unable to keep up. Afterwards, she basks in everyone's adulation and they in her attention, all of it posted to social media. "Sweat" is both the name of her workout routine and of Magnus von Horn's movie about the costs of fame in our social-media age. In powerful cinematic strokes, Sweat takes on the burden of authenticity when all anyone wants of you is the image they already have in their own heads.
Magdalena Kolesnik (Marygoround) plays Sylwia, and though she smiles brightly for her fans, we sense reserves of barely contained emotions underneath. Sure enough, in a café meeting with her agent, he expresses concern about a recent online video of hers that has gone viral (thanks to her 600,000 Instagram followers), in which she cries about her loneliness and inability to find love. There are plenty of men eagerly available, including Klaudiusz (Julian Swiezewski, The Reconciliation), but no one who sees her for the unhappy soul she is.
Except, perhaps, for Jackson, her cute little Jack Russell Terrier with whom she shares an upscale apartment. It's on a walk with him, however, that she encounters the most disturbing kind of fan, a male stalker masturbating in his car. Though she sends him packing, he soon posts an apology video, which upsets her even more. On a subsequent birthday visit to her mother's, she is shocked when mom (Aleksandra Konieczna, Corpus Christi) is less than sympathetic to the problems of her daughter's career. Perhaps, in a universe where even family refuses to listen, it makes sense to post one's most intimate thoughts and feelings for all to see.
Von Horn (The Here After) never lets up with his manic compositions, just as Sylwia never stops pushing herself to the limit, the lens moving in and out of intimate close-ups, stripping his protagonist of the very artifice she has so carefully constructed for the outside world. Frequently, the frame is so tight that it can barely contain her movements, such as in a simple scene on a treadmill. Later, as every detail sowed earlier comes to fruition, that raw focus on the truth below the surface pays off. A life half lived is no life at all, and the lesson will be hard-earned.
None of this would succeed without the magnetic presence of Kolesnik, who holds our attention just as she does that of her disciples. She has the muscles and tone for the part, but it's the way she portrays the turmoil within that makes the movie. Ably assisted by a strong ensemble (including little Jackson, who nails it), Kolesnik only perspires as required. After that flood, she rebuilds the dam: she's strong, and an identity discovered makes her even tougher. Warm up, roll camera, and get ready to sweat. Sylwia has you covered.
– Christopher Llewellyn Reed (@ChrisReedFilm)