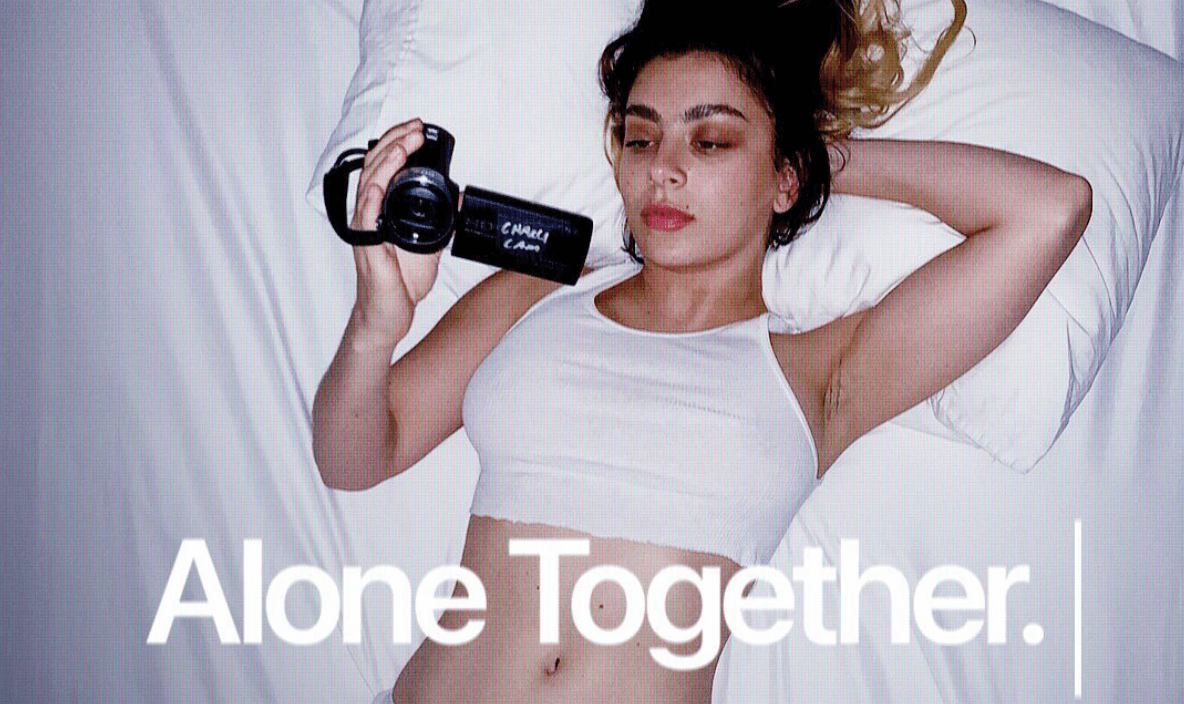 (The 2021 SXSW Film Festival kicked off March 16 and ran through the 20th, all online. Hammer to Nail has tons of coverage coming your way so stay tuned! Like what you see here on Hammer to Nail? Why not give just $1.00 per month via Patreon to help keep us going?)
People have dealt with a pandemic in different ways. When your entire life is in the spotlight – pink diamond: "gonna give you good views, watch me whip it up" – to have it flipped off in one swift motion can create a void, an absence of anything affirming. For Charli XCX, her quarantine and anxiety forced her into creative overdrive. She decided to record mix and release a brand-new album within five weeks, a process chronicled in Alone Together. This current trend of pop stars pulling back the curtain to show us their process plays a little bit differently with Charli XCX than it does with Taylor Swift, who produces a full form in depth documentary seemingly after each of her new albums or tours diving into the details of recording each song. For Charli, Alone Together is more about how to deal with her depression and above all things her relationship with her fans – "I know when I know, I don't wanna be alone." – claws
What can't be lost on any viewer is the truly personal relationship Charli has with her fans, who she refers to as angels, i.e. Charli's Angels. As Alone Together rolls along its swift 67-minute running time, the audience is treated to seven or eight of these super fans, all of them self-recording their quarantine like Charli. They stand in for the rest of us as Ms. XCX shares her fears and frustrations with her self-imposed deadline of this album. Many of the Angels who see Charli as their own personal quarantine superhero are LGBTQ: "My clique running through my mind like a rainbow" – c2.0.
They call her the 'future of Pop' and praise her proven allyship of featuring queer artists as Christine and the Queens, Kim Petras, Troye Sivan, Pablo Vittar and Big Freedia. As Charli has pushed her music further from its simple pop roots, she has found her LGBTQ fan base embrace her even more. According to the artist, "I honestly think that the LGBTQ community has better taste…I think it's also about the sense of embracing who you are and being proud to be different." For Charli, there's a sense of Freedom that queer culture exudes, as well as a consciousness of being in the 'underground.' 
"Think you worked me out, but you're wrong, Dirty, I can talk dirty, I can make you feel so sick, Switch your faith and leave you so low. Hurt me? Know you'll never hurt me, I'm about to detonate. Pull you close, and then, I'll be gone." – detonate
In an interview with gay pop icon and collaborator Troye Sivan in Gaytimes, she says "it's so liberating to not be in a box. It makes me feel inspired and able to explore anything I want to." Maybe that's why when she found herself in the box of quarantine, "Visions comin' every night" – Visions, she had to push herself to make a new album.
But it's not just escaping the box, it is also getting back to the spotlight. One of Charli's Angels, Poison Oakland, a self-proclaimed 'bubblegum drag pop star journalist barbie' admits how difficult the pandemic has been on him. He needs to perform to feel himself. Actually, most of the Angels admit how difficult it has been to maintain community during quarantine, and how being queer, already pulling us away from others, can make us feel even more alone without our safe havens. I know for myself, dressing up and presenting the way I waited decades to is a really important part of being trans. My wife says I've developed a fierce zoom game, but honestly, I had to, to keep depression at bay. Charli's Angels have found a new safe haven in her digital entourage. Here they can be themselves with other of a like mind…alone but together. "The Walls are gone, did we melt them down?"– i finally understand
And Charli XCX has found an even better way to help their resolve through the pandemic, she makes them co-collaborators on the album. There are almost no polished tracks presented during the film. Rather we see rough beats, sloppy snippets of hooks, and 'sick' ideas, shared first to fans in the homes around the globe. Charli crowdsources ideas on whatever social media connection she's employing for the day, even receiving lyrics from one of her fans anthems – "I just wanna go to parties, Up high, wanna feel the heat from all the bodies"). If Taylor Swift's Folklore: The Long Pond Studio Sessions documents an album already in the public's heart, and Demi Lovato's Dancing with the Devil showcases an album about to be released, Alone Together really exists in the twinkling of artistic invention. It all feels very fresh, and the energy is contagious. I came in a casual fan most aware of Charli's collaboration with other artists – she is the one who made Iggy Azalea Fancy and made Icona Pop say I Love It. One night post-doc, I was seriously dancing in my living room to a bandsintownplus livestream performance, Charli swearing "I only threw this party for you." – party 4 u
I'm not sure I truly know Charli any better than I did at the start of the film. Despite her saying that this album is going to deal with more complicated and personal topics than her past work (enemy– "I'm so far away sometimes, I'm distant, yeah. You might help me, intimacy, I'll admit, I'm scared") we are not really privy to a whole lot of on-screen depth. Filling frame more often than any other of the secondary players, Charli's East Coast transplant boyfriend Huck Kwon comes off a bit as in way over his head. After 67 minutes of him looming just off screen (often filming), I can tell you nothing about him except that Charlie loves him ( "Seven years and it's been you and I, always" – 7 years) and he looks terrible with a scruffy mustache but pretty cute without. I spent a good portion of Alone Together imploring my doc hero to dump the deadweight and embraced the rainbows and unicorns of her LGBTQ fanbase like Demi. Is it wrong that I just want all of my favorite pop stars to be queer? Rumors have swirled around Taylor Swift for years now. We all want to see ourselves in our heroes.
Is this a great documentary? Not really. I'm not sure it's going to change anybody's opinion on the artist nor will it teach you anything fundamental about mankind. That said, it is an intimate peek inside the making of one album and one career at one moment in time, Charli XCX, hold the mystique. For any fan, it is a gift. For the casual fan, it's a compelling argument. For everyone else, as Charli sings on How I'm Feeling Now's forever: "I hope you get some time to grow." –visions
– Bears Rebecca Fonté (@BearsFonte)