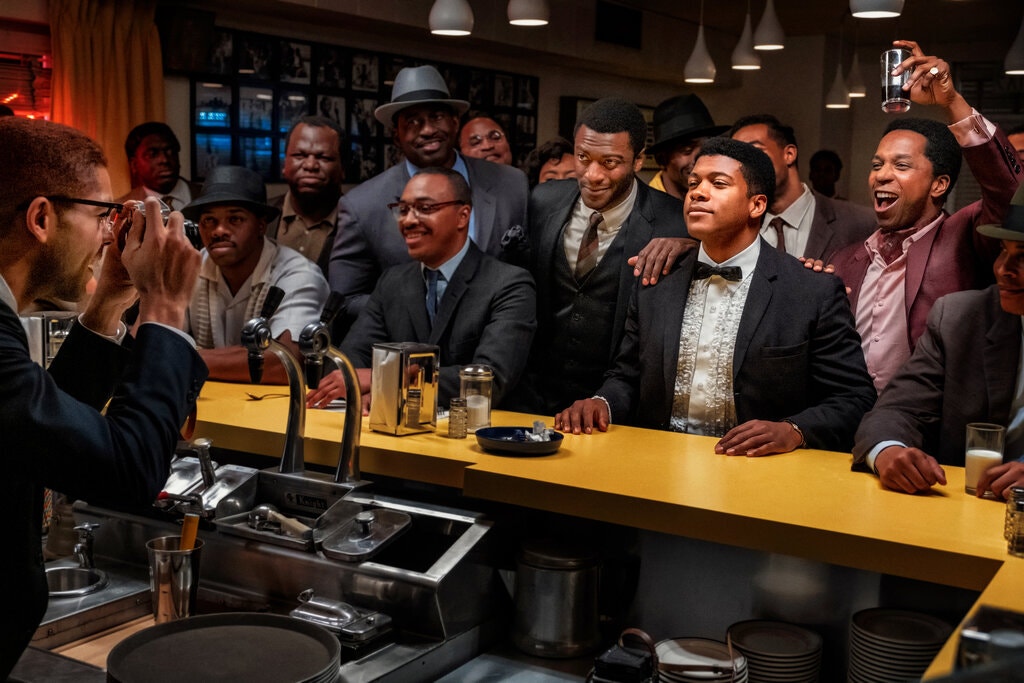 (Regina King's narrative feature directing debut One Night in Miami… dropped on Amazon Prime Friday, January 15 2021. Like what you see here on Hammer to Nail? Why not give just $1.00 per month via Patreon to help keep us going?)
On February 25, 1964, a 22-year-old boxer by the name of Cassius Clay knocked out the reigning heavyweight champion, Sonny Liston, in Miami, himself then ascending to the coveted throne. The world would soon come to know this young upstart as Muhammad Ali, as he was about to announce his conversion to Islam and renounce his "slave name." Instead of celebrating his victory in raucous revelry (he was newly a Muslim, after all), this pensive athlete chose, instead, to spend the evening in the company of three friends, all equally important (in different ways) to the history of the 20th century: NFL superstar (and budding screen actor) Jim Brown, singer/songwriter Sam Cooke, and Muslim minister and civil-rights leader Malcolm X. Such is the real-life departure point for writer Kemp Powers' 2013 play One Night in Miami…, which actress Regina King (If Beale Street Could Talk), in her feature-directorial debut, has now adapted for the screen. What results is a profound study of class, race, religion and power in America, as vital now as ever.
Most stage dramas, when transposed to a moving-image format, tend to reveal their roots via dialogue-heavy scenes in single locations. After all, through plays can certainly be narratively dynamic and involve significant physical movement, they often stay put in their spaces for extended periods of time. One Night in Miami is no exception, though King nevertheless extends the action beyond the primary hotel room often enough to break the visual monotony. Her four lead actors also help, each delivering a robust, committed performance that is, in and of itself, a reason to keep watching. They are: Kingsley Ben-Adir (Noelle) as Malcolm X; Eli Goree (Race) as Clay; Aldis Hodge (Brian Banks) as Brown; and Leslie Odom Jr. (Harriet) as Cooke. Their conversations and arguments plunge us head-on into the time period, when some Black Americans had begun to see a change in circumstances, yet still felt the boot of white supremacy on their necks. Given where the country is today, what goes around very much comes around, sadly.
Though no one was in the space with these men but them, and so what is here recreated comes entirely from Powers' and King's imaginations, the context of their interactions is that of actual history, and the filmmakers use that background to articulate thoughts on the state of the nation, and of African Americans, past and present. Each individual comes to the night with their own attitudes towards assimilation, integration, resistance and more. It helps, dramatically (and probably for the real discussion that transpired), that they were all at crucial turning points in their lives: Malcolm X was about to leave the Nation of Islam, where he had initially found a home yet was now at odds with its leader, Elijah Muhammad; Brown was tiring of his football career and happy to make the move to movies and better pay for less grueling work; Cooke was at a creative crossroads, about to compose the great civil-rights anthem "A Change Is Gonna Come" after years resisting putting anything remotely polemical into his work; and Clay, well, he was about dominate his sport for years to come and, yes, change his very identity. A lot was on the table, and it's all here.
Beyond the moving spectacle of four thoughtful Black men engaged in intellectual jujitsu is the emotional impact of seeing friends argue, get angry and then make up. Voices raised do not indicate irrevocable splits; insults levied can be smoothed over with the passage of time. What we witness is the human condition in all its pain and glory, acted out for our careful consideration. There is "no room for anyone to be standing on the fence anymore," says Malcolm. Indeed. The fence is still there. Which side are you on?
*Note: Melanie Addington also reviewed One Night in Miami… back in October. Click here for her review…
– Christopher Llewellyn Reed (@ChrisReedFilm)