A Conversation with Eli Despres, Josh Kriegman and Elyse Steinberg (THE FIGHT)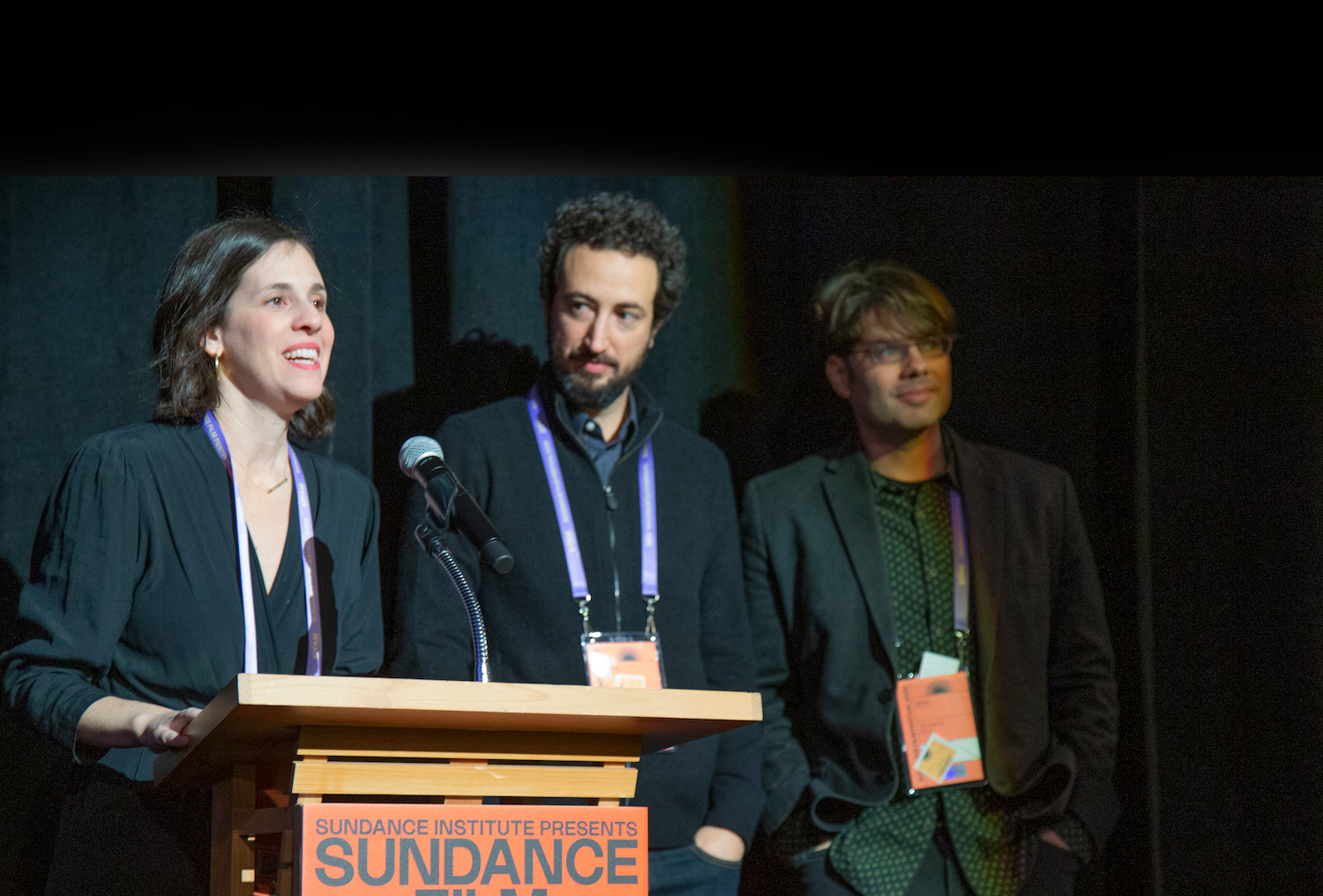 Back in June, during the virtual 2020 AFI DOCS, I was granted the opportunity to chat with not one, not two, but all three directors of the documentary The Fight (which I actually saw and reviewed at the 2020 Sundance Film Festival, the last live fest I attended). They are, in alphabetical order, Eli Despres, Josh Kriegman and Elyse Steinberg, who have worked together for a while, including on the 2016 Weiner.  This new film profiles the ongoing struggles of the American Civil Liberties Union (ACLU), which at the time of the film's completion was working on 147 cases filed against the Trump administration, 4 of which are covered in The Fight. Here is a condensed digest of our conversation, edited for length and clarity.
Hammer to Nail: Your film starts right away in the days just after Trump's inauguration; in fact, even before. So, when did you actually get the idea for it and start making it?
Elyse Steinberg: So, it was seven days into Trump's presidency, the night his Muslim ban was enacted, that I actually joined the protesters that were gathered on the steps of the Brooklyn courthouse. And inside, ACLU lawyer Lee Gelernt was arguing for an emergency stay of that order. And so I was just steps away from him when he emerged, and the decision for a stay came down. I saw his face and it just had this expression of such exhilaration and joy and total shock that there were these crowds of people chanting "ACLU." And I immediately felt that this is where we needed to be. We needed to be with Lee in this moment and with the ACLU, following them for the next year, for the next three years, as they were battling Trump. I felt like this was going to be one of the most significant civil-rights battles of our lifetime.
Josh Kriegman: And what's funny, actually, is that what happened the next day after this protest, is Elyse came bursting into our office where Eli and I were. And she made this beeline straight for the whiteboard that we have on the wall with ideas for future projects. And she grabbed the eraser, erased everything, and wrote in big letters "The Fight." And she said, "We have to get inside the ACLU and tell the story of the ACLU versus Trump," and Eli and I heard that immediately and said, "Yeah, that's what we have to do." And off we went.
HtN: That's fascinating to hear that until that moment when you were outside with Lee Gelernt you did not know you were making this film. That was the catalyst.
ES: Absolutely, yeah.
HtN: And it is a powerful moment in the film. So, how did you pick these four particular cases, on immigration, the census, reproductive rights and trans rights? Obviously, you couldn't do all 147 cases, but what motivated these particular four?
Eli Despres: It wasn't really hard for us to pick. These were the biggest fights that were ongoing, and it happened that the attorneys who were engaged in this litigation were these incredibly charismatic and interesting and odd characters that were sort of your dream when you're doing vérité documentary: to come across subjects who just light up the screen and who you just want to watch. And so the stories and the characters chose us. It felt like these were the stories at the center of America's conflict right now. And these characters were amazing. So, there was not a lot of debate about who to follow and what to do.
HtN: Have you been following the ACLU since you wrapped filming? How many cases are there now against the Trump administration? I'm assuming there are more than 147.
ES: Yeah. I mean, it just keeps on going up. I think there were a few lawsuits that were just filed two days ago, so the number just gets higher and higher. And there have been some Supreme Court decisions that have come down recently, too, for LGBTQ rights and an employment case that just came down for DACA, and the ACLU was involved in these cases that are now having these decisions, so it's been exciting to see these wins that they're getting.
HtN: So how about access? I mean, I'm sure you pitched this to the ACLU in a way where they were happy to come on board, but nevertheless, you're pretty intimately embedded with not only the five lawyers on the four cases, but also sometimes with their clients or the people they're representing. So, can you describe how that worked in terms of gaining access and surmounting any obstacles there?
JK: Yeah, so we went to the ACLU and presented our vision for the film, and that we're vérité doc filmmakers, and so the thing we always want and what we really need to make the films in the way that we like to make them is total access. So, we told them that we wanted to be inside, documenting all the legal twists and turns, inside strategy sessions and arguments and practicing and personal footage of them at home, in the hallways, everywhere. And they said that they loved the vision, but there was no way that we would ever be able to get inside to film the ACLU in that way.
And so we, the three of us, sort of took that as an encouraging sign and figured we could make it work and basically just kept the conversation going. And it was many, many conversations later that they ultimately did allow us in. So it was about getting a certain amount of trust and understanding of who we are as filmmakers and our vision and what we wanted to do. But also, I think that they recognized that this is an historical moment and there is just an importance in having it documented for history.
HtN: Was there any resistance ever to filming the people not in the ACLU?
JK: Well, we always, of course, had to make sure not to infringe on attorney-client privilege, but it was really just a sort of case-by-case thing, where we talked to folks and gained access as we went along. For us, it really is just being, as much as we could, flies on the wall, embedded day-to-day, moment-to-moment, and just working hard to stay in the room.
HtN: One of the more interesting moments, in a film filled with interesting moments, is when Lee Gelernt is about to go on air when suddenly a Supreme Court decision comes down on…I think it's the census? Were there any particular issues getting to film behind-the-scenes in a newsroom, and what was that moment like for you?
ES: So, it was the Muslim ban decision that came down.
HtN: That's right! Sorry. I haven't seen the film since Sundance.
ES: Yeah. So, one of the things that we sort of figured out is that Supreme Court decisions start to come down on Mondays or Thursdays, and we would look at the Supreme Court calendar and just know that we had to be with Lee on those days, and when the Muslim-ban Supreme Court decision would come down. So, we had a close-knit team, and sometimes we would travel with him all the way to California just to be there so he could check his email to see if the Supreme Court decision had come down, or we would be with him in his home on Mondays, and we did this for months because we just knew that that moment, that reveal of when it would happen would be so foundational to our film.
And we did this, actually, for a lot of our cases, a lot of just waiting around – I think the lawyers do this all the time – for that decision. And it just happened to be that the day that the Muslim ban decision came down, Lee Gelernt was going on MSNBC to talk about family separation. And I think he was just, you just see him in this moment, this pure unvarnished moment where he has to go on and talk about it and he's not prepared. And he's calling and he's trying to figure out his talking points and he gets on. And I think that's what we live for as vérité documentary filmmakers: those moments that sort of give you a behind-the-scenes look of what it really means to fight these major civil-rights legal battles.
ED: If I can chime in…I think that a scene like that is the result of just a ridiculous amount of crappy scenes where things don't happen, where you're just hours and hours of just living in the same space with your subjects and following them around the globe and filming moments where they're typing or reading briefs. And it's mind-numbing, but making sure that they trust you and that you've…being willing to just slide in the door at MSNBC and just making sure that you're there relentlessly so that when those moments happen …
I mean, I think what's special about that scene is not necessarily that a Supreme Court decision is coming down, but that we're seeing, in real time, Lee's emotional response to what's happened, and the incredible stakes because he's invested in the lives of his clients. And he has his personal investment in that he's been killing himself for months and months and months. And all of a sudden, this loss is inflicted on him while he's being broadcast live, nationally. It's a scene like that, which is a very special scene to me, which is a product of thousands and thousands and thousands of hours of … really, I have to give props to our partner, Elyse, and our co-producers, Sean McGing and Maya Seidler, who spent a lot of those hours and logged a lot of those miles to make sure that they were there when this stuff happened.
HtN: That brings up my next question which is…I don't think I've ever had an interview where three people were all credited as directors on a film. So, how do you three work together? Who does what?
JK: We have been collaborating for years, the three of us, including on Weiner. So, that collaboration among the three of us sort of began there, and we've gone on then to continue collaborating. And we've also done a docuseries on Showtime on couples therapy and then this film. And there's just…I don't know exactly what the magic formula is, but we manage to work together in a way that just feels pretty productive most of the time. And we really believe in the collaborative aspect of this work, I mean, it's just a really strong feeling among the three of us that the projects are stronger when there's the opportunity to really bounce off of each other and work together. So it's working well for us.
ES: I also think that three's a really good number because there's always a tiebreaker. (laughs) With two, you can get locked in, but with three, someone's got to out-rule the other.
ED: I dissent! (everyone laughs) I actually I feel like we're a beautiful little three-headed monster. And the places where our Venn diagram and character and approach to filmmaking overlap make us stronger, and the places where they diverge make us stronger. I think it's a rare sort of chemistry, a weird alchemy that we've achieved. And, I don't quite understand it, but I don't want to disturb it. We definitely sharpen up each other's ideas. We make each other smarter…
JK: And the trick is that when there's a disagreement, it can't be the same person that loses every time.
ES: True, true.
HtN: Words to live by! I noticed, however, that the only one of the three of you credited as one of the editors is Eli. So, Eli, perhaps you snuck yourself in there because the editor always has additional control over the final product.
ED: Yeah, it's true. I can break ties simply by refusing to make any changes that they request, if I want to. I have the ultimate veto power. (laughs)
HtN: (laughs) There we go, very smart. So, you've made, so far, an interesting variety of films. I'm assuming that you're already looking to your next project. Do you have something in mind?
JK: We're currently working on Season 2 of Couples Therapy, on Showtime. So that is in production as we speak.
ED: We have some other projects that we're excited about, but I don't think we're ready to talk about them publicly, yet.
HtN: So, thank you. And I wish you all good things with the film.
ED/JK/ES: Wonderful. Thank you so much!
– Christopher Llewellyn Reed (@ChrisReedFilm)