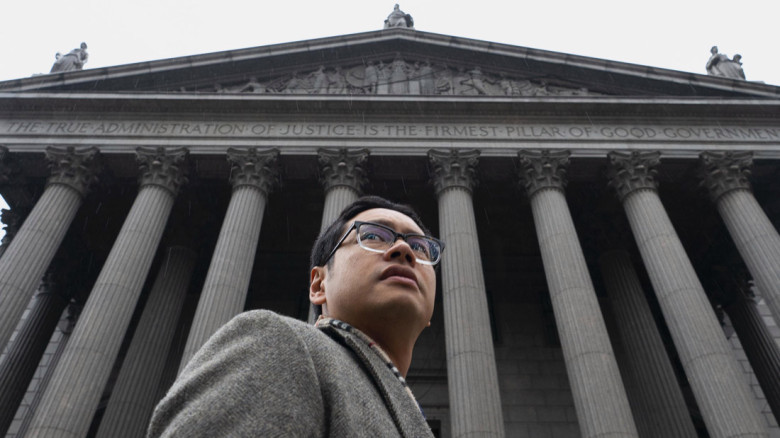 (The 2020 Sundance Film Festival ran January 23-February 2 in and around Park City Utah. Hammer to Nail had boots on the ground at the fest and guarantee more coverage thank any other site out there. Like what you see here on Hammer to Nail? Why not give just $1.00 per month via Patreon to help keep us going?)
In 1917, as a wave of patriotism swept Americans into battle in Europe's Great War – what would later become known as World War I – so, too, did there rise up the usual human anger at those who opposed the general march to conflict. We are, too often, such creatures of hierarchy and consensus that we struggle to make room for disagreement. Fortunately, there were two individuals, Crystal Eastman and Roger Baldwin, who founded a small office – the Civil Liberties Bureau – within the American Union Against Militarism, which would three years later become the American Civil Liberties Union. The year 2020 marks the hundredth anniversary of the ACLU, therefore, and I am proud to call myself a card-carrying member, as its purpose is to defend the rights enshrined in the United States Constitution. We should all be grateful it exists, irrespective of ideology, as the ACLU has defended those on the right and the left of the political spectrum. Since 2017, however, it has been especially busy.
In the new documentary The Fight, directors Eli Despres, Josh Kriegman and Elyse Steinberg (all three wrote Weiner, the latter two directing) take on the epic crusade of the ACLU to defend civil rights in the Trump era. We start with the inauguration of our nation's 45th president, then cut to 7 days later as massive protests erupt in reaction to the administration's Muslim ban. Enter Lee Gelernt, the ACLU's Deputy Director of Immigrants' Rights, to file for a stay of the order, which is granted. Sadly, though a real victory, it is a short-lived one, as Trump and his cabinet will not stop issuing orders that run counter not only to our stated (and constitutional) values, but to humanitarian concerns. The film is aptly titled: the fight goes on, the stakes never diminishing.
Beyond Gelernt, we meet Brigitte Amiri, Dale Ho, Josh Block and Chase Strangio. Together, they represent 4 out of the (so far) 147 lawsuits filed by the ACLU against the Trump administration. Amiri, Deputy Director at the ACLU's Reproductive Freedom Project, defends pregnant women seeking asylum in the U.S. who are trapped in custody and denied access to abortion (which, for those wondering, is illegal). Ho, Director at the Voting Rights Project, is lead attorney in the case to prevent the inclusion of a citizenship question on the 2020 census. Block and Strangio, Senior Staff Attorney and Deputy Director for Transgender Justice, respectively, at the LGBT & HIV Project, file against Trump's military transgender ban. They make a formidable collective, though they are but human, the constant stress and lack of rest, not to mention the vile hate mail they receive from our country's best deplorables, taking a toll. It's a wonder they keep going, but they do, to our communal benefit.
Filmed in intimately close quarters, the documentary brings the audience fully into the quotidian routines and prodigious work ethic of all involved. There is humor amidst the turmoil, as well: Lee Gelernt's almost constant inability to keep his many cell phones properly charged is one recurring joke; Block's challenges with dictation software, another. The ACLU lawyers are a vibrant bunch, committed to making America, and the world, a better place. While I am (mostly) a pacifist, this is one fight I can truly get behind.
– Christopher Llewellyn Reed (@ChrisReedFilm)
Like what you see here on Hammer to Nail? Why not pay just $1.00 per month via Patreon to help keep us going?