ISLAND OF THE HUNGRY GHOSTS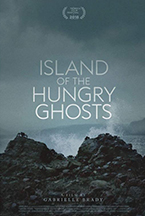 (The 2018 Tribeca Film Festival ran April 18-29 in Manhattan, NY. Hammer to Nail has all sorts of coverage coming your way so stay tuned…)
A most deserving winner of the 2018 Tribeca Film Festival's Best Documentary Feature Jury Award, Gabrielle Brady's hauntingly beautiful Island of the Hungry Ghosts combines multiple narratives – not all immediately obvious in their intersection – into one glorious whole. It's an initially elliptical journey where metaphor meets metaphysics, and powerful cinema is born. Shooting on Christmas Island, an Australian possession in the Indian Ocean, south of Indonesia, director Brady (making her feature debut) creates a mesmerizing work of visual wonder, the breathtaking images forming an evocative setting for a vital discussion of human rights.
Human beings are but a recent import here, having arrived less than 100 years ago, and omnipresent red crabs swarm over the new roads that inconveniently block their annual cross-island migration. Patient conservation workers help them navigate these asphalt intrusions, protecting them from cars with signs that shut down traffic. Meanwhile, counselor Poh Lin struggles to assist refugees from the nearby top-secret detention center, using sandplay therapy (with which I was unfamiliar until this movie) – where toy figurines and models, set in a small sandbox, are used by those who have suffered severe trauma to express their feelings nonverbally – to help the asylum-seekers cope with their all-too-horrific recent pasts. Unfortunately, government bureaucracy, coupled with a deep insensitivity and profound inhumanity towards the detainees, prevents Poh Lin from doing her job as she would like. The intermittent sessions she is allowed to organize leave her depleted and depressed.
We also meet Poh Lin's family, consisting of her, her French husband and their two bilingual children. Mom and Dad appear almost ideal, caring parents, who love to hike and camp in the island's interior, teaching a love and respect for nature to their kids. We wonder how long this seeming idyll will last, however, as the strain of Poh Lin's frustrations with work (or, rather, her inability to do it properly) take an increasingly harsh toll. And all the time, the crabs march on, their careful treatment by the officials in startling contrast to the callous handling of the refugees. Then again, the island really belongs to the native crustaceans, and we shouldn't begrudge them, eons old, their own survival.
An adaptation of a short film that Brady made for The Guardian newspaper, Island of the Hungry Ghosts (the title refers to the Chinese immigrant population's belief that the island's first human inhabitants, improperly buried, left behind unsettled spirits) is a rapturous viewing experience, however tragic one half of its story may be. Brady's choice to show Poh Lin's family as much as she does proves a brilliant decision, as we need this positive human element to assuage the pain and guilt we feel while experiencing the rest. It's a stunning, visceral first feature, announcing the director as a major talent to watch, and watch her movie you should.
– Christopher Llewellyn Reed (@ChrisReedFilm)