IT'S TIME FOR THE 2022 FANTASTIC FEST!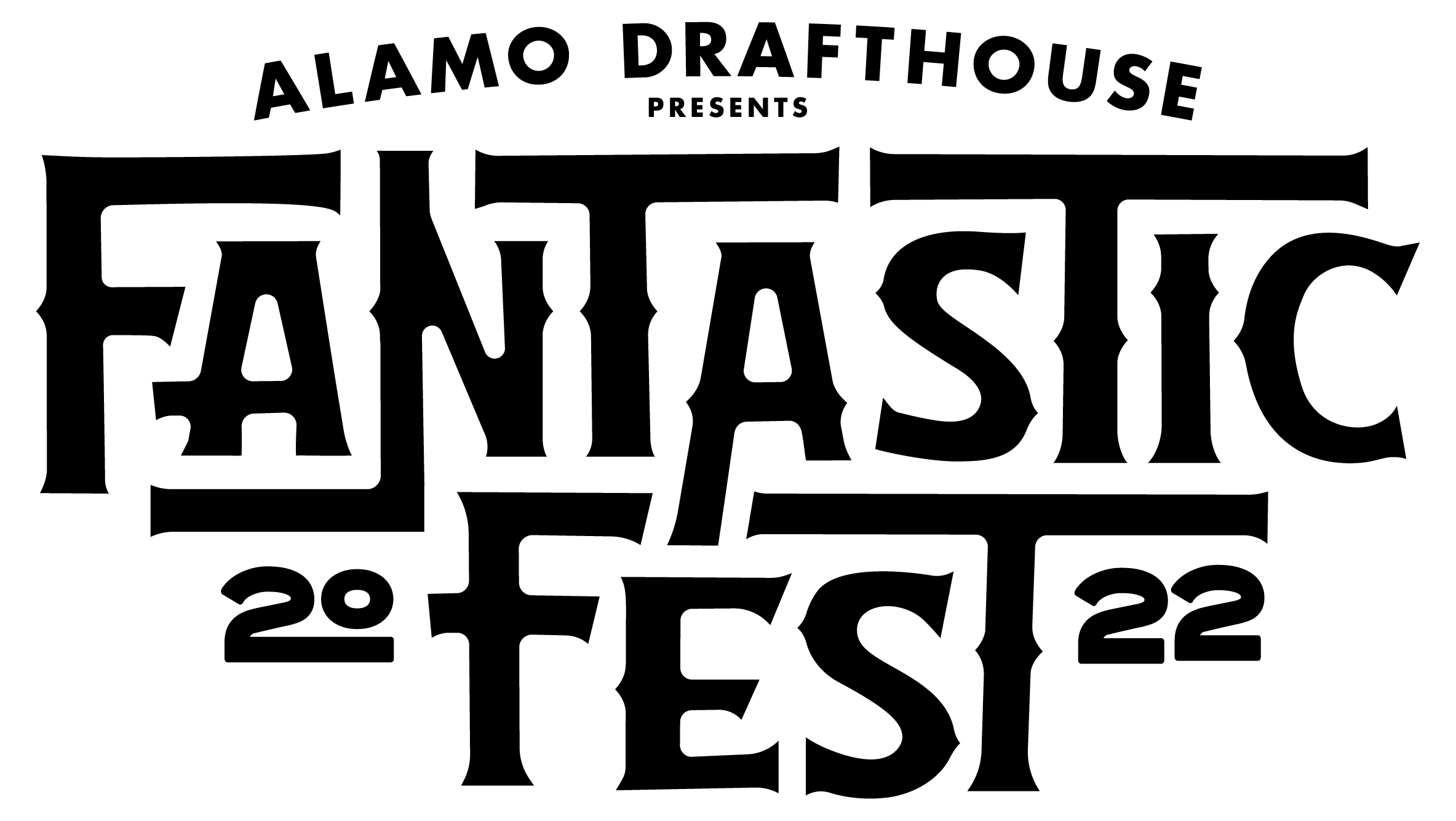 The world has undoubtedly changed, which has affected every living breathing thing (humans, animals, organisms, monsters, and zombies) and we have all had to make some adjustments. But you know what has not changed…the biggest granddaddy of genre festivals in the United States…Fantastic Fest!
With the 17th annual fest launching in person, Thursday, September 22 and running through Thursday, September 29 (with a virtual program entitled "Burnt Ends" aka FF@Home, also starting on the 29th) the festival will be all "smiles" when the festival kicks-off with the world premiere of the highly anticipated creep fest, Smile with director Parker Finn and actress Sosie Bacon in attendance. (Smile opens nationwide on Friday, September 30 courtesy of Paramount Pictures.)
Creating havoc since 2005, Fantastic Fest has become an important and vibrant stop on the film festival circuit for genre filmmakers. Audiences and filmmakers will be traveling back to "Bat City" for more thrills, chills, spills and laughs, that have been subdued lately but there should be plenty of spine-tingling and hair-raising films and events over the next eight days (Bring on the Fantastic Feud and Fantastic Debates are back!) Unleashing the best and wildest horror, suspense, comedy, sci-fi and every kind of "whatsit" films scenario one can prepare for while sitting next to your fellow Fantastic Fest Fiends or another fellow "Triple F." One of the most enjoyable and funniest audience experiences in the world, Fantastic Fest is an adventure every day, unlike any other adventure, and without hauling your camping gear and family across the country to discover exhilarating cinema. One can be prepared by getting plenty of sleep, Vitamin C and water, and maybe get a little Vitamin D too, in between the wall-to-wall screenings, but make sure to save room for the beer and food…oh and do not forget to tip your servers. (Although, those 8am press and industry screenings are as grueling and unapologetic punishment for those wanting to really gouge themselves in the surreal and ghostly hallucinations barely after the sun rises.)
In the past, we joked, okay sorta serious, about powering through all the elements to make it to the end only to leave and close out the festival with what was commonly known as the "fantastic flu," where everyone is damn near barely conscious, sneezing, coughing, sniffing and sleepwalking to the finish, before collapsing at home and sleeping for days. And you know what, we would not change anything by the onslaught of on-screen mayhem one minute and breaking down into a puddle the next while saying those last goodbyes to your fellow fiends and lifesavers. One can really and only hope, we can all enjoy the festival without turning the Drafthouse and the rest of Austin into the next super-spreader event, so please let us all bring and clench our lucky rabbit foots, four-leaf clovers, dreamcatchers and keep our fingers crossed while watching some of the best genre films from around the world.
There are some titles we have already seen at other festivals throughout the year (with selections from Sundance, Berlin, Cannes and TIFF) including writer/director Abi Abbasi's latest (FF selection Border)' controversial and violent, Holy Spider, starring Cannes Best Actress winner, Zar Amir Ebrahim; German co-writer/director Natalia Sinelnikova excellent and trippy We Might As Well Be Dead, is certainly a breakout candidate after festival berths at Berlin and Tribeca earlier this year; Palme d'Or winner Ruben Ostlund's returns after audiences braced Force Majeure and The Square brings his elitist cringe-comedy, Triangle of Sadness as the closing night feature and writer/director Travis Stevens' (Jakob's Wife and Girl on the Floor) latest splatter fest, A Wounded Fawn.
Over the next week, plus once we finally go home and catch up on virtual screenings through FF@Home, Hammer to Nail will do our best to cover all the demented, dizzying and stupendous films flashing across our eyeballs.
So, the question now is, what are we looking forward to seeing? The short answer is plenty.
Our number one must-see shot off the crossbow film has got to be Park Chan-wook's, Decision to Leave. Fantastic Fest also believes this too as they will be honoring his work with a celebration after he receives a lifetime achievement award following Sunday's screening with Park in attendance. Park's films have been a staple at Fantastic Fest throughout the years (most recently, The Handmaiden) and the fine folks at the American Genre Film Archive (AGFA) will also be presenting a new restoration of Park's 2000 breakthrough, Joint Security Area. AGFA will have a strong presence at the festival with five (!) mystery 35mm film screenings, along with new restorations of The Stairway to Stardom Mixtape, Terminal USA, and Video Diary of a Lost Girl.
Director Kyra Elise Gardner's Living with Chucky documents her father, Tony Gardner, the longtime visual effects artist and puppeteer of Chucky, the possessed doll from the Child's Play films and series, while digging deeper into the cult history with interviews with Brad Dourif, John Waters, Abigail Breslin, Alex Vincent, Jennifer Tilly and Child's Play creator, Don Mancini.
No stranger to controversial films, New Zealand based filmmaker/journalist David Farrier (Tickled) brings his latest documentary, Mister Organ, to Austin for its world premiere. The description reads like a darker version of his own Netflix series, Dark Tourist and hints at Tickled-like conspiracies: "Journalist David Farrier is drawn into a game of cat and mouse with a mysterious individual. Delving deeper he unearths a trail of court cases, royal bloodlines and ruined lives, in this true story of psychological warfare."
Also, no stranger to Fantastic Fest, South Korean filmmaker and Oscar winner, Bong Joon-ho (Parasite, The Host) does not have a new film but his former assistant director Shinzo Katayama's Missing was quite the buzz at Fantasia Film Festival earlier this year, and Fantastic Fest will be hosting the US premiere of his latest film. Missing turns the usual cat and mouse thrills on its face with comparisons to Bong's 2003 masterpiece, Memories of Murder.
Lastly, what will those damn secret screenings be? Fantastic Fest has typically knocked these out of the park including in year's past Craig Brewer's hilarious, My Name is Dolemite with Eddie Murphy and Luca Guadagnino's love it or hate it Suspiria remake (another highlight and already announced will be the Guadagnino's teen cannibal love story Bones and All, reteaming with his Call Me By His Name star Timothee Chalamet and Suspiria screenwriter David Kajganich.)
There are surely a couple of bigger titles not in the program this year, so we thought we would take a couple guesses: Fantastic Fest fave writer/director Rian Johnson's (Brick, Looper), Glass Onion: A Knives Out Mystery has got to be prime candidate for a secret screening, given the festival closed with Knives Out in 2019. Another contender might be the Finnish Nazi Ramboesque bonkers film, Sisu, by writer/director Jalmari Helander of Rare Exports and Big Game fame would be a solid fit into one of the secret slots. Maybe the new Evil Dead Rise will get a "rise" with a secret screening before it opens in April 2023, or we might get a sneak peak of David Harbour playing Santa Claus in Universal's upcoming, Violent Night. Or, a bigger zag might be Vera Drew's recently pulled from TIFF Midnight Madness selection, The People's Joker, which was the talk of TIFF after its creator pulled the film after its only public screening. (The film was originally part of the Burnt Ends program but press was notified earlier this week it would not play in the Burnt Ends program.)
In any case, over the next week, we are hoping for a fantastic time celebrating the best of the best in world genre cinema.
Jim Brunzell III is the Festival Director of Sound Unseen Music + Film in Minneapolis, MN and Austin, TX. He is on Twitter @JimBrunzell_3 & Instagram @djguam
– Jim Brunzell III  (@JimBrunzell_3)