Paul Sbrizzi's 2017 Slamdance Preview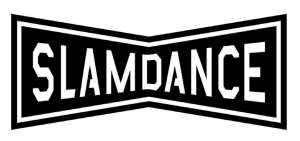 (Slamdance 2017 runs January 20-26 in Park City, Utah. Visit the festival's official website for more information. FULL DISCLOSURE: Paul Sbrizzi is a programmer for Slamdance, but wears his film-lover thinking cap for the purpose of this piece.)
For its 23rd edition, Slamdance will open with a documentary that tackles one of the defining issues of the moment, the politics of access to clean water—What Lies Upstream is directed by Cullen Hoback, who premiered his equally topical Terms and Conditions May Apply at Slamdance 2013.
Narrative Competition
Three offbeat U.S. indies are sure to get a lot of attention: Cortez, about a struggling musician's clumsy attempts to reconnect with an old girlfriend in New Mexico; Dave Made a Maze, a sardonic, retro-ish adventure comedy with amazing cardboard production design, and Kate Can't Swim, about straight Kate wrapping her head around her lesbian bestie suddenly dating a great, big, arrogant, charming/obnoxious Australian photographer (played by director Josh Helman).
The festival's foreign offerings include Beat Beat Heart, from German director Luise Brinkman, starring the wonderful Lana Cooper of Love Steaks fame as a woman trapped in a state of longing whose newly-single, suddenly sexually-emancipated mother comes to live with her. Canadian director Joyce Wang's Wexford Plaza is a beautifully restrained and drily funny piece involving parallel stories of a young bartender struggling to keep his relationship going after losing his job and a bored teenage outsider who's just discovering her sexuality—and the sexting incident that shakes up both their worlds. Also from Canada is Daniel Warth's Dim the Fluorescents, which showcases the fine comedic talents of Claire Armstrong and Naomi Skwarma as an aspiring actress and playwright who pour an unseemly amount of passion and drama into creating role-playing demonstrations for corporate clients.
There are also some sharply avant-garde features: Kuro by Joji Koyama and Tujiko Noriko marries narration of a dark and violent short story with imagery of the story's unexplained aftermath. Weather House is a wonderfully absurdist and poetic parable of a group of people frozen in repetitive activities inside a house as climate change brings the human race closer to extinction. The 282-minute Chinese drama The Family by Shumin Liu is a real "event," an immersive experience that provides a look at modern day China through the eyes of an elderly couple who travel to visit their children; the gently unfolding drama builds to a powerful climax in the film's final hour.
A personal favorite is the dark and dreamy Aerotropolis by Jheng-Neng Li, about a young Taiwanese man who avoids going home because he has put all his savings into a condo that he's trying to keep in mint condition as an investment. He drifts across a series of shiny, seductively soulless environments—airports, supermarkets, malls—and surveys the site of a real estate development promised by the government, the mythological-sounding "Aerotropolis." He soothes his isolation by listening to Christian recordings, most memorably in one beautifully-staged, darkly funny scene with his girlfriend.
Delightfully dry comedy is served up in another personal favorite, Withdrawn by yet another Canadian, Adrian Murray. It follows a millennial, played by Aaron Keogh, who puts massive amounts of energy and enthusiasm into scamming a living in the hilariously neo-shabby basement that he can't afford. Keogh has brilliant timing and a knack for physical comedy, and he earns his punchlines by grounding the film in a richly developed main character and a unique, fully-rendered world.
Beyond
The Beyond section features films by directors with one or more features already under their belts. Jamie Greenberg's Future 38 is a madcap comedy about time travel, and the year 2018 as imagined from a 1938 perspective—it's a fun ride with wonderfully sassy production design. Automatic at Sea, by Matthew Lessner, finds a series of striking cinematic images in its very right-brain reverie about a beautiful young Swedish woman trapped on an island with an eccentric, wealthy male host. Suck it Up by Jordan Canning is a female-driven road movie about letting all your inhibitions run wild after the loss of a loved one.
Jerzy Rose, who first came to Slamdance with the mighty Crimes Against Humanity, is back with an even darker and funnier follow-up, Neighborhood Food Drive, co-written with regular collaborators Halle Butler and Mike Lopez. This one is about a pair of smug, condescending and self-deluded women who have opened a douchey high-end restaurant named "Ciao" in a community that (rightly) doesn't like them. They try to win over their neighbors with a series of increasingly disastrous "food drives." The women's disconnected realities spill over into the surreal, and in the end of course no lessons are learned.
The Erlprince is the second feature by Kuba Czekaj — an exciting new filmmaking talent with a wildly imaginative, somewhat theatrical style; his films dig into big themes and philosophical concerns while staying rooted in the humanity of vivid characters. His first feature, Baby Bump, which he knocked off while in the middle of making The Erlprince, was an adrenaline-fuelled wild ride into the mind of an adolescent boy discovering his sexuality, and premiered at Venice and SXSW. The Erlprince is even more free-ranging and lavish, following the battle of wills between a teenage science prodigy and his ambitious, domineering mother. With highly imaginative and often spectacular transitions between the realistic and the fantastic, Czekaj explores the boy's life on the threshold of adulthood, as he tries to navigate between needed support and unwanted attempts to control him that he receives from his parents.
Documentary
Anchoring the documentary program this year are several compelling stories about underdogs charging forward on unlikely quests. Who Is Arthur Chu? follows the aftermath of Chu's record-breaking stint as a Jeopardy champion, looking specifically at the backlash against an Asian-American adopting an aggressive style of play and winning, and how it affected him and his Caucasian girlfriend. Strad Style by Stefan Avalos looks at the unlikely pairing of a rural Midwestern guy barely scraping together a living and the world of high-end violins; Daniel decides to make an exact replica of "La Bomba," Paganini's favorite instrument, and one of the world's top young violinists wants to play it in concert if it gets finished in time. Equally unbelievable but true is the narrative of Supergirl by Jessie Auritt, a rousing, nuanced story of a nine-year-old Orthodox Jewish girl who starts setting world records in powerlifting and the family that supports her through health scares and the ups and downs of her budding career.
In On the Sly: In Search of the Family Stone, actor Michael Rubenstone chronicles his own quest to get an interview with the reclusive '60s R&B legend Sly Stone, learning some hard life lessons along the way. The Modern Jungle is a fascinating look at the relationship between filmmakers Charles Fairbanks and Saul Kak and their subject, don Juan, an impoverished Mexican man who needs treatment for a hernia; parallels are drawn between the filmmaker-subject dynamic and don Juan's naïve belief in a medication marketed through a pyramid scheme. Exploitation is also the overarching theme of Hotel Coolgardie, Pete Gleeson's look at how a revolving series of "fresh meat" barmaids are hired as eye candy in a remote Australian pub. Bogalusa Charm, shot over the course of many years by director Stephen Richardson (and edited by Jennifer Harrington after his death) uses a local charm school to examine the social evolution (and lack of) in this southern town, and its rise and decline in parallel with the local lumber mill.
The festival's most emotionally intense doc is Patricia Josephine Marchart's The Children Send Their Regards — about the history of endemic child abuse within the Austrian Catholic Church. Marchart juxtaposes footage of her subjects revisiting the sites where the abuse unfolded with simple, harrowing interviews. This is a genuine horror film in which the stories go way beyond molestation: there were beatings, humiliations, psychological torture, and in some cases a bizarre collusion with the victims' parents. The now-adult victims' emotional scars are apparent, and yet there is some sense of relief and closure for them in the process of telling their stories.
Shorts
There are a couple of fantastic fantasy films in the lineup: Voyage of the Galactic Space Dangler is a caveman meets spaceman story from Denver visual artist Evan Mann: its production design is beautiful, wild and funny and it features the world's tiniest hand and longest arm. In Pedazos, director Alejandro Peña takes a Pierre et Gilles-esque esthetic to a whole new level in a gay male love story with a with elaborate primitive-man costumes, a riotous color palette, and luscious effects.
Redmond Hand, Private Dick, directed by Todd Selby and written by Jason Kreher, finds freshness and light in the much-traveled film noir parody genre by putting a butch, braided black lesbian (played by Felicia Pearson) in the seen-it-all P.I. role. It's a smart and hilarious genderqueer ride with a very unexpected ending, and includes some delightfully low-tech animation.
In the animation program there's the lovely, scratchy little black and white horror film Insect Bite by Grace Nayoon Rhee, about the short and violent life cycle of fly people. It Is My Fault by Liu Sha has a similar puke-and-destruction sensibility, but it's a clash of vibrant color and a willfully artificial digital esthetic. Yum! Plena Stellarum is a darkly meditative piece that marries a Kenneth Anger occult sensibility and esthetic with elements of '80s video arcade. Bronwyn Maloney's Serpentine is a magical, hypnotic trip into a sensual world of bunnies, snakes, and a rolling crocodile. The "Q" in Q is an apple falling from the sky; with simple pencil drawings and black spray paint director James Bascara conveys extremes of sweetness and brutality.
Finally, amongst the many short docs in the program, Commodity City by Jessica Kingdon is a real stand-out. Shooting in a huge wholesale market in China, Kingdon frames her subjects as small, solitary souls within great walls of bright, colorful product, and captures a series of poignant human moments in the midst of all the capitalism.
– Paul Sbrizzi (@paulsbrizzi)