SHORT FILM CONTEST WINNER/RUNNER-UP: AUGUST 2012
***FIRST OFF, AN IMPORTANT MESSAGE: WE ARE TAKING A BREAK FROM OUR SHORT FILM CONTEST FOR SEPTEMBER THROUGH NOVEMBER FOR FILMMAKING REASONS OF OUR OWN HERE AT HTN, BUT WE WILL BE BACK FOR A YEAR-END BLOWOUT IN DECEMBER. EXPECT AN ANNOUNCEMENT ABOUT THAT IN EARLY OCTOBER, WHEN SUBMISSIONS WILL REOPEN. THANK YOU!***
Another month, another HTN Short Film Contest is down the tubes. Now that the smoke has cleared, two films were left standing in the muggy mid-August haze. Though genre-wise these works couldn't be more different from one another, they are both unquestionably formal experiments. Yet what makes them stand out is that the filmmakers aren't embracing formalism for mere formalism's sake. In taking the time to bring actual ideas to the table, both of these films transcend mere issues of technicality to pack genuine emotional punches. A big, big thanks goes out to this month's judges: Brent Hoff (Wholphin DVD), Ry Russo-Young (Nobody Walks), and Gus Péwé (winner of our June 2012 Student Filmmaker Challenge). And now, without farther ado…
RUNNER-UP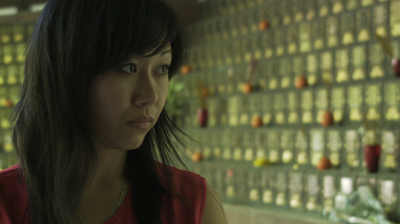 Green Plastic Sandals (Stephani Wu & Andres Rosende, 11:27)
Fall in love with someone, then marry them. Who cares where they're from, who cares what they look like. As long as you love them, that's all that matters, right? If only it were that simple. And in many—or should I say all—ethnic cultures throughout this wonderful world of ours, that approach to marriage isn't just unfathomable; it's sacrilegious! By inserting this complicated real-life issue into a J-horror movie, Columbia University's Stephani Wu and Andres Rosende have delivered a wake-up call to so much of the tired bigger-budget horror spectacles that consistently pelt our multiplexes like dumb hailstorms. In the future, one hopes that these young filmmakers will continue to hold themselves up to a simultaneously high standard when it comes to both form and content.
WINNER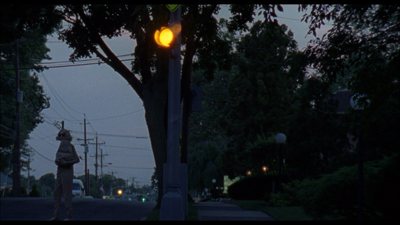 Long Days (Adam Keleman, 16:07)
Wow, wow, wow. From the opening shot of a blonde woman walking down a street at dusk as a watery percussive score punctuates the soundtrack, one thing becomes clear: Adam Keleman has great influences. And as he continues to impress and surprise with his bold technical and narrative choices throughout his film's 16-minute runtime, another thing becomes abundantly clearer: Adam Keleman has his own unique, assured voice. Long Days chronicles the Jeanne Dielman-esque downtime and Belle de Jour-esque worktime of an individual who drifts from job to job, from client to client, from place to place, with no end in sight. Across the board, this haunting long-night's-journey-into-twilight is remarkably assured directing. See it when you get a chance. For now, read the full HTN review, but not before you watch this excellent film in its entirety!