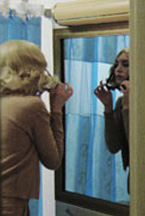 (***Winner of the Hammer To Nail Short Film Contest: August 2012!*** Visit the official websites of Adam Keleman and Long Days to learn more.)
From the opening shot of a blonde woman walking down a street at dusk as a watery percussive score punctuates the soundtrack, one thing becomes clear: Adam Keleman has great influences. And as he continues to impress and surprise with his bold technical and narrative choices throughout his film's 16-minute run time, another thing becomes abundantly clearer: Adam Keleman has his own unique, assured voice. Long Days is the type of viewing experience that seeps into your bloodstream and lingers.
Carol (Dakota Goldhor) is a pretty blonde woman who lives in a dingy roadside motel somewhere in the hazy Northeast. At first, it's difficult to suss out just who she is, but we gradually discover that her Jeanne Dielman/Belle de Jour-esque aura is, in fact, in keeping with the downtime/worktime pattern of those indelible cinematic figures. But when a client comes calling on the now-brunette Carol for injections of a sexual and chemical order, she reveals another, more shocking, side of herself.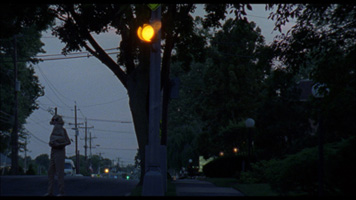 Long Days is a sterling example of extremely accomplished directing, and here's the clearest reason why: as soon as it begins, you feel it. Even if you haven't read a description and have absolutely no idea what it's about, a haunting pall is nonetheless immediately cast; you can just sense that darkness is on the horizon. So how did Keleman pull this off? Basically, like any smart—and gifted—director, he used the technical elements at his disposal to support and feed that long-night's-journey-into-twilight feeling: his screenplay, which opens at twilight (darkness literally is on the horizon); James Axel West's cinematography, which holds some frames at just-off-kilter angles and then zooms in at unexpected moments; the breathless editing of Scott Cummings; the aforementioned score by Joshua Graver; and, of course, Goldhor's performance, which is stiff and detached but also prim and proper. It's creepy without actually being creepy.
In some ways, "creepy without being creepy" is an appropriate way to describe Long Days. Though that isn't totally accurate, for Keleman's film does get seriously creepy. But it also retains a refreshing air of understatement. For those of you who pine for the type of cinema in which atmosphere and technique sit next to each other at the counter of a dead-end diner for a cup of black coffee, Long Days is definitely for you. Young filmmakers like Keleman, who are steeped in the ways of classic art film yet who still manage to forge their own present-day paths, are like that handsome stranger who walks into a diner at five in the morning and makes everyone snap to attention.
— Michael Tully
***WATCH THE FILM RIGHT NOW***