THE 2009 HAMMER TO NAIL AWARDS
Welcome to the second annual Hammer to Nail Awards! The ever-increasing torrent of end-of-the-year lists and trophies can become an overwhelming blur, which is just one of the reasons why we here at HTN have made a commitment to do something different with our own contribution to the fray. As with last year, we are focusing our attention on AMERICAN NARRATIVES THAT WERE PRODUCED FOR ONE MILLION DOLLARS OR LESS.
If you revisit the 2008 Hammer to Nail Awards post, you might see some overlap with a few of this year's titles. I take full responsibility for that, as I was still trying to figure out the best plan of attack for this complicated endeavor. Now that we've been through the rigamarole once, we have come to settle on the following overriding guideline: A FILM IS ELIGIBLE IF IT RECEIVED SOME FORM OF PUBLIC RELEASE, WHETHER IT BE THEATRICAL, VOD, OR STRAIGHT-TO-DVD, IN SAID CALENDAR YEAR. Last year, we were counting festival premieres, which is unfair to filmmakers, as many of our contributors hadn't been able to catch up with that work until it received an even somewhat legitimate release. This is the main reason for taking this approach, which can seem less timely but, in the grander scheme, makes the most overall sense. We are confident that all of these films—especially the cream of the crop—will eventually find a public release (see last year's Prince of Broadway, which won't technically become eligible until next year!—or this year's Number 3, which we were worried might never see the light of day).
As for the voting process, that has remained the same. Each main HTN contributor (see bottom of post for this year's voters) was asked to submit their Top 10 Films of 2009. Ten points were assigned to each number one, nine points were assigned to the number two, and on down the line. These results were tallied into the list you see below. In the case of ties, the film that appeared on the most ballots received the edge.
One final note: NO ONE WAS ALLOWED TO VOTE FOR A FILM IN WHICH THEY RECEIVED A CREW CREDIT.
Thanks so much for reading and supporting our mission at Hammer to Nail. Times are tight, but we're determined to keep moving forward and carefully curating your viewing experience, whether it be in a theater, on television, on your computer, or on something even smaller than that. And now, onto the main event…
THE GOLDEN HAMMER AWARD:
The indie film industry has imploded, due to reduced demand, the decline of DVD sales, the folding of theatrical distributors, and the drying up of funding sources caused by the economic crash. The industry as we once knew it has in effect vanished. However, that statement is applicable only toward your own take on the term. If your definition of 'indie film' starts with Sex, Lies, and Videotape, Spike Lee and Kevin Smith, then yes, that industry has died. The sale of Steven Soderbergh's 1989 breakout hit inspired the major studios to create "indie sub-companies," some of which were distributors and some of which were content developers. Over the years, between Sex, Lies and Hamlet 2 (the last eight-figure Sundance deal), the indie industry grew to embody not maverick ideas and techniques but instead tepid warmed over sub-par industry drivel. Fueled by the box office success of films like Napoleon Dynamite and Little Miss Sunshine, the American indie film movement ossified into the indie-quirk-pseudo-grunge-alt-maverick business defined by such recent films as Sunshine Cleaning and Arlen Faber (aka The Answer Man). As we step toward the first Sundance without Geoff Gilmore all I can say is:
THE AMERICAN INDIE FILM INDUSTRY IS DEAD… HALLELUJAH!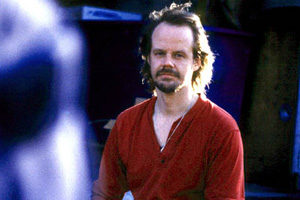 While all that hullabaloo was going on over at Sundance, while people made more and more money and the films got blander and more 'commercial,' there was a toothless NYC curmudgeon toiling in the shadows of the East Village. Amazing feature after feature, like Habit and Wendigo, blew my mind with their classical yet aggressively pointed spins on the horror genre. It was clear to me, and most everyone who saw the work of Larry Fessenden, that there was a fully accomplished voice working within the genre, saying something significant about what it means to be alive today.
It was always clear to me that though Larry works in the horror genre, his voice is as authentic and as passionate as the first pioneers of true indie cinema, people like Oscar Micheaux, John Cassavetes and Kenneth Anger. The fact that these earlier films of his never played in the Midnight section at Sundance is criminal. Late night after late night I sat in the Egyptian theater watching some bland Tarantino wannabe or some slick piece of crap like Donkey Punch wondering, "Why isn't Larry Fessenden here?"
Well, that period of indie film, marked by those go-go Sundance years, is gone. I say good riddance. I hope some of the 'stars' of that period have returned to selling real estate, because it was their drive to make money that sidetracked the authentic indie film spirit. I'm glad their game has gone bust. In its wake will rise true independent visions, films made by people who have something to say, and all the soulless LA sub-companies of the Hollywood industrial entertainment mind-melt industry can go to blazes as they watch the future rise out of the gutter. It's great that the 'industry' is dead because maybe now the crap that these companies forced onto the small screens will go away and true indie film companies like GLASS EYE PIX will rise to the foreground.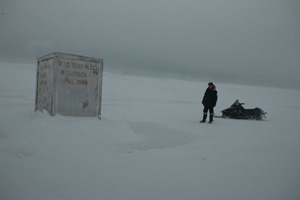 In the past few years GLASS EYE PIX—and now Fessenden's low-budget horror banner SCAREFLIX—has been responsible for some of this past decade's best work, from the films of Kelly Reichardt (that was Larry acting in her first film River of Grass as well as her most recent Wendy and Lucy) to the Ti West mindbenders The Roost and The House of the Devil, to Larry's own The Last Winter. This year alone has seen an amazing batch of new releases, including Graham Reznick's startling one-two punch of the camping trip-gone-awry feature I Can See You and the amazing hand-made true 3D short The Viewer.
My favorite 2009 effort from the GLASS EYE PIX stable, however, is Glenn McQuaid's I Sell The Dead, a film savvy journey through horror history that gleefully combines a graveyard robbing Hammer film from the mid-1960s with a brash high contrast classic lurid Zombie movie of the '80s. Wrapped up in dark humor and creepy shocks, I Sell the Dead has it all. But Larry and his collaborators do more than just make excellent films on micro-budgets. They hype the heck out of them, with great viral and old-fashioned three-dimensional merchandising tactics (playing cards, comic books, posters, etc.).
A company like GLASS EYE PIX—and, in turn, SCAREFLIX—is the future of indie cinema, a small, individually run force, driven by passion and an aesthetic vision that can embrace both pure character driven pieces like Wendy and Lucy, as well as informed, intelligent genre films such as The House of the Devil and I Sell The Dead. Mark my words, this is a company that will eventually have a Paranormal Activity-level breakout hit. In the meantime, keep track of their releases and get stunned, rocked, shocked, and transported. Welcome to the new world, where GLASS EYE PIX is the model. For all of these reasons, for being such an inspiring force in the industry, we give Larry Fessenden the 2009 GOLDEN HAMMER AWARD. He's the past, present, and future combined. He is American Independent Cinema. — Mike S. Ryan
THE SILVER NAIL AWARD:
Every so often, a vision emerges from directly behind the camera that feels as important as—or more important than—the person who's sitting in the director's chair. From the very first frame of Antonio Campos' Afterschool, it's immediately clear that whoever is shooting this picture is good. And as the film goes on, it's hard to suppress the feeling that one is watching a master cinematographer at work. Months before experiencing Afterschool on the big screen at the New York Film Festival in the fall of 2008, I had a strangely similar reaction to a film that couldn't have been more different. As I watched Matt Wolf's Wild Combination: A Portrait of Arthur Russell at the 2008 Sarasota Film Festival, I found myself awed by the imagery. And not just the beautifully grainy recreations that were shot on film. Something about the video interviews had a warmth and tenderness that felt much more cinematic than I was used to seeing in this type of project. Without question, in this instance the cinematography had made a good movie great.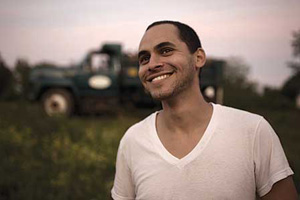 It turns out the same person was responsible for the imagery in both of these films. His name: Jody Lee Lipes. Though not yet thirty, and with only these two features under his belt (though much more work was being done along the way: videos, commercials, shorts, etc.), Lipes exhibited a technical range, intelligence, and care that reached far beyond his years. This year, with the premiere of his own documentary, Brock Enright: Good Times Will Never Be The Same, at the 2009 South by Southwest Film Festival, Lipes confirmed what I suspected: he's a great director too.
Like Afterschool, Brock Enright has elicited fiercely passionate reactions from both yaysayers and naysayers. But in my experience, what people "hate" about Brock Enright has nothing to do with the point Lipes is actually making. As in, he didn't set out to make a "point." A bracingly intimate portrait of controversial New York City artist Brock Enright as he travels out west with his girlfriend Kirsten Deirup to work on a new gallery commission on her parents' land in the Upstate California woods, BE:GTWNBTS feels downright revolutionary. Whereas most no-budget filmmakers are running around trying to make their lazily unscripted narrative features feel like sloppy documentaries, Lipes filmed his real situations to look and feel like a European art film. The effect is mesmerizing.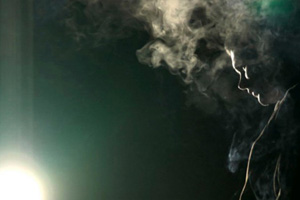 As his deadline approaches and Deirup continues to grill him about their mounting bills back in Brooklyn, Enright begins to succumb to the pressure. And when the director of the Perry Rubenstein Gallery visits the compound to check up on Brock, the situation spins all the way out of control. The unsettling nature of the content, mixed with Lipes' innovative approach to shooting his material, is undoubtedly the reason for so much viewer discomfort (i.e., discomfort = dissatisfaction). But for someone who yearns to see a universal story—the mounting pressures of a twenty-something couple—told in such a fresh way, there is no discomfort. There is only exhilaration. Though BE:GTWNBTS has not yet been picked up for distribution, that will happen. But more importantly, Lipes continues to work both behind the camera and from the director's chair. In some cases, as with the upcoming NY Export: Opus Jazz, he's doing both.
For his creativity, startling execution, and daring work on Brock Enright: Good Times Will Never Be The Same and Afterschool (which finally made its way into theaters in 2009), for truly straddling the line between fiction and nonfiction, erasing those boundaries in a way that should have both camps rejoicing—especially you documentary advocates, wake up, people!—Jody Lee Lipes earns our 2009 SILVER NAIL AWARD. — Michael Tully
THE BEST FILM OF 2009: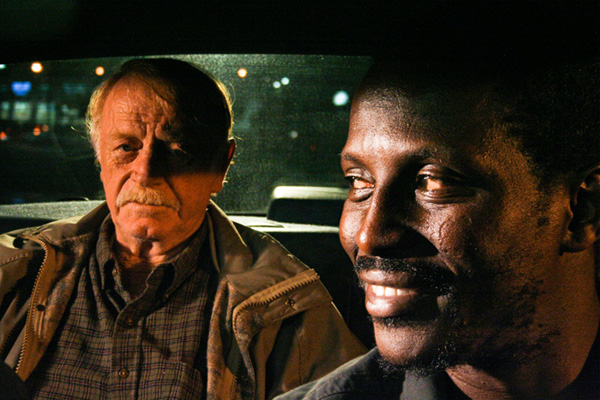 Goodbye Solo (Ramin Bahrani) — Who needs a big budget when you've got great storytelling? Though his first two features, Man Push Cart and Chop Shop, established Ramin Bahrani as a talented new American filmmaker in the tradition of the Neo-Realist masters of yore, with Goodbye Solo, he officially joined their ranks. Set in Bahrani's hometown of Winston-Salem, North Carolina, the film tells the tale of two figures whose paths cross incidentally when a Senegalese cab driver, Solo (Souleymayne Sy Savane), receives a strange proposition from a fare, William (Red West). Solo understands what this proposition really means, yet rather than simply ignoring the signs as would be expected in these increasingly selfish, hurried times and letting William drift away, he latches on to this bitter man and won't let go. As portrayed by Savane, Solo has a tireless spirit that can't be extinguished. Yet as the film builds to its quietly transcendent climax, he learns that some people's pain is simply too much to bear. For saying so much with so little, for being simultaneously sobering and uplifting, for capturing the true multi-cultural spirit of 21st century America, and, most importantly, for receiving the most votes, Goodbye Solo is our Best Film of 2009. — MT
(Click on the titles below to read their official HTN reviews, and click on the names to read our HTN conversations with these extremely talented directors.)
THE TOP 13 FILMS OF 2009:
1. Goodbye Solo (Ramin Bahrani)
2. The House of the Devil (Ti West)
3. Munyurangabo (Lee Isaac Chung)
4. Medicine for Melancholy (Barry Jenkins)
4. Treeless Mountain (So Yong Kim)
6. Humpday (Lynn Shelton)
7. That Evening Sun (Scott Teems)
8. Sita Sings the Blues (Nina Paley)
8. Severed Ways: The Norse Discovery of America (Tony Stone)
10. Afterschool (Antonio Campos)
11. Children of Invention (Tze Chun)
12. Stingray Sam (Cory McAbee)
13. Weapons (Adam Bhala Lough)
Other Films Receiving Votes (in alphabetical order):
Beeswax (Andrew Bujalski)
Big Fan (Robert Siegel)
Christmas on Mars (Wayne Coyne)
Confessionsofa Ex-Doofus-ItchyFooted Mutha (Melvin Van Peebles)
Everything Strange and New (Frazer Bradshaw)
Half-Life (Jennifer Phang)
Harmony and Me (Bob Byington)
I Sell the Dead (Glenn McQuaid)
It Is Fine. Everything Is Fine! (Crispin Glover)
Loren Cass (Chris Fuller)
The New Year Parade (Tom Quinn)
Paper Covers Rock (Joe Maggio)
The Princess of Nebraska (Wayne Wang)
The Toe Tactic (Emily Hubley)
White on Rice (Dave Boyle)
(Contributors: Pamela Cohn, Cullen Gallagher, Tom Hall, Brandon Harris, Ted Hope, Holly Herrick, Nelson Kim, Michael Lerman, Evan Louison, David Lowery, Mike S. Ryan, Michael Tully)