THE CURBSIDE CRITERION: ONE NIGHT IN MIAMI…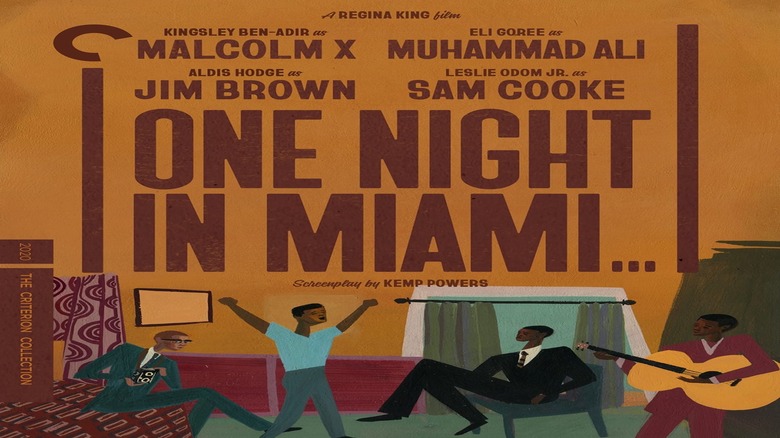 (Here at Hammer to Nail, we're are all about true independent cinema. But we also have to tip our hat to the great films of yesteryear that continue to inspire filmmakers and cinephiles alike. This week ,Brad Cook enters the conversation with, One Night in Miami... Like what you see here on Hammer to Nail? Why not give just $1.00 per month via Patreon to help keep us going?)
Sometimes the most seemingly mundane of moments can later prove to be pivotal ones in history. February 25, 1964 is one such moment, when 22-year-old Muhammad Ali (still boxing under the name Cassius Clay) defeated Sonny Liston for the heavyweight championship. Afterward, he convened in a Miami motel room with Malcolm X, Jim Brown, and Sam Cooke.
What happened in that room is largely unknown, and in fact that evening was simply a one-line reference in a book about Ali, but in the hands of screenwriter Kemp Powers, One Night in Miami… becomes a crucible in the lives of those four men and the wider civil rights moment. Filling in the blanks based on what happened before and after that night, Powers imagines an evening full of arguments, as well as heartfelt moments, as Ali (Eli Goree), Brown (Aldis Hodge), Cooke (Leslie Odom Jr.), and Malcolm X (Kingsley Ben-Adir) grapple with their roles in civil rights for Black people in the United States.
It's very possible that evening was a mundane affair full of celebrations of Ali's upset win and not much else, but consider what else was happening in those men's lives at that moment: Cassius Clay was on the cusp of changing his name and declaring himself a Muslim; Malcolm X was planning to break away from the Nation of Islam and start his own movement, with his murder just a year away; Jim Brown would retire from pro football a year later to pursue an acting career; and Sam Cooke, who would die in December of that year, had recently released "A Change is Gonna Come" and performed it on The Tonight Show (Powers fudges the timeline a bit to have the performance come after that momentous evening).
Powers adapted One Night in Miami… from his stage play of the same name, and in the hands of director Regina King, it becomes, as she notes in the bonus features in this Criterion edition, a film about words. Each man has a preamble that sets up the evening, and there are a couple flashbacks, along with a coda, but most of the story takes place in that Miami motel room. In the same bonus interview with King, Powers likens it to 12 Angry Men in the sense that the story is about men grappling with each other in a confined space and eventually coming around to new points-of-view about their circumstances.
As film critic Gene Seymour says in his essay that occupies the accompanying booklet: "But what King has forged with Powers belongs to a genre so rare in American cinema that it barely exists: the movie of ideas. And in allowing us to see these determined, driven men with all their complexities, uncertainties, and vulnerabilities exposed to the light, One Night in Miami… makes us realize that it isn't always necessary to do great to do good, and there are more ways than one to advance, to achieve, to – as Malcolm says at an especially anguished moment – win."
This Blu-ray disc from Criterion presents the film based on a 4K digital transfer approved by King. Since this is a film released in 2020, the image is of course immaculate and likely needed little to no work to ensure it met Criterion's standards. There's no commentary track, but Criterion commissioned a big batch of new interviews for this one. Here's what you'll find on the disc:
• An Essential Collaboration (29.5 minutes): Film critic Gil Robertson interviews King and Powers about how each of them approached the subject matter and how they collaborated on the movie. Plenty of behind-the-scenes clips are included too.
• Becoming a Director (29.75 minutes): Fellow filmmaker and actor Kasi Lemmons interviews King about her own career as an actor and how it segued into becoming a director too. This one covers a lot of King and Lemmons' early careers.
• Regina King and Barry Jenkins (42 minutes): This is the only pre-existing interview used on this disc. It's a 2020 conversation between King and filmmaker Barry Jenkins for The Director's Cut – A Director's Guild of America Podcast. (It's a video interview, not audio-only.) It's notable for King's discussion of how she viewed the movie as a platonic love story.
• Building Characters (24 minutes): King and the four primary cast members talk about how they brought four iconic people to life.
• Sound design (24 minutes): Music producer Nick Baxter and sound designers Andy Hay and Paul Ledford talk about how they approached a movie that required them to recreate an era in which a lot of the existing low-fidelity recordings of musical performances and boxing matches had to be recreated, in addition to the usual ambient sounds.
• Making One Night in Miami… (31 minutes): King and Powers are joined by producer Jody Klein, director of photography Tami Reiker, editor Tariq Anwar, costume designer Francine Jamison-Tanchuck, and set decorator Janessa Hitsman to discuss their approaches to their roles on the film.
The film's trailer rounds out the platter.
– Brad Cook (@BradCWriter)
Criterion; Regina King; One Night in Miami… review