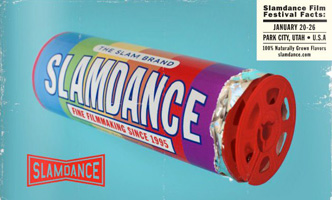 (The 2012 Slamdance Film Festival runs from January 20th-26th. Visit the film's official website for more information. FULL DISCLOSURE: Paul Sbrizzi is a features programmer for Slamdance, but he put on his film lover/reviewer hat to write this sampler platter of a post.)
Slamdance, now in its 18th year, is letting its guerilla roots grow out this year with a proud crop of boundary-pushing offerings that open up exciting new horizons for indie film. Here's a Whitman Sampler of a few highlights.
Narrative Competition
In OK, Good, director/co-writer Daniel Martinico and co-writer/star Hugo Armstrong construct a pitch-black narrative by simply and rigorously intercutting raw, doc-style scenes from the life of a Los Angeles actor—audition footage, acting-class exercises, driving and listening to motivational tapes. They dip film school concepts of story structure in a vat of acid, leaving nothing but bleached bones. Armstrong plays a driven, talented guy putting every molecule of his existence into expressing something nobody wants to hear. It's a modern Greek Tragedy with subtle notes of comedy if you're brave enough not to look away.
Diametrically opposed in tone is the German film Heavy Girls (Dicke Mädchen), directed by Axel Ranisch—a seemingly gentle, old-world tale of a playful, unassuming middle-aged man, Sven, moving gracefully through a modest existence with his dementia-stricken mother. The film gradually waltzes right off the dance floor, as Sven strikes up an oddly romantic friendship with his mother's married caretaker, Daniel. Big bellies bouncing through the woods and a surprising use of a pair of headphones are among the film's many delights.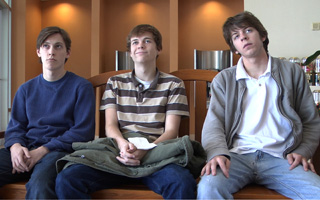 BINDLESTIFFS by Andrew Edison is exactly the kind of movie that all the Hollywood note-givers, lawyers, and MPAA Kommandants spend their waking hours making sure you will never see: a genuine, uncensored, bitingly funny satire of high school today. It starts with a Catcher in the Rye book burning, and goes everywhere it shouldn't with its three young innocents on their filthy path to losing various aspects of their virginity. This is John Waters-caliber, smart, dirty humor applied to the absurdities of the lives of teens in the twenty-teens.
Two young auteurs making powerful debuts are Peter McLarnan with The Sound of Small Things, and Frank Rinaldi with Sundowning. McLarnan puts a woman with a hearing disability at the center of his young-adult relationship story, playing on our natural inclination to empathize with her even as it becomes increasingly clear that something besides her hearing is off. He builds an atmosphere of paranoia that's at odds with the groovy youthful milieu of his characters through his austere camera placement and (not) editing. Rinaldi is also rigorous, methodically building a slow-core rhythm to his coolly art-directed story of a woman who's lost her memory—holding back a pretty special trick of the tail for his final reel. It's a highly polarizing film that's already sparking a lot of debate and controversy.
Documentaries
In the docs competition, a must-see is Danland's rich and detailed character study of Porno Dan, a straight porn actor. Directed by Alexandra Berger, and shot over the course of years, and through the arcs of two different romantic relationships, it has the scope of a novel, following the story of a man-child who's chronically starved for love, but also compelled to have sex on camera. Equally impressive is James Stenson's Kelly, a walk on the wild side with a trannie from North Carolina turned Hollywood working girl. Kelly as a character is documentary gold, willing to expose everything about herself and her lifestyle, but most importantly the way her mind works—her goals and dreams, her many rationalizations, her (very L.A.) efforts to construct an identity, which we see happening in real time.
Animation
Quite a few glittering jewels here. Soil by Meejin Hong (largely abstract and coolly sensual) and The Observer by Abbey Luck (a hypnotic vision of human heads floating through underwater dreamscapes) are dazzling and evocative kinetic fine-art pieces; Hietsuki Bushi by Ryo Hirano is typically Japanese cool-weirdness—a middle-school doodling-in-my-notebook drawing style and a story that involves barf and alien spacecraft. Bradley Schaffer's Thumb Snatchers from the Moon Cocoon brings on more aliens, in an endlessly inventive stop-motion piece that's also a very funny satire of Texas law-and-order gun culture.
Narrative Shorts
Among the live action shorts, a real stunner is Landon Zackheim's Another Bullet Dodged, a messy and raw story of a young woman looking for some emotional support from the baby daddy of her unborn/not-likely-to-be-born baby. Inspired dialogue, crackling performances, and not a trace of sentimentality—feature please! Crown by AJ Rojas is a murky, bongwatery story, like a secret knowledge coming straight from the id: addicts converge on a drug den, tracing colored chalk trails on the ground, as pushers harvest… uh, something you just gotta see. There's another flavor of dream logic in John M. Wilson's People Parade, a surreal comedy overflowing with ripening and rotting characters and free-form ideas, corralled (barely) by the theme of a low-budget, family-run variety show constantly on the verge of falling apart.
—Paul Sbrizzi