Jessica Baxter's 2016 Seattle International Film Festival Wrap-Up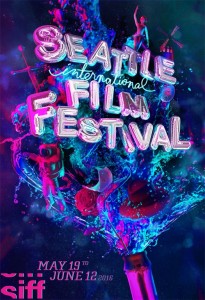 Another SIFF has come and gone. This year, the Seattle International Film Festival ran from May 19th to June 12th and featured 421 films from 85 countries. I have to say this was one of my favorite years. With so many options, it's always hard to narrow down one's itinerary. Plus, even when most of the films are great, seeing so many in such a concentrated period of time tends to make them all blur together. But I loved so many of the films I saw this year, that when I receive the inevitable question, "what's good?" I have a long and enthusiastic answer. If you're reading this, I assume you would have asked me the same question. So here it is.
MY TOP FIVE
Slash: Clay Liford's feature-length remake of his 2012 short is a singular coming-of-age film about two social outcasts (Hannah Marks and Michael Johnson) who bond over their mutual interest in writing Fan Fic – erotic stories featuring characters from popular culture. Both the characters and the film itself suggest that sexual fluidity a natural and necessary step in determining your predilections. Liford cleverly lets his characters explore their desires primarily through their writing. The result is a film that manages to avoid the sensation of inappropriateness that sometimes taints a story about teenage sexuality.
Another Evil: Carson Mell's character-driven horror comedy has ghosts in it, but they mostly exist to set events in motion. The real meat of the film is the man who has dedicated his life to exterminating them. Mark Proksch's performance as the ghost hunter is note-perfect, sneakily morphing from buffoon to malevolent presence before you know what's happening. Steve Zissis plays an Everyman who is initially sympathetic to the ghost hunter's neediness. It's a testament to the writing and acting talent that these two characters, often doing little more than having a conversation, make for a compelling, and effectively creepy narrative. While not a perfect film, it's clever and unique enough to stand out from the dilute pool of haunted house movies.
Don't Think Twice: Mike Birbiglia's second film is a vérité comedy about the implosion of an improv troupe after one member gets cast on a popular long-running weekly live sketch comedy program (wink). Gillian Jacobs (TVs Community, Netflix's Love) stands out from the phenomenal ensemble, as a woman whose talent is greater than her ambition. After showcasing his skillset in Sleepwalk with Me, Birbiglia mostly keeps to the sidelines and lets each of his brilliant co-stars shine through dramatic and comedic moments alike. Also starring Keegan-Michael Key, Kate Micucci, Tami Sagher, and Chris Gethard.
Rainbow Time: Why isn't Linas Phillips more famous? From his debut narrative Bass Ackwards to his numerous supporting roles and his understated turn in Manson Family Vacation, Phillips always brings a compelling mix of eccentricity, truthful human emotion, and humorous awkwardness to his work. His latest opus is no exception. Phillips expounds on an old character of his who was featured in shorts and on Eastbound & Down. Shonzi is a developmentally challenged man who wants little more than to make action movies with his brother (Timm Sharp). But he's no Forrest Gump. Shonzi is deeply flawed and struggles to find what little independence his condition allows. He knows he can never live a truly normal life and he's angry about it. But he also milks the perfunctory sympathy he receives from strangers and his brother's new girlfriend, (the always pitch-perfect Melanie Lynskey). It's a perspective that's rarely seen in media and long overdue.
Other People: It's hard to recommend Chris Kelly's semi-autobiographical tragicomedy, because though outstanding, it'll ruin your day – especially for those with a personal connection to terminal cancer. But despite needing an entire box of tissues to make it through, there are well-timed moments of levity, holding the audience back from the abyss of despair. David (Jesse Plemons) is a thirty-year-old New York Based television writer who returns home to help care for his terminally ill mother (Molly Shannon) and struggles to come to terms with his mother's condition. He also attempts to connect with his sisters and homophobic father. The title refers to the idea that cancer is the sort of thing that happens to "other people", only now, they are the other people. Oof.
HONORABLE MENTIONS
Captain Fantastic: Matt Ross wrote and directed the epic tale of Ben (Viggo Mortenson), a man who chooses to raise his 6 kids in the wilds of Washington State, away from the corrupting influence of "the man." It becomes a road trip movie when their somewhat estranged matriarch dies. Against the wishes of their conservative grandfather, the family travels to her funeral in New Mexico inside an old converted school bus called Steve. Despite the extremity of their lifestyle, many of Ben's choices for his children make a lot of sense, especially if you're of the liberal persuasion. He's practicing what many of us can only preach or aspire to. But he also discovers some hard truths as he deals with the circumstances surrounding his wife's death.
The Blackcoat's Daughter: Susperia meets The Exorcist in Oz Perkins' directorial debut. Two Catholic boarding school students (Kiernan Shipka and Lucy Boynton) are forced to spend a long weekend alone during winter break when their parents fail to pick them up. The less said the better, though it's an effectively disturbing film and Shipka's performance is nothing short of stunning. I find all of her choices absolutely fascinating and look forward to watching her continue to grow as an actress. Also starring Emma Roberts.
Closet Monster: Writer/director Stephen Dunn was only 25 when he made this, his semi-autobiographical debut, about a teenager (Connor Jessup) in small town Newfoundland who struggles to come to terms with his parents' divorce, his post-high school plans, and his sexuality. He navigates these things with the help of his best friend (Sofia Banzhaf) and a hamster called Buffy, who speaks to him in the voice of Isabella Rosselini. The thematic territory is well worn, but Dunn approaches it in an artfully unique way, blending Cronenburg-esque body horror (his protagonist hallucinates) with Lynchian camera work and a 90s electronica soundtrack. If this is what he comes up with out of the gate, Dunn has a long, bright career ahead of him.
The Lure: It's a wonder that there aren't more horror movies about mermaids. They are profoundly creepy, especially as presented in Polish director, Agnieszka Smoczynska's, debut. Her mermaids are eel-like sirens with a taste for human flesh. Also, it's a musical set in communist 1980s Warsaw, with all the aesthetic that implies.
Thank you, SIFF, for allowing me to once again attend and cover my favorite film festival in my beloved hometown. See you next year!
GOLDEN SPACE NEEDLE AWARDS
BEST FILM
Captain Fantastic, directed by Matt Ross (USA 2016)
FIRST RUNNER-UP: Hunt for the Wilderpeople, directed by Taika Waititi (New Zealand 2016)
BEST DOCUMENTARY
Gleason, directed by Clay Tweel (USA 2016)
FIRST RUNNER-UP: Maya Angelou and Still I Rise, directed by Bob Hercules, Rita Coburn Whack (USA 2016)
BEST DIRECTOR
Javier Ruiz Caldera, Spy Time (Spain 2015)
FIRST RUNNER-UP: Icíar Bollaín, The Olive Tree (Spain/Argentina 2016)
BEST ACTOR
Rolf Lassgård, A Man Called Ove (Sweden/Norway 2015)
FIRST RUNNER-UP: Ricardo Darín, Truman (Spain/Argentina 2015)
BEST ACTRESS
Vicky Hernandez, Between Sea and Land (Colombia 2016)
FIRST RUNNER-UP: Yulia Peresild, Battle of Sevastopol (Ukraine/Russia 2015)
BEST SHORT FILM
Alive & Kicking: The Soccer Grannies of South Africa, directed by Lara-Ann de Wet (USA/South Africa 2016)
FIRST RUNNER UP: Taking Flight, directed by Brandon Oldenburg (USA 2015)
LENA SHARPE AWARD FOR PERSISTENCE OF VISION
The IF Project, directed by Kathlyn Horan (USA 2016)
SIFF 2016 OFFICIAL COMPETITION WINNER
GRAND JURY PRIZE: Girl Asleep (Australia 2016), directed by Rosemary Myers SPECIAL JURY MENTION: Moon in the 12th House (Israel 2016), directed by Dorit Hakim
SPECIAL JURY MENTION: Radio Dreams (Iran/USA 2016), directed by Babak Jalali
SIFF 2016 IBERO-AMERICAN COMPETITION WINNER
GRAND JURY PRIZE: You'll Never Be Alone (Chile 2016), directed by Alex Anwandter
SIFF 2016 NEW DIRECTORS COMPETITION WINNER
GRAND JURY PRIZE: Sand Storm (Israel 2016), directed by Elite Zexer
SPECIAL JURY MENTION: Before the Streets (Canada (Québec) 2016), directed by Chloé Leriche
SIFF 2016 NEW AMERICAN CINEMA COMPETITION WINNER
GRAND JURY PRIZE: 
Middle Man (USA 2016), directed by Ned Crowley
SIFF 2016 DOCUMENTARY COMPETITION WINNER
GRAND JURY PRIZE: 
Death by a Thousand Cuts (Dominican Republic/Haiti/USA 2016), directed by Juan Mejia Botero and Jake Kheel
SPECIAL JURY MENTION: 
The IF Project (USA 2016), directed by Kathlyn Horan
YOUTH JURY AWARD FOR BEST FUTUREWAVE FEATURE
Girl Asleep (Australia 2016), directed by Rosemary Myers
YOUTH JURY AWARD FOR BEST FILMS4FAMILIES FEATURE
Oddball (Australia 2015), directed by Stuart McDonald
WAVEMAKER AWARD
GRAND PRIZE: Sable Mire (USA 2015), directed by Bogui Adjorlolo and Isaac Pauls
FUTUREWAVE AUDIENCE AWARD
The Archer Hadley Story (USA 2016), directed by Ben Root and Alex Treviño
PRODIGY CAMP SCHOLARSHIP
Children (Jordan 2015), directed by Marah Al Hassan
SIFF 2016 SHORT FILM JURY AWARDS
LIVE ACTION
GRAND JURY PRIZE: 
Killer (USA 2016), directed by Matt Kazman
SPECIAL JURY MENTION: 
Bitchboy (Sweden 2016), directed by Måns Berthas
DOCUMENTARY
GRAND JURY PRIZE: 
These C*cksucking Tears (USA 2016), directed by Dan Taberski
ANIMATION
GRAND JURY PRIZE: Carlo (Italy 2015), directed by Ago Panini
Source: Seattle International Film Festival Press Release ã 2016