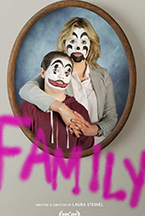 (The 2018 SXSW Film Festival kicked off March 9 and ran all the way through to March 17. Hammer to Nail has a slew of reviews and interviews coming in hot and heavy so keep your dial tuned to HtN!)
It's not very often that Juggalos (whoop! whoop!) play a positive role in cinema. In the news and popular culture, Juggalos are usually either mocked or condemned. Yes, there are some violent Juggalo gangs out there, but plenty of non-violent Juggalos exist too. Written and directed by Laura Steinel, Family presents non-violent Juggalos as the quintessential family. Sure, they are clown makeup-wearing anarchists who really enjoy partying, but they also accept and support each other unconditionally, which is something a lot of traditional families are not so good at.
Kate Stone (Taylor Schilling) is the perfect example of someone who does not abide by the Juggalo code. She is as self-centered as people come. She hates everyone and believes she is better than everyone else, an attitude that has rendered Kate socially awkward to embarrassing proportions. Kate is so career-focused that she has all but forgotten about her family. For all intents and purposes, Kate has chosen a solitary path in life because she is a workaholic. Most importantly, she never learned how to just be herself.
When the brother (Eric Edelstein) whom Kate estranged years ago essentially forces her to spend some quality time with her 13-year-old niece, Maddie (Bryn Vale), the experience helps Kate contemplate whether all of the life sacrifices she has made for her career were actually worth it. Meanwhile, Maddie is given ample opportunities to express herself more freely since she is temporarily freed of her parents' rigid expectations. While Kate is distracted by work, Maddie finds herself introduced to the world of the Juggalos. An outcast at school because she is not a "typical" girl, her newfound Juggalo friends make Maddie feel accepted for the first time in her life.
The two lead performances are what make Family something truly special. It seems like a simple coming-of-age story for Maddie, but Bryn Vale does an extraordinary job (primarily via her eyes and body movement) of capturing a character who is growing into her true self. Then, there is Taylor Schilling's comically complex performance as Kate. It is a familiar character arc, so we can only assume there will be a redemptive moment for Kate, but Schilling makes it worthwhile for us to cheer Kate along on her journey regardless.
– Don Simpson (@thatdonsimpson)