(Otto Bell's debut feature The Eagle Huntress blew audiences away at the 2016 Sundance Film Festival. Since then it's been, ahem, soaring across the globe to rave reviews. The film is out now in major cities and coming your way soon via Sony Pictures Classics. Our Chris Reed caught up with the film at the Middleburg Film Festival and submits this review.)
A beautifully shot documentary film set in the Altai Mountains of eastern Kazakhstan, The Eagle Huntress – the debut feature of director Otto Bell – follows a 13-year-old girl, Aisholpan, as she breaks down gender barriers that have stood in place for generations. In her culture, the men of the area hunt with eagles, which they capture when young, train, and then keep for seven years before releasing back into the wild. The apple of her father's eye, Aisholpan has always wanted to be a hunter, herself, and since Dad recognizes her talent, he encourages her to dream big, coaching her with his own eagle, and then helping her to catch one of her own. Before long, their ambitions grow, and they set their sights on an annual competition amongst all of the local eagle hunters. Will Aisholpan succeed in her quest to be the first female hunter? Well, first there's a lot of work to do, including finding and stealing an eaglet from its nest.
As a work of ethnographic filmmaking, The Eagle Huntress is quite remarkable. Although Bell admits, in the press notes, that he would sometimes ask his subjects to redo actions for the camera, as needed, we never feel his presence. When Aisholpan climbs down a cliff face, supported by a rope held by her father, we are right in the middle of it, and there is no faking that through reenactments (I don't think the eaglets would be particularly fond of a second take, anyway). We are bystanders on Aisholpan's journey towards self-actualization, and it is a joy to watch her grow. Bell has spent years traveling the globe making short nonfiction promotional films for major brands, and he has a fine way with camera placement that keeps us intimately engaged with the story.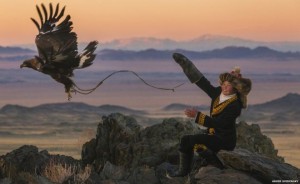 Unfortunately, the brilliance of the camera work (courtesy of Bell's excellent cinematographer, Simon Niblett, and his team) is sometimes undercut by the overwrought chords of the score, which is an unnecessary addition to the film. Actress Daisy Ridley (Star Wars: The Force Awakens) – also a producer on the movie – provides some simple, and restrained, voiceover narration, and that is all the soundtrack we need. Wind, rain, snow, and the cries of eagles would be sound design enough. The addition of music merely takes away from the stunning natural beauty on display in every corner of every frame.
This is not an easy film for soft-hearted animal lovers like yours truly, since the scenes of the eagle capture are hard to watch, given that the mother bird is screeching nearby. Later, when that same eagle – now all grown up – hunts down a fox, that is actually much worse. And yet, even a man like me with no interest in killing animals can appreciate the value of Bell telling this story as objectively as possible (music notwithstanding). That's what they do in that part of Kazakhstan. So I choose to focus on the uplifting feminist story at the heart of the movie. I hope that young women – and young men – everywhere can see the film, taking inspiration from Aisholpan's determination and will to succeed.
– Christopher Llewellyn Reed (@ChrisReedFilm)