Jessica Baxter's Seattle International Film Fest '17 Wrap-Up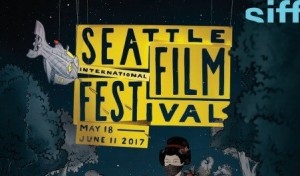 The 2017 Seattle International Film Festival, which runs for 25 days every spring in the Emerald City, is four weeks of wall-to-wall, butt-numbing entertainment. This year's festival took place May 18th to June 11th and featured 400 films from 80 countries. All told, there were 750 festival screenings and events, including 36 world premieres. That's a lot of time spent in a dark theater. On the festival's final day, the SIFF employees who introduced the screenings asked the audience how many of them had seen over 100 SIFF films this year. I was shocked when a couple of people actually raised their hands. Those folks averaged 4 films per day. My itinerary wasn't quite as impressive, but I did manage to squeeze in 26 films, at an average of 1 per day. Hey, I had to see my kids some time.
Special honored guests included Angelica Houston, who received an award for Outstanding Achievement in Acting; and the buttery-voiced cowboy Sam Elliott, who spent an afternoon reminiscing about his career and taking questions from an enthusiastic audience.
There were a lot of great films this year. Here is my top 10:
Beatriz at Dinner – Mike White and Michael Arteta's latest collaboration, sees Beatriz (Selma Hayek), a peaceful holistic healer, at odds with a morally suspect hotel mogul during an important dinner party. This is one of Hayek's best roles and an emotional commentary on the current political landscape.
A Date for Mad Mary – Darren Thornton's debut, written with his brother, Colin, is a beautiful dramedy about a young ex-con who must reluctantly perform the duties of Maid of Honor and find herself a date to the wedding of her childhood best friend. Séana Kerslake shines as Mary, with the gauzy vulnerability of a young Natasha Lyonne. The Thornton brothers have crafted a lovely film about the pain and liberation of shedding the skin of your past and learning to let go.
Two Irenes – A remarkable feature debut by writer/director, Fabio Meira. Irene (talented newcomer Priscilla Bittencourt) is a 13-year old Brazilian girl on the cusp of womanhood. But her coming-of-age involves more than just first kisses and drunken giggling with her best friend. She discovers that the adult world is far more complicated than she ever realized, when she learns her father has a secret daughter, also named Irene, with another woman in a neighboring town.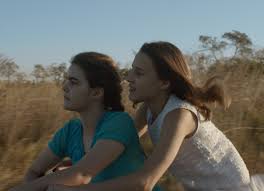 Trouble – Anjelica Huston and Bill Pullman are at the top of their game as siblings violently feuding over a plot of land left to them by their parents. Huston's character is confident and complex, and Pullman plays to his strengths as an endearing scumbag. Neither sibling has the moral high ground. They're just people in a mess. Julia Stiles has never been better, as a well meaning, if dim and misguided, clerk mixed up in the business. Written and directed by Smash producer, Theresa Rebeck, the hilarious and surprising script also stars David Morse as Huston's love interest.
Wallflower – Based on the true story of a mentally broken young man who went on a shooting spree in Seattle during an after-party hosted by a group of friendly Ravers, who had invited him. Writer/director Jagger Gravning, who knew some of the real victims and survivors, crafts an artistic and respectful re-telling of the tragedy, attempting to explain the killer's motives without excusing his actions. The lead actors, David Call (the murderer) and two of the Ravers (Atsuko Okatsuka and Conner Marx), give compelling and authentic performances.
The Fabulous Allan Carr – Director Jeffrey Schwarz (I Am Divine) based his latest film on Robert Hofler's biography of Hollywood producer, Allan Carr, best known as the man behind Grease, La Cage Aux Falles, and the Village People. Maybe Grease didn't influence your life per se. But I bet you know at least a couple of bars of "Summer Lovin'". And even if you aren't proud of that fact, chances are you'll find something to love about the film. Carr's famous friends provide insight into Carr's personal life and legacy, including Lorna Luft, and Bruce Vilanch.
The Feels – Jenée LaMarque directs, and co-stars in this riotous, touching, and raunchy ensemble comedy about an emotional lesbian bachelorette weekend in a country cabin. The drama starts when Andi (Constance Wu, Fresh off the Boat) learns that her fiancé, Lu (Angela Trimbur, Final Girls), has never had an orgasm, sending both of them into a downward spiral of insecurity and emotion. LaMarque plays Lu's soon-to-be-divorced sister, who struggles to keep her own drama at bay so she can be there for Lu. Meanwhile, Andi's best friend – and the only male – stirs up trouble with the two straight girls in attendance. The scenes were all improvised, lending this Mumblecore Bridesmaids an air of authenticity.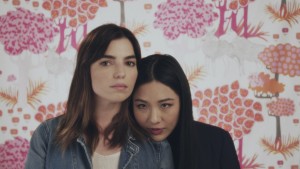 The Reagan Show – When asked if he thought his acting background was an advantage to being president, Ronald Reagan replied, "There are times I've wondered how you could do the job if you hadn't been an actor". It's a telling statement from a president who spent two thirds of his time on public relations, logging more screen time up to that point than the combination of all other politicians since the advent of television. Sierra Pettengill (Town Hall) and Pacho Velez (Mankamana) created their documentary, The Reagan Show using news and behind-the-scenes footage from Reagan's two-term presidency (1981-89). The result is equal parts amusing, upsetting, and apropos with regard to our current political poop show. Like with Trump, it was a lot more fun to make fun of Reagan when he didn't have his finger on the nuke button.
Backpack Full of Cash – The United States public school system isn't broken. It's rigged in favor of middle and upper class white families. "Education Reform" committees are hard at work building Charter Schools – privately run schools that use public school funding – as a way to weed out "undesirables" and effectively trump Brown Vs. the Board of Education. Sarah Mondale's documentary, narrated by Matt Damon, lays out all the brutal, indisputable facts about yet another government institution design to oppress people of color and those below the poverty line.
Rocketmen – Writer/director Webster Crowell's shoestring budget retro sci-fi comedy, originally a web series, was shot entirely in Seattle's historically protected neighborhood. The Department of Municipal Rocketry is a secret, and obsolete government program, originally created during the FDR administration, to protect citizens against communists and giant robots. But since those threats never became a reality, they've been in a holding pattern ever since. That is, until an airplane explosion finally calls them into action. Crowell uses a combination of stop-motion and old school effects to delightful and hilarious effect in this tribute to 1940's serials.
Here are some of the best SIFF films that have already been picked up and will soon be coming to VOD or a theater near you:
Crown Heights – Written and directed by Matt Ruskin, Crown Heights is based on a true story about the political climate of the Reagan-era rigged the justice system to keep an innocence man (LaKeith Stanfield, Get Out) in jail after a racially motivated case of mistaken identity. The moral of the story, which is still absolutely relevant, is that, "The system doesn't work for people who can afford a defense." Nnamdi Asomugha plays the lawyer who works tirelessly to free Colin Warner – even after Warner himself has given up. He tells Warner that it's his calling because the case is bigger than just one man. If bogus "eyewitness testimony" could put an innocent black man away for life, that it could just as easily happen to any person of color. Coming August 25th, 2017.
Whose Streets? – Co-directors Sabaah Folayan and Damon Davis tell the real story of the Ferguson protests from the front lines, with personal footage plus a collection of phone videos from other witnesses. When unarmed teen Mike Brown was killed by police and left in the street, it was the last straw for the citizens of the St. Louis neighborhood. After a lifetime of racial and economic oppression, they had to do something. It was a matter of survival. If national news had shown the real Ferguson, perhaps Brown's murderer would have faced real consequences. However, as the film effectively shows, the system is so steadfastly rigged against people of color, that the only fix is a revolution. Infuriating, horrifying, and ultimately a call to action, this film is a must-see for literally everyone. Coming August 11th, 2017.
The Trip to Spain – Michael Winterbottom is back with the third installment of his "Trip" series, starring British comedians Steve Coogan and Rob Bryden who play satirical versions of their real life counterparts. You can expect plenty of hilarious off-the-cuff banter, Michael Caine impressions, and ABBA singalongs from these competitive frenemies. This time around, Coogan is writing a memoir about his youthful escapades across Spain, with plans to bond with his twenty-one-year-old son. Meanwhile, Rob is doing more restaurant reviews and coming to terms with being an old father to two young children. It's "two middle aged men looking for adventure" with a little Don Quixote theme thrown in for good measure. It's the weakest of the trilogy, but still very entertaining. If you historically find these chaps entertaining, this film will be no exception. Coming August 11th, 2017.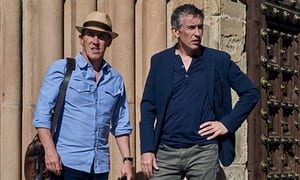 Better Watch Out – Accurately billed as Home Alone meets Funny Games, Chris Peckover's debut is more cynical than the former, but ultimately more gratifying than Haneke's nihilist screed. Led by a trio of gifted Aussie actors sporting American accents, it has a series of game-changing twists that you'll want to avoid spoiling if you can help it. A pragmatic but wholesome babysitter (Olivia DeJonge) must protect herself and a pair of 12-year-old boys (Levi Miller and Ed Oxenbould) from home invaders at Christmas time. There are a number of clever set-ups and pay-offs, and loads of psychologically squirm-inducing moments, that make the gory parts feel like a welcome respite. Even after the reveals, the action remains tense right up until the closing credits. A must-see for horror fans, but it's best enjoyed spoiler-free. Coming October 6th, 2017.
Dean – Demetri Martin helms a loosely autobiographical tale of a father and son with incongruous methods for grieving the recent loss of the family matriarch. Dean (Martin) is a professional illustrator who escapes to L.A. to avoid facing his father (Kevin Kline), who wants to sell the family home and make a fresh start. There, Dean meets an actress (an always endearingly broken Gillian Jacobs) on whom he unwittingly foists his entire coping strategy. Mary Steenburgen is delightful as the real estate agent helping facilitate the sale of the home, and she has excellent chemistry as a love interest for Kline. Martin incorporates his original drawings into the storytelling to illustrate his character's emotional journey. As played by a forty-something Martin, Dean seems a little too old to be so selfish and mentally stunted. But if you assume he's portraying someone a decade or two younger, it makes his aimlessness sympathetic.
Have a Nice Day – Mike Judge meets Quentin Tarantino in Jian Liu's (Piercing I) second animated feature. The plot follows multiple characters as they interact with a bag of stolen money. Jian has room for growth as a director, possesses a large amount of raw talent with a fun throwback animation style. The artwork is simple, utilizing a series of still backgrounds, with one or two moving cells in each shot. But it's also beautiful in its simplicity, particularly during establishing shots and meditative interludes, like when a Gila monster crosses a railroad track. The human characters have a rough, Beavis and Butthead quality to them, in the best possible way. The music is a nice mix of traditional score and modern Chinese pop.
GOLDEN SPACE NEEDLE AWARDS
The winners of the Golden Space Needle Awards were determined by audience vote:
BEST FILM – At the End of the Tunnel, directed by Rodrigo Grande (Spain/Argentina 2016)
BEST DOCUMENTARY – Dolores, directed by Peter Bratt (USA 2017)
BEST DIRECTOR – Rodrigo Grande, At the End of the Tunnel (Spain/Argentina 2016)
BEST ACTOR – David Johns, I, Daniel Blake (United Kingdom/France/Belgium 2016)
BEST ACTRESS – Lene Cecilia Sparrok, Sami Blood (Sameblod) (Sweden/Norway/Denmark 2016)
BEST SHORT FILM – Defend the Sacred, directed by Kyle Bell (USA 2016)
Now I'm off to get some much-need sun. See ya next year!