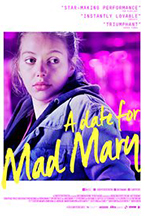 (The 43rd Annual Seattle International Film Festival starts May 18 and runs almost a month, all the way until June 11. Stay tuned to Hammer to Nail for reviews throughout the festivals monster run.)
Irish writer/director Darren Thornton's feature, A Date for Mad Mary, is an outstanding debut. After serving 6 months in prison for assault "Mad" Mary McArdle (Séana Kerslake) finds that she remains grandfathered into the "Maid of Honor" position for her childhood best friend's impending nuptials. Charlene (Charleigh Bailey) wants her big day to be perfect, and she repeatedly lets Mary know that she doesn't trust her to do the job right. She all but strips Mary of her title, in the feigned interest of not wanting to put too much pressure on her. After all, Mary has enough on her plate what with finding the one man in her small town that hasn't been scared off by her reputation and would be willing to be her plus one for the wedding.
A Date for Mad Mary is a comedy, but it's not exactly a romantic comedy. It's more about how changing friendships can sometimes be as painful as a breakup. It's also about the challenge of overcoming your demons when everyone you love believes that you can't. Most of all, it's a film about forgiveness and how incredibly hard a thing that is. Despite having done her time, everyone in Mary's life seems to hold some resentment for her past misdeeds. She can smell it on them. And so she repeatedly gives them the Mary they expect, even as she realizes that it's not who she is anymore.
OK, so there's some romance. Mary does go on a series of comically awful dates with men who are everything from boorish to boring to just not that into her. Mary is on the brink of going stag when she meets Jess (Tara Lee), the wedding photographer. Jess is also a musician with a bit of a free love philosophy. Most importantly, Jess is the first person to see another side to Mary – a side that's not so mad. They strike up a friendship (something of which Mary is in desperate need, since Charlene won't return her phone calls or texts). Jess invites Mary to an out-of-town wedding that she's working, in the interest of helping her "find a fella". Instead, they drain the hotel mini-bar and light flirtation turns into something more. The depiction of Jess and Mary's hookup is one of the things I love most about the film. The fact that Mary has "switched teams" is portrayed as almost a non-issue. Charlene does make a comment about Mary "liking girls now", but it's really more of a surprise than a judgment. Charlene thought she already knew everything there was to know about Mary. The fact that Mary can surprise her is the first thing to break through Charlene's icy heart.
Throughout the course of the narrative, Mary works on her wedding speech in voiceover, always leading with "Things you need to know about Charlene." Her numerous, presumably scrapped, speeches are all honest and heartfelt. They're everything you would expect from a maid of honor speech. But Charlene doesn't want honesty. She wants the guise of perfection. And so she writes a load of self-aggrandizing crap, gives it to Mary, and tells her that she can stop stressing out about the speech now. It's a devastating moment – to realize that your best friend doesn't trust you to publicly declare your love for her in the right way. This movie is filled with devastating moments, and actress Séana Kerslake nails every single one of them.
Kerslake is a gem of an actress, and one from whom I'm sure we'll hear a lot more in the near future. She possesses the gauzy vulnerability of a young Natasha Lyonne. Even when she's attempting to push people away with verbal (and sometimes literal) assaults, her soft interior peers out through her wounded puppy eyes. All she really wants is to be loved but she hasn't the slightest idea how to let that happen. When you have a nickname like "Mad Mary", there's a certain expectation. She's clearly tired of it, but has trouble breaking old habits. Especially when everyone just assumes she's going to go mad anyway.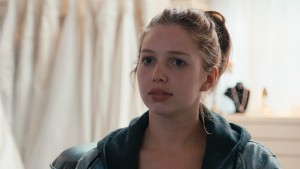 Part of the problem is that she seems to have entered prison a child and when she came out, everyone she knew had grown up without her. She wears baggy jeans and a hoodie, while everyone else has graduated to business casual. Prison wasn't so much a transformative period for her as it was a time capsule. All of this is inferred but never explicitly expressed. It's conveyed through Mary's body language and the reactionary vitriol she spews when she feels attacked by people she trusts.
The script by Darren and brother Colin Thornton and adapted from a play by Yasmine Akram (10 Dates for Mad Mary), is a gut punch with a feather duster. They beautifully illustrate the way in which the friendships of youth can die slow, painful deaths through no real fault of either party. People grow apart as their lives morph from young adults to just regular adults. Charlene clearly grew up imagining Mary as her Maid of Honor at her future wedding. So when the time came to really appoint that person, she chose Mary without hesitation, even though they hadn't been close for some time. This is something that is not uncommon in the complex world of female friendships. Your childhood best friend knows who you were then, but there's no guarantee that they will know Adult You just as well. The Thornton brothers have crafted a lovely film about the pain and liberation of shedding the skin of your past and learning to let go. And yes, it's also a love story – but only a wee bit.
– Jessica Baxter (@tehBaxter)