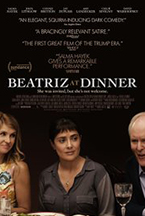 (The 43rd Annual Seattle International Film Festival started May 18 and ran almost a month, all the way until June 11. Stay tuned to Hammer to Nail for reviews throughout the festivals monster run.)
Donald Trump isn't the first appalling billionaire, and he certainly won't be the last. But what would you do if you found yourself at a dinner party honoring a man who has an awful lot in common with the hotel mogul (and some other title I can't think of right now)? In Beatriz at Dinner, Mike White and Miguel Arteta's latest collaboration, Beatriz (Salma Hayek) finds herself in this very position. She elects to not keep her worldview under wraps when faced with a man who is the very antithesis of all she holds dear.
Following in the footsteps of Jennifer Aniston in The Good Girl, Salma Hayek de-glams herself for the two Mikes in order to embody the character of a simple, earthy, Mexican immigrant who wants nothing more than to do her part to heal the world. She wakes up fresh-faced, empathetic eyes peering out from beneath woefully cropped bangs. She pulls on mom jeans and starts her day caring for the bevy of animals, including a goat, that she keeps as roommates. After a quick meditation session in front of an alter dedicated to family and a different goat, she loads her massage table into her relic of a Volkswagen, and heads off to a holistic cancer center where she pulls out all the naturopathic stops for struggling patients. This is the routine of a person who wants to help others, possibly at the expense of her own self-care.
Beatriz clearly doesn't make a lot of money for her efforts, but she supplements her income with house calls to One Percenters. One such client is Cathy (played flawlessly by Connie Britton), the mother of one of Beatriz's former cancer patients. Cathy feels eternally indebted to Beatriz for treating her daughter post-chemo. So when Beatriz's car won't start, Cathy invites her to join them for dinner while she waits for a friend to come pick her up. This invitation worries Cathy's husband, Grant (David Warshofsky), because this isn't just any dinner, but a very important "work thing" – celebrating the successful completion of a lucrative and hard-won land deal. Cathy assures him that Beatriz is practically family and won't be any trouble.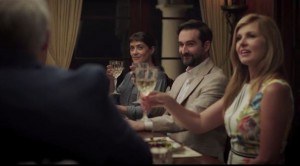 Beatriz lurks in the background for a bit as the guests begin to arrive, framed like a hobbit at a Rivendell social. Alex (Jay Duplass, The Duplassverse) is the lawyer who removed all the red tape for the land deal, and Chloë Sevigny (if she has a name in the script, I missed it [Editors note: Shannon is her name]) is his glamorous wife. But the guest of honor is Doug Strutt (played with frightening ease by John Lithgow), the man with the capitalist plan and the money to make it happen. His much younger wife (Amy Landecker, Transparent) provides the unconditional support with only a joking hint of apology for the string of insensitivity that falls from his lips.
Beatriz' drab clothes and hair are in stark contrast to their gleaming finery. Inevitably, she is mistaken for "the help", until Cathy remembers to introduce her. For a time, Beatriz stays mum, observing and absorbing the worldview of people who are the definition of White Privilege. Beatriz may even be suffering from culture shock because she can't believe the things coming out of their mouths. When the genders are segregated with their drinks on either side of the pool (one that overlooks the ocean), the men congratulate themselves and the women gawk at leaked phone pictures of a starlet's STD-infested genitals. Shannon declares them "kind of amazing". Doug asks Beatriz where she's "really from", and when she names her tiny Mexican town, Jay declares, "I love Mexico! Cancun is awesome!" Beatriz bares a few teeth by asking Doug where he's really from. But it's not until they're seated at dinner and she is nearing the end of her second glass of wine that she starts to open up and fire back at some of the disgusting declaratives. The look of pure horror grows on Beatriz' face, as does her sense of bewilderment at how people can behave this way. (At one point, Shannon observes, "France is like a third world country"). Beatriz also starts wondering if a hotel that Doug owns in Mexico is the same one that decimated her hometown – he can't remember the name of the place because he has "properties all over" and he "just owns them".
Despite telling a few record-scratch inducing stories, Beatriz still manages to remain innocuous in their eyes. She's an adorable stray curiosity that Cathy rescued. It's not until dessert that Beatriz reaches the end of her proverbial hemp rope. The group inquires about Doug's upcoming trip to Africa to "hunt big game." Despite costing him "a fortune", this is not his first. He begins to wax philosophical about the "primal" experience of shooting a huge majestic beast close up – to look into its eyes as the creature takes its last breaths. And then, ignoring his wife's gentle rebuke, he passes around a photo. He is depicted crouching with his rifle next to a bloodied rhino, beaming with pride at his accomplishment. Beatriz looks like she's going to throw before they even hand her the phone. But when she sees the photo, she can contain herself no longer. She hurls it back at Doug, just missing his head, and lets loose a tirade that has been building up in her head all night. Unfortunately for everyone, she is trapped with these people because she is drunk and her mechanic friend can't come until morning. Cathy gently leads her to bed, apologizing profusely to her guests, and, to a much lesser extent, Beatriz. But instead of going to bed, Beatriz googles. And, as we all know, nothing good can ever come from drunken googling.
As in Mike White's other brilliant dramedy scripts (Chuck & Buck, Enlightened, The Good Girl) his dialog is hilarious until it isn't. The horror sneaks up on you as his characters morph from archetypes into more complex people. White has an ear for small talk and the ways in which it reveals our souls. Despite Doug's reprehensible resume, he isn't trying to antagonize Beatriz. He makes a misguided attempt to reach out to her, but it's not to find middle ground so much as to deliver a condescending lecture about how we should all just try to enjoy what little time we have on this earth. Likewise, the other characters want to help this poor, lost soul, but can't see past the three iron gates that separate them from the rest of the world.
Before the dawn of film, Mike White would have written novels that modern kids would write essays about in high school. His stories are loaded with subtlety and symbolism, and Beatriz is no exception. Arteta knows precisely how to bring it to life with help from cinematographer, Wyatt Garfield. Doug Strutt's character is obviously thematically topical. But he's also an amalgamation of every selfish, opportunistic, racist, white patriarchic throughout history. Strutt even goes to far as to speak of "Manifest Destiny", a favorite justification for oppressive behavior. Likewise, Beatriz is no cartoon hippie. She has found a way to live a harmonious life without stepping on any heads to get it. Her breaking point is understandable. She's tired of watching people get away with literal murder and not being able to do anything about it other than speak her peace and get shut down. Meanwhile, Strutt sums up his power perfectly: "I have opinions and, because I have money, people listen." But Beatriz has had enough. So say we all.