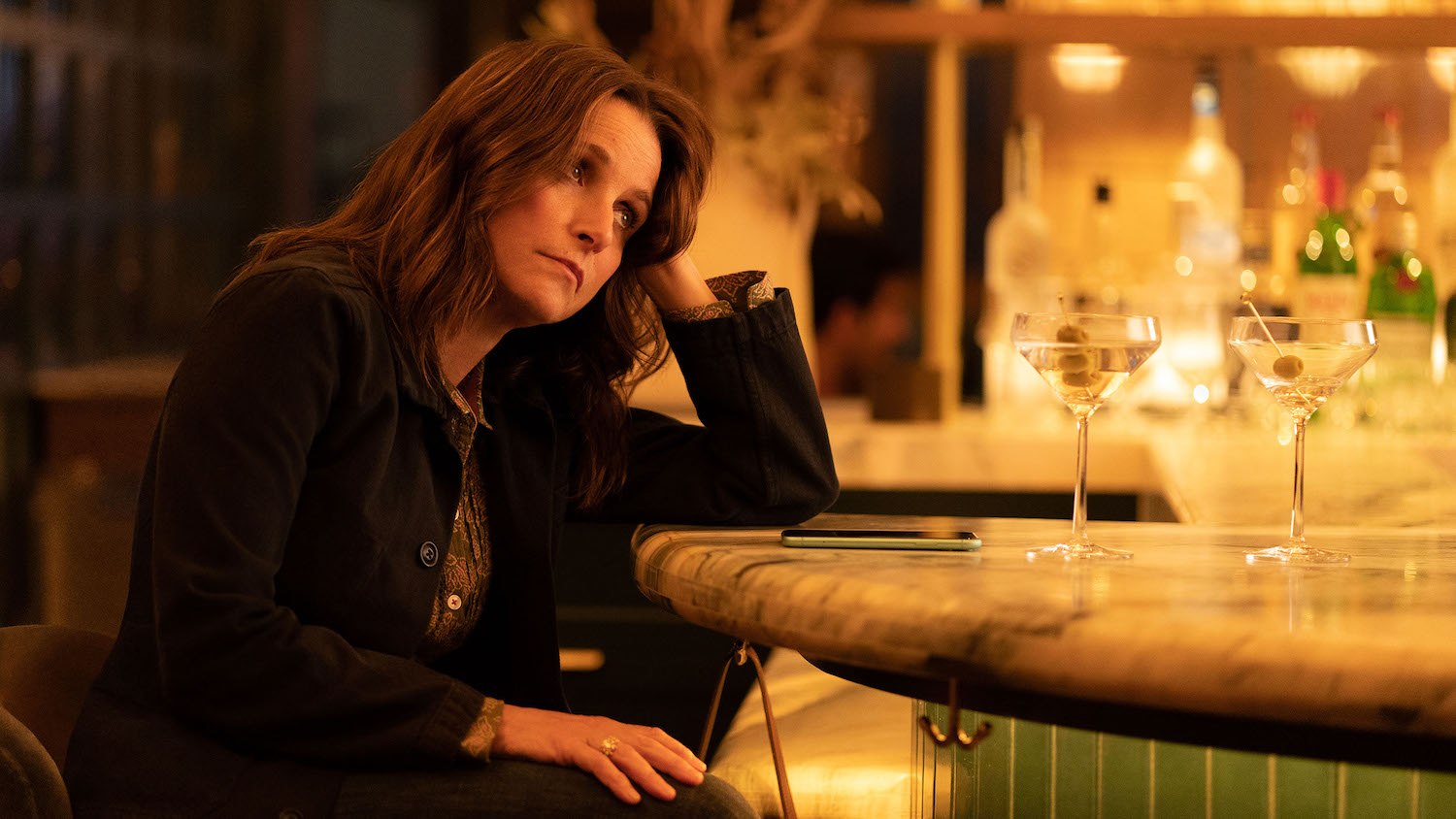 (The 2023 Sundance Film Festival takes place January 19-29 in and around Park City, UT and virtually. As always, Hammer to Nail has you covered with tons of movie reviews like Chris Reed's review of the film Fair Play. Seen it? Join the conversation with HtN on our Letterboxd Page.)
The films of Nicole Holofcener (Enough Said) traffic in gentle, understated comedy mixed with heartfelt drama, the two narrative chords working in harmony to quietly profound effect. Her new effort, You Hurt My Feelings, finds its protagonists at a crossroads, all of them navigating moments of transition they would prefer to avoid. Though there are plenty of intentionally awkward scenes, the humor comes less from pain than from inconvenience, everyone trying their hardest to escape the truth. If not every joke or sentiment strikes the perfect note, the resultant melody nevertheless forms a moving cinematic sonata.
The title comes from a critical moment where Beth (Julia Louis-Dreyfus, Downhill) overhears her husband, Don (Tobias Menzies, Netflix's The Crown), dissing her new novel to her brother-in-law, Mark (Arian Moayed, Abe). Already riddled with self-doubt over its quality (her one previous book, a memoir, is long since old news), the last thing she needs is for her beloved spouse to hate it, especially since he has heretofore, to her face, only said nice things. The resultant crisis throws their comfortable world out of balance, piling on top of Doug's own existential dilemma over his work as a therapist. Add in the seemingly aimless drift of their 23-year-old son, Eliot (Owen Teague, To Leslie), and the stage is set for everything else to collapse, as well.
Fortunately, Beth has a confidante and helpmate in her sister, Sarah (Michaela Watkins, Werewolves Within), who may sometimes respond with caustic wit but at least listens (unlike their mother). Sarah isn't too happy with her own career as an interior designer, however, and admits that she sometimes lies to her husband (Don) about what she thinks of his professional acting gigs. But should it matter if we sometimes don't like what our romantic partners do, and is it okay to deceive them as a way of showing support? That is one of the central questions the movie asks.
Holofcener also tackles the great metaphysics of what makes a meaningful life, never relying on reductive platitudes as a salve but instead preferring to keep the subject open. What is not up for debate is the enduring power of love, even of the codependent kind. We all need succor and encouragement, our pretenses of strength be damned. If you do happen to hurt my feelings, though, please have a good excuse. I may love you, but there are limits.
Louis-Dreyfus is her usual impeccable self and Menzies ably keeps up with her, as do Watkins, Moayed, and Teague. Perhaps the most laugh-out-loud sequences, however, are those featuring David Cross (The Dark Divide) and Amber Tamblyn (Nostalgia) as a warring couple (Cross and Tamblyn are real-life spouses) whom Don tries vainly to treat. Their hurtful words spat out in rage almost belie an abiding affection (or at least love and hate intertwined) that speaks to the story's larger themes, while also providing excellent comedy. If it looks and sounds like this, bring on the spite.
– Christopher Llewellyn Reed (@ChrisReedFilm)
2023 Sundance Film Festival; Nicole Holofcener; You Hurt My Feelings movie review