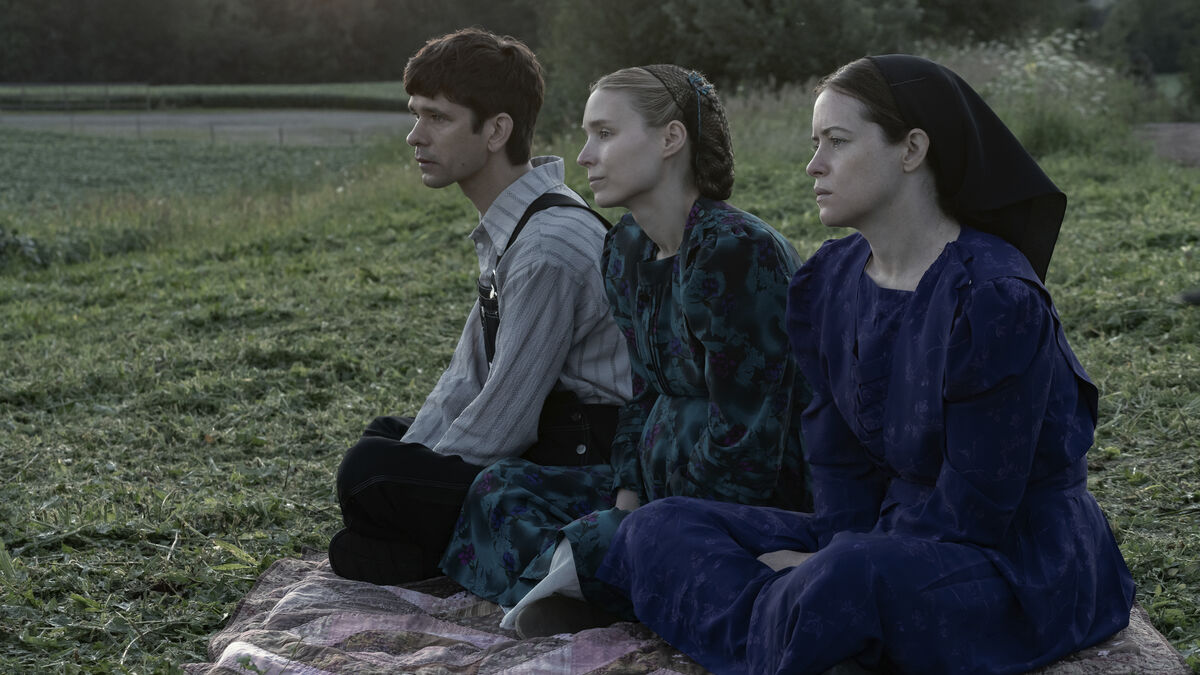 (The 2022 Middleburg Film Festival ran October 13-16 in lovely Middleburg, VA. Lead critic Chris Reed is in attendance and submits this movie review of Women Talking. Seen it? Join the conversation with HtN on our Letterboxd Page.)
There are a lot of women who talk in Women Talking, the new film from writer/director Sarah Polley—her first feature since the 2012 Stories We Tell, and an adaptation of author Miriam Toews' eponymous 2018 novel (based on a real-life news story)—and their voices fill the soundscape in evocative layers of meaning. We find ourselves in "The Colony," a Mennonite community where women of all ages have been subjected to a series of rapes in recent times, usually after being rendered unconscious via tranquilizer. Their rage at this abuse sits atop a lifetime of simmering rage at their lack of agency, and they have finally had enough. Over the course of the movie, they gather to decide whether to stay and fight, or leave.
The excellent ensemble includes Jessie Buckley (The Lost Daughter), Claire Foy (The Electrical Life Of Louis Wain), Judith Ivey (Through the Glass Darkly), Rooney Mara (Carol), Sheila McCarthy (Anything for Jackson), Frances McDormand (Nomadland), Ben Whishaw (Surge), and August Winter (Jess Geller on Global's Mary Kills People series). They form a disparate group, unified in wrath but in little else, and struggle to come to a consensus about what to do. Therein lies the appeal of the narrative. Watching people reason their way to a decision is a beautiful and dynamic experience.
Shot in color, Women Talking nevertheless approaches sepia in many of its scenes, with the sun rising, waning, or at a distance. This visual approach makes perfect thematic sense, given how the women's lives have, for so long, been spent in shadow. The men run the place, with the women there to serve and breed. That could be about to change.
Salome (Foy) is the fighter in the group. When first we meet her, she is screaming and beating one of the captured rapists, pulled away by other men to keep her fury in check. Mariche (Buckley)—who suffers regular physical assaults from her husband—is more inclined to find a way to live with the pain, though discontent and despair eat away at her every day. The elder Janz (McDormand) recuses herself at the start, wanting no part in disrupting the order of things. Agata (Ivey) takes her place as the senior figure in the debates, wise but not so settled.
August (Whishaw), the schoolteacher and sole cis-gender man allowed in, takes minutes. Since he is the only one who can read and write, the question looms of for whom these notes may be, but that becomes clear in the final minutes. He also harbors a big crush on Ona (Mara)—who is pregnant by her rapist—and she for him, but Women Talking is not about romance, so they remain but close friends.
Though we spend most of our time in the barn where the deliberations take place, we occasionally catch glimpses of what The Colony is like, whether from scenes of the transgender Melvin (Winter)—himself a victim of rape when he was Nettie—watching over the young children, or of Greta (McCarthy) as she narrates yet another anecdote (she has a lot) about her horses Ruth and Cheryl. In this way, we catch enough glimpses of the mundane day-to-day details to contextualize the rest. The women have clear affection for the land, despite their trauma, and Polley and her cinematographer Luc Montpellier (Juanita), reflect this in the golden hues of magic hour. The evocative strains of the score, by Hildur Guðnadóttir (Strong Island), add the right notes of inspiration and melancholy (and sometimes both), as required.
By its end, Women Talking has taken the viewer on quite the cinematic journey, filled with raw emotions and metaphysical musings. Throughout, the drama reminds us that civilizations cannot endure when they exclude certain citizens from participation. Eventually, there will always come a reckoning. Words matter, and after talk comes action. The women have spoken.
– Christopher Llewellyn Reed (@ChrisReedFilm)
2022 Middleburg Film Festival; Sarah Polley; Women Talking  movie review