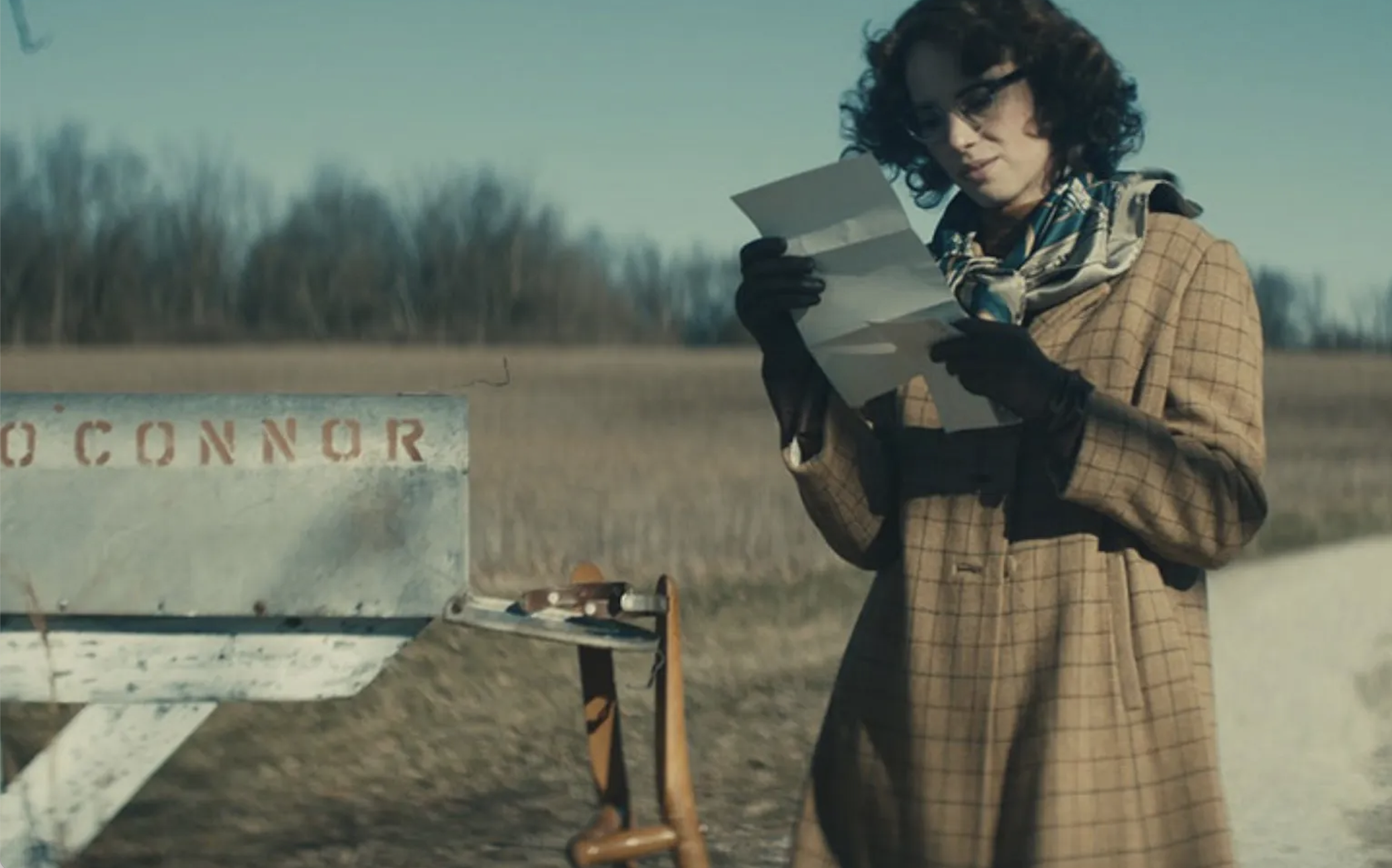 (The 2023 Toronto International Film Festival (TIFF) ran September 7-17 and HtN has tons of coverage from the fest! Check out M.J. O'Toole's movie review of Wildcat. Seen it? Join the conversation with HtN on our Letterboxd Page.)
Whenever one reads the fiction of Flannery O'Connor, it's easy to be intrigued by the gothic and religious overtones that make one think, cringe, shudder, and possibly laugh at its facetious dark humor. Experiencing such ambitious writing makes you want to get inside the head of such an artist. Ethan Hawke grants us the opportunity with his newest film, Wildcat. No stranger to directing the biopic himself, given his 2018 film Blaze, Hawke introduces us to the life and mindset of the late, great unorthodox writer in a way that ambitiously shifts the story between the author and her own fiction. With Ethan's own daughter Maya Hawke taking the lead, she embodies O'Connor's grit and vulnerability during a moment in her life where she tries to reconcile her art, identity, and mortality. The religious/spiritual undertones in the film may not resonate with everyone, but that should not detract from Maya Hawke's captivating performance in a visually beguiling tribute to a writer who was willing to stand out from the crowd.
One thing about O'Connor was she had a flare for the grotesque, while drawing inspiration from her observations of growing up in the South. But her Southern Gothic material created somewhat of a sense of unease among her literary peers. The film opens in 1952 when she is at work on what would be her first novel, Wise Blood. Despite the hesitations and urging from a New York publishing editor (Alessandro Nivola) to outline her work, the strong-headed Flannery turns her feelings of dejection into vigor when she voices her stance on writing her own way and standing by her themes as well as creative decisions, despite the ounces of inner doubt she may carry. The little mannerisms that Maya Hawke puts into her candor-filled portrayal of Flannery help make this profile more human and realistic than what more formulaic biopics would give. But rather than revisiting various points of her life, Ethan Hawke is more interested in exploring O'Connor's work and frame of mind during a turning point in her life where she reached her creative peak and wrestled with many inner predicaments. 
Flannery becomes truly tested when she returns to her hometown of Milledgeville, Georgia where she lives with her blunt, holier-than-thou, but well-meaning mother Regina (a remarkable Laura Linney). Regina is one of many critics who believe that Flannery should write more "reader-friendly" content. "It's not exactly Harper Collins," she tells her when critiquing one of her short stories. But one thing that the mother-daughter duo do have in common is their fervent Catholic faith, which Flannery relied on for her writing. We get a sense of her relationship with the divine through voiceovers of her prayers and conversations with God (contrast to Ethan's more somber narration in First Reformed), which are largely inspired by her Prayer Journal. She soon gets thrown for a loop when she is diagnosed with Lupus, the same illness that took her father's life during her teenage years, and what she would end up succumbing to at age 39. While trying to come to terms with her mortality, she also struggles with both her identity and worldviews, given her artistic inclinations versus the contradictory stances of her modest community.
We truly get a sense of Flannery's now reputable writing through various cinematic vignettes of her short stories, such as The Life You Save May Be Your Own, Parker's Back, and Good Country People. Each of these stories has its own distinct aesthetic (heightened by Steve Coussens' eloquent cinematography), but Ethan Hawke and co-writer Shelby Gaines succeed in maintaining her grim and religious connotations in these little adaptations. These stories are almost heightened observations of Southern reality at the time, and explore the themes of hubris and Christian salvation. Both Maya Hawke and Laura Linney play a number of these characters, and coincidentally a lot of them portray the push-pull relationships between mother and child (an interesting bit of inspiration from O'Connor's own life). Other characters include some unsavory men, such as a one-armed vagrant (Steve Zahn) who abandons his younger deaf-mute wife, a worldly tattooed rascal with the biblical name Obadiah Elihue Parker (Rafael Casal), and a conniving bible salesman (Cooper Hoffman) who manipulates a one-legged atheist. These stories both darken and lighten the rather austere mood of the film itself.
In spite of her own struggles, Flannery is never fully void of encouragement and support. She finds a truly sincere and invested cheerleader in her good friend Robert "Cal" Lowell (Philip Ettinger), whose faith in her writing is undivided. There are some cute moments between the two that light a spark, even though he's involved with another writer. There's even a truly pleasant cameo by Liam Neeson as a priest who comforts Flannery at her bedside and gives her the push needed to soldier on with her work on her own terms in spite of her predicament. "Keep on writing, and let God handle the rest," he gently assures her. Ethan and Maya Hawke make a great team in bringing to life a one-of-a-kind individual who maintained her voice without giving into despair or judgment. From her opening narration to the awe-inspiring final shot, Maya carries the film with a dazzling performance full of resolve and vulnerability. Like Flannery O'Connor's own stories, Wildcat will first intrigue and then grip you.
– M.J. O'Toole (@mj_otoole93)
2023 Toronto Film Festival; Ethan Hawke; Wildcat movie review