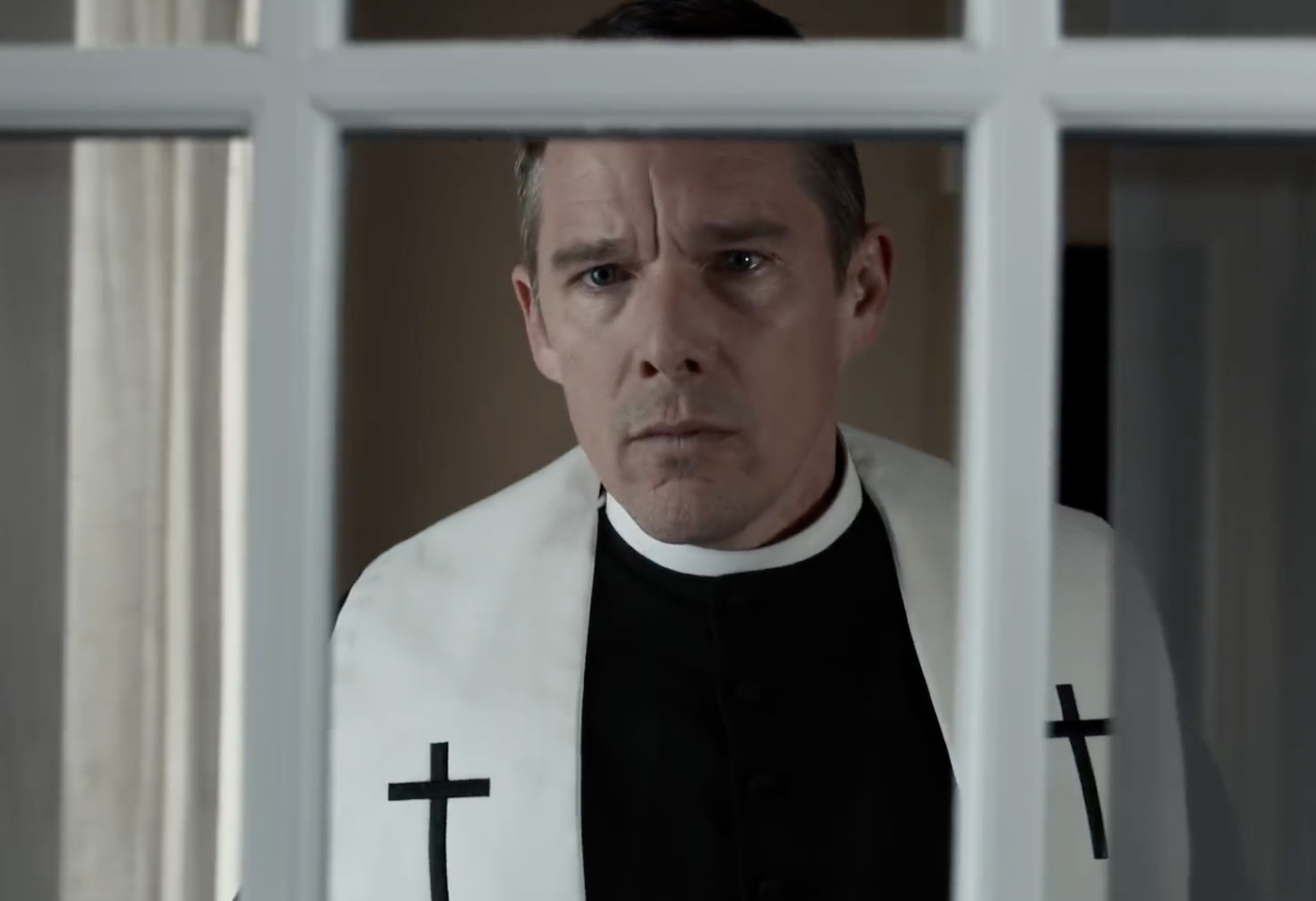 (Paul Schrader's intense drama First Reformed has been in early release in theaters. It's also playing the Maryland Film Festival.)
A gaunt Ethan Hawke (Before Midnight), simultaneously solid and ethereal, present and empty, haunts a Dutch Reformed church in New York state. His Father Toller is a broken man, not long ago a married father and military veteran whose son, encouraged by him, enlisted for service and was promptly killed in Iraq. Now, here he is, entrusted with a dwindling parish whose meeting house is about to celebrate its 250th anniversary, an event to be overseen by the nearby megachurch, the head minister of which hired Toller. Our hero goes through the motions of daily life, a responsible, if restrained, soul, with nightly journaling, read in voiceover, the only sign of an inner, spiritual life. Everything changes, however, when a young couple comes to see him, the pregnant wife, Mary, worried that her despondent husband, Michael, plans to kill their unborn child.
Writer/director Paul Schrader (Affliction), making his 20th narrative feature with First Reformed, is perhaps best known, with the 1976 Martin Scorsese-helmed Taxi Driver, as the breakout screenwriter of Hollywood's New Wave. In some ways, this new film continues the themes of that earlier script, Father Toller soon awakening to the same environmental obsessions that have pushed Michael into despair. The world needs cleaning up, just as New York City did in the 1970s, and who better to take on that task than a man of God with nothing to lose? As Toller slides closer to mania, how far will he go? This becomes the central dramatic question of the film, and makes of First Reformed a fascinating exploration of the nature of faith and its consequences.
As has been well-documented, Paul Schrader grew up in a strict Calvinist home, and that sense of God's omnipotence and the need to follow his teachings through activism informs the character of Toller. There's also a good deal of the late Soviet filmmaker Andrei Tarkovsky here, whose protagonists, in films like Nostalghia and The Sacrifice, are always prepared to give up all worldly possessions and/or their lives for the sake of the Word of the Lord. So it makes sense that what starts out as Mary's cry for help quickly turns into Toller's call to action. We could call the film "Taxi Priest" or "Priest Driver," if we were satirically inclined, but Schrader and Hawke are too sincere in their ambitions here to warrant such mockery. Existential dread has rarely looked so grim, or felt so vital.
Hawke dominates the film, a brilliant screen presence whose initial lethargy masks an iron will that will not go gently into that good night. As Mary, who grows closer to Toller as the film progresses, Amanda Seyfried (While We're Young) is near-luminous, her overlarge eyes especially expressive as she seeks to look deep into the priest's soul. In a beautiful late scene, Schrader pairs the two – Mary very pregnant by then – in a dreamlike embrace where they seem to float above the earth, surrounded by stars. It's not a sexual union, but one of two lost lambs looking for God, together. The rest of the cast, which includes Cedric the Entertainer (Barbershop), Victoria Hill (December Boys) and Philip Ettinger (The Pirates of Somalia), among others, is equally up to the movie's dramatic challenges.
Schrader and his cinematographer, Alexander Dynan (Dog Eat Dog), have shot the film in the 4:3 Academy ratio, the square image contributing to Toller's sense of claustrophobia as his choices narrow. The camera also rarely moves, most scenes cut together with long, static takes. Indeed, stasis is in the air, until Toller takes action. Though occasionally almost too austere for its own good, and bleak as hell, First Reformed is a carefully composed and constructed film that should probably be seen more than once, with cinematic rewards aplenty for those open to the Word of Schrader.
– Christopher Llewellyn Reed (@ChrisReedFilm)