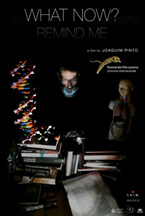 (What Now? Remind Me world premiered at the 2013 Locarno Film Festival. It was also an inclusion at the 2013 New York Film Festival in the "NYFF51: Motion Portraits" section.)
If Portuguese film producer Joachim Pinto seems anxious at all, it's not because of his illness. It's because of the treatment. A long afflicted sufferer of AIDS and Hepatitis C, Pinto makes the increasingly difficult trek to Madrid to receive occasional installments of an experimental medication meant to keep the dual diseases from ravaging his aging body too quickly. Each time we see Pinto board the plane with the same nervously ticking electronic song pulsing in the background. It's entirely possible that Pinto has forgotten that he's shown us this before: the entire film—well over two-and-a-half hours —almost serves as an external memory bank for a deteriorating mind. Though sometimes it even manages to forget.
To make the torturous trips more bearable, Pinto hunts down an illuminated, centuries old text that describes the history of the world (The Illustrated Ages of the World by 16th century artist Francisco de Holanda). On his last trip, when the medicine has finally become too much to bare, he mistakenly thinks he sees the name of his husband, Nuno, in the text beside the word "love." On closer examination, it's actually a quote from Virgil that translates to "now I know what love is."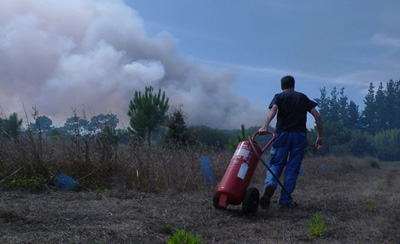 An epic documentary that adds up to an awe-inspiring portrait of one man's beautiful worldview, What Now? Remind Me is intimate, meandering, and full of off-topic rants and random forays into languid nature photography. It's far more notable as an introduction to a brilliant man's life philosophies than as a film, but the achingly personal images on screen—Pinto with his beloved and also ill husband and their hilariously personified dogs—are essentially linked to the filmmaker's rambling voice-over. His poetic and intelligent words strike a remarkable balance between being bitingly cynical (of medication, the economy, the state of movies, other people…) and fatalistic, and reassuringly calming. You get the feeling that everything is going to be all right in the end, both for Pinto and for humanity, as long as Pinto has Nuno, as long as we have love, and as long as dogs stay goofy.
What Now? Remind Me has the feel of a ramshackle, episodic diary instead of a narrative. It isn't shot and edited so much as hand-stitched from a variety of sources—phones, laptops, DSLRS, and archival material—by Pinto and his (at first grudging) collaborator, Nuno. This would seem at odds with Pinto's hardcore cinephile upbringing. He offers up a long list of influences (Pasolini), teachers (João César Monteiro) and friends (many of whom have long since died of the disease he is now suffering from). While he uses the occasional filmic flourish and Fellini-esque exploration of memory, from animated dream sequences to a tongue in cheek ghostly overlay of his rotting smile that suggests both transcendental optimism and a wicked sense of humor, he is also quick to remind that he is a producer and sound mixer first. Sure enough, the sound design is one of the most notably detailed I've heard in a DIY documentary, especially in an eerie, memorable moment where Pinto and his husband fight a crackling field fire started by arsonists.
Regardless of how much you connect with Pinto's lyrical didacticism, the film comes together in one heart-wrenchingly tender shot proving that the two lovers' sex life is very much active, in spite of their withering bodies. The scene is shot in silhouette, accidentally inspired by the blown out erotic confession that begins Godard's Week-end. Joachim Pinto's life may "have nothing special," as he assures us at the beginning, but it's this humility, honesty, and poise in the face of death that makes the film hit so gorgeously hard for those willing to be patient.
— Mark Lukenbill