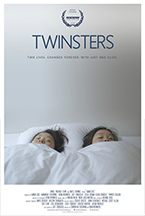 (After winning hearts and a special award for editing at this year's SXSW Film Festival, Co-directors Samantha Futerman and Ryan Miyamoto have their fascinating and timely doc Twinsters available on iTunes and Netflix.)
Samantha Futerman, a Korean adoptee raised in New Jersey and now an actress (21 & Over) living in Los Angeles, was minding her own business one February day back in 2013 when she received an unsolicited message via social media. The unknown writer asked that she pay special attention to any future Facebook notes from Anaïs Bordier – also a Korean adoptee, but raised in France – who, it seems, had watched a KevJumba YouTube video in which the lead actress was Samantha and been struck by the strong physical resemblance between Samantha and herself. Anaïs conducted further research and learned that Samantha – like her – had been born on November 19, 1987, in Busan, South Korea, and been given up for adoption soon thereafter. Could the two of them be twins? But how could that be possible? Adoption agencies don't normally separate twins at birth, and certainly not without informing the potential adoptive parents. Right?
Anaïs did, indeed, write to Samantha, and the two quickly discovered that they had much more in common than a shared face, including artistic inclinations (Anaïs was studying fashion in London) and the exact same laugh. From the start, Samantha documented their interactions on video, and the amazing similarities between the (potential) twins is clear from their first Skype conversation. Twinsters is a 90-minute documentary feature made from such footage – along with interviews, b-roll and info-graphics – that tells the inspirational and unlikely (inspirational because it is so unlikely) of how these two young women, born together and raised half a world apart, found each other in their 20s. The sisters wrote a book about their experience in 2014, Separated@birth, and now one of them has made this movie.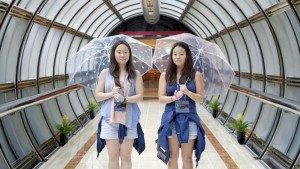 Co-directors Futerman and Ryan Miyamoto (who started out as the cinematographer before assuming a more influential role) do an excellent job gathering material – some of it beautiful, some of it appropriately rough – and the story, itself, is very engaging on its own, but it is veteran documentary editor Jeff Consiglio (32 Hours 7 minutes) who deserves much of the credit here for fashioning a coherent and compelling narrative out of the different elements (he even won a "Special Jury Recognition for Editing" at SXSW). The directors and he mix talking heads, observational footage, Skype video and animations (adorably designed by Adam Rosette, whose credits include The Ricky Gervais Show), among which are some of the best (and cute) renderings of messaging-app chats I have ever seen in any film. The net result is an exquisitely assembled movie – filled with great humor and pathos, both – that uses and celebrates the social-media tools that brought Sam and Anaïs together. A movie for our time.
What particularly impressed me was how the movie evolved from being about one thing – the reunion of the long-lost sisters – to being about something even more profound: the power of human connection. Both Samantha and Anaïs were fortunate to be adopted by caring families, and grew up loved and appreciated. Samantha was, perhaps, the luckier one, since the Futermans had two sons when they adopted her, giving her two older brothers and that much more affection, but Anaïs' childless parents loved their daughter no less. As the film makes clear, neither sister would likely have had the life they now lead if they had stayed with their birth mother. Now, both the Futermans and the Bordiers – in the minds of their adopted daughters – form one large family. And since, before the end of the film, we also travel to South Korea where we meet the foster mothers who cared for the babies before their adoption, we can loop those kind souls into the meta-family, as well. It may not always take a village, but it's nice to know you're part of a community that looks out for you.
I first saw Twinsters at the 2015 SXSW Festival, and loved it. Since mid-October, it has been available on iTunes and Netflix. I just watched it last night for the second time, and found it just as moving as before. At 90 minutes, it is brisk, entertaining and very touching. I highly recommend.
– Christopher Llewellyn Reed (@ChrisReedFilm)