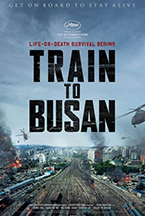 (South-Korean director Yeon Sang-ho's Train to Busan is a zombie movie, but has a lot more to offer than standard living dead tropes. The film is in limited release now.)
The least interesting part of Train to Busan, South-Korean director Yeon Sang-ho's live-action directorial debut, a movie about zombies on a train, is the actual zombies. That's not to say that there's anything wrong with their realization, as they are frightening and deadly enough, and certainly pose an existential threat to the ever-diminishing number of surviving humans. But at this point in cinematic history, after decades of zombies on screens of all sizes, how much innovation can we expect in the undead universe? There are a few attempts at novelty here and there, where we learn what these particular creatures can and cannot do, but still, no wheels are reinvented. And yet Train to Busan is still a solid action thriller, thanks to a strong cast and a well-structured script that takes its time introducing us to the situation and the characters. If the stakes are meaningful, it's because of the people, and not the monsters. Each death counts.
This is not Yeon's first stab at the zombie genre. Until now a director of several animated features, he released Seoul Station, which has a similar premise to his latest film, earlier this year. Though I cannot comment on that movie, I find his live-action mise-en-scène and direction of actors, here, very impressive. Little by little, we are drawn into the particular details of his protagonists' lives, and when they each start to fall, we feel their loss. I am also in awe of the many ways in which he keeps the action interesting inside of the claustrophobic environment of a train compartment. Perhaps – who knows? – that's a Korean specialty, given the masterful way Bong Joon-ho handled a similar set-up in Snowpiercer. Since this specific train is not dressed up to fit into the post-apocalyptic design of Bong's film, what Yeon achieves in a much more pedestrian space deserves even more credit. It's fast-paced, adrenaline-fueled action at its best.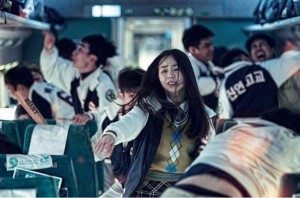 The movie begins, after a chilling prelude in which we learn of a toxic leak that may or may not be about to spread something awful, in Seoul, first in the office, and then home, of hedge-fund manager Seok-woo (an excellent Gong Yoo), a thirty-something divorcé who wants sole custody of his young daughter, Su-an. A distracted father, he fails miserably at finding Su-an an interesting birthday present, and when she confesses that all she wants to do is see her mother, he reluctantly agrees to accompany her to Busan. Just as their train is about to depart, a desperate, bleeding woman stumbles on board, unseen by the conductors, fleeing an attack of some sort. Su-an (a cute Kim Su-an) is the only one to see the platform overrun by zombies as the train pulls away. Soon, however, thanks to our injured friend, the virus will spread on the train, and in the confined spaces, there's no place to flee.
By the time the film is done, we have witnessed a lot of death and destruction, par for the course for this kind of genre. None of it feels gratuitous, however, as the director uses the situation as a way to tell a story about selflessness vs. selfishness, rather than as an excuse to indulge in graphic violence. Sure, there's blood – it's a zombie movie, after all – and more than one train crash, but in an era often defined by the triumph of CGI over character, it's a joy (despite the tragic story) to spend time in a universe populated by real people facing real danger.