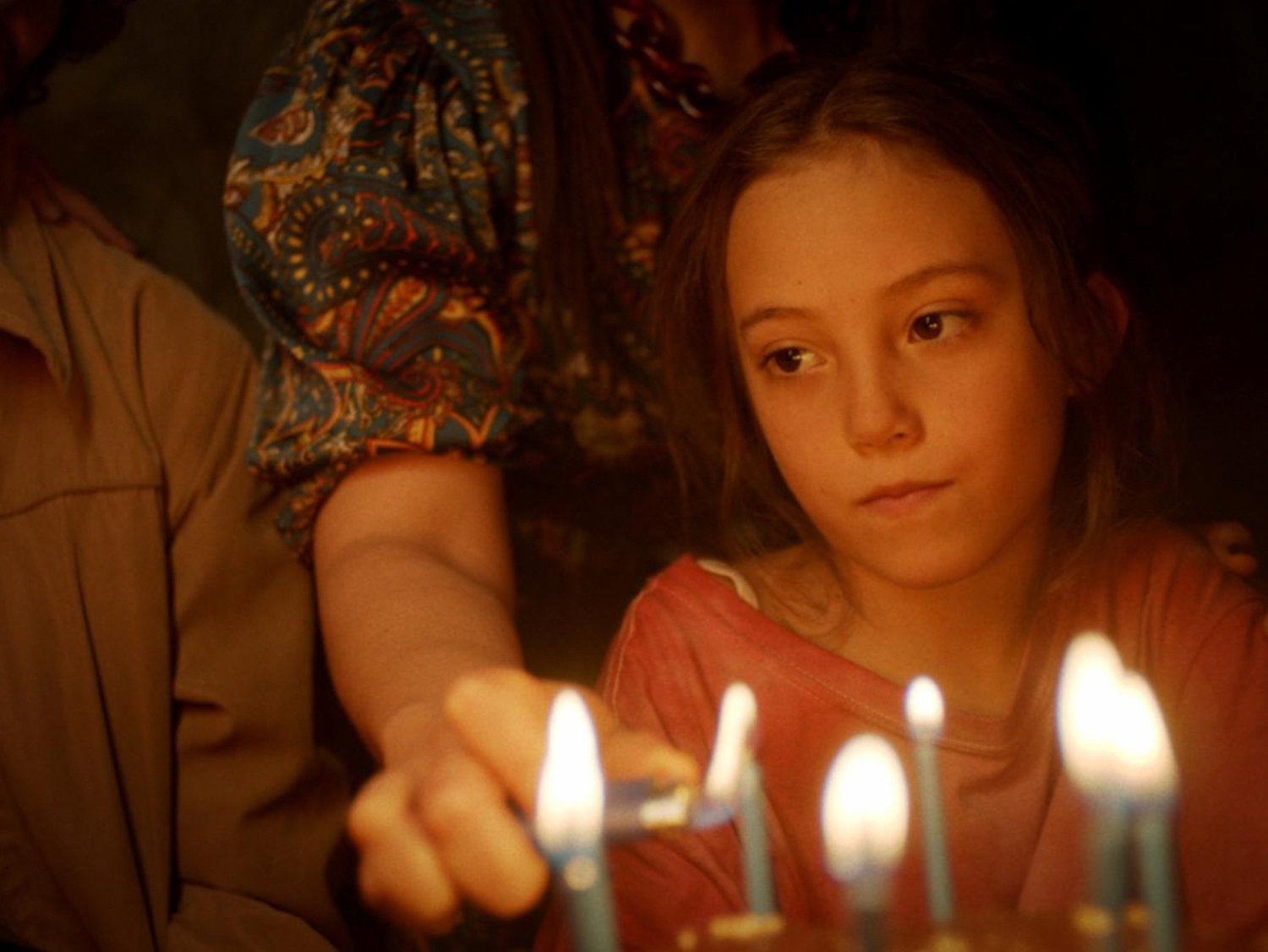 (The Middleburg Film Festival runs October 19-22, 2023 in Middleburg, Virginia. HtN Lead Critic Chris Reed will be providing his usual excellent coverage like this movie review of Tótem. Seen it? Join the conversation with HtN on our Letterboxd Page.)
The tragedy of death is that life is precious, no matter the frequent horrors of this world. The best films about dying remind us of this basic fact, and Tótem, from Mexican director Lila Avilés (The Chambermaid), is very good, offering a child's point of view on the rapid decline of a parent. There's nothing like innocence lost to contextualize sorrow in universal terms.
Seven-year-old Sol (Naíma Sentíes, making her screen debut) wants nothing more than for "Daddy not to die," as she wishes to her mother, Lucia (Iazua Larios, Ricochet). But cancer is a vicious predator and so frequently refuses to let go of its prey. The prognosis for Sol's father, Tona (Mateo García Elizondo), does not look good.
But this doesn't stop his sisters from throwing him a birthday party, even as Tona's deteriorating health may prevent him from attending. For much of the first half of this 95-minute film, we watch these siblings—Alejandra (Marisol Gasé, Barb and Star Go to Vista Del Mar) and Nuria (Montserrat Marañon, Bardo: False Chronicle of a Handful of Truths)—struggle to prepare the evening's festivities so everything will go right, as Tona and his nurse, Cruz (Teresa Sánchez, Dos Estaciones), work on making it through each hard minute.
Avilés takes the time to build an atmosphere of longing and regret, coupled with a constant joie de vivre, often focusing on small details of the surrounding natural world of flora and fauna. Long after we depart this globe, much will still remain. A large bird that annoys Tona's father symbolizes, in part, the vibrance of that which sticks around.
And then there is Sol, filled with despair over Tona's illness, yet also a little girl bursting with curiosity. As Alejandra (aka Ale) and Nuria, along with their children, cook, clean, squabble, love each other, and more, Sol looks on, absorbing all that transpires. For this is also a coming-of-age tale, as sad as the trajectory may be.
When the party happens, and Tona makes an eventual appearance, we momentarily forget the truth of his situation. Friends and family celebrate, some drinking too much, others making beautiful toasts, Sol and Lucia performing, and the night transforming into a lovely affair. There is melancholy behind the joy, however, that manifests itself in Sol's long final gaze into the camera.
Tótem transforms its meditation on loss into a grand cinematic carnival that still manages to respect the gravity of the situation. The mostly handheld camera work of cinematographer Diego Tenorio (The Dove and the Wolf), shooting in the Academy ratio, works in close tandem with the seemingly effortless performances of the talented ensemble (Sentíes in the magnificent forefront) to deliver moments of powerful sentiment. May we all live so fully.
– Christopher Llewellyn Reed (@ChrisReedFilm)
2023 Middleburg Film Festival; Lila Avilés; Tótem movie review