THE GEORGE EASTMAN MUSEUM PRESENTS A RESTORATION OF ORSON WELLES' "TOO MUCH JOHNSON"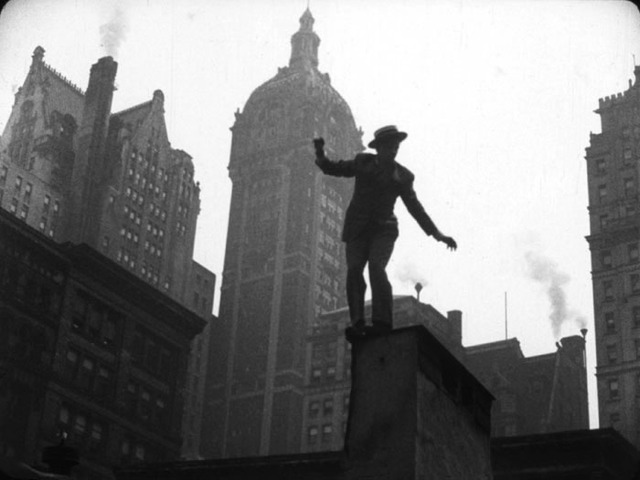 (Orson Welles' Too Much Johnson is now available online with voice-over commentary and musical accompaniment via the George Eastman Museum. Like what you see here on Hammer to Nail? Why not give just $1.00 per month via Patreon to help keep us going?)
If filmmaking is a labor of love, film preservation safeguards the fruits of that labor for future lovers of film.  Orson Welles made Too Much Johnson in 1938, three years before Citizen Kane. Welles claimed in interviews that it was lost in a fire in his home. The film was later found by a film lover who stumbled upon the reels without even knowing it was a film made by Welles. The story of the film going up in flames was more sensational than the more mundane true reason of why it became a "lost" film. Too Much Johnson was intended as a companion to the stage adaptation of the William Gillette play. The film version was going to be used as prologues to each act of the play. The theater in which the play was going to be shown could not accommodate a projection booth. This, along with Welles's busy schedule involving numerous other projects, led him to never get around to a final edit. Welles simply lost track of the film.  
The George Eastman Museum's Moving Image Department took on the task of giving triage assessment and reviving to Too Much Johnson.  While most of the film was in decent shape given its age and inadequate storage, there were parts that required quite a bit of treatment. Welles hand edited some parts, leaving grease pencil markings on the physical film. One reel was a mass of nitrate that required the Eastman Museum to send the portion to a laboratory in the Netherlands. The hard work and team effort resulted in a digitized version of the film that, along with 2018's The Other Side of the Wind, has given Welles's fans a sense of filmographic completism.   
In isolation, Too Much Johnson gives no indication that Welles had Citizen Kane within him.  Too Much Johnson consists of several unlinked scenes. This choppiness, to be fair, lies in the fact that the film was supposed to serve as prologue for the stage play. Most of the footage consists of Augustus Billings (Joseph Cotten) posing as a wealthy Cuban plantation owner named Joseph Johnson. Billings has an affair with a married woman named Clairette (Arlene Francis). Her husband, Leon (Edgar Barrier), comes home and discovers the infidelity. This leads to a slapstick chase through New York City streets as Augustus tries to lose the chasing Leon in markets, staircases, and rooftops. We are treated to some pleasant physical comedy and even an aesthetically pleasing shot of crisscrossing clotheslines in a New York City building – a glimpse of Welles's mastery of visual language in later films.  In one scene, we are even treated to a delightful glimpse of John Houseman playing a Keystone Cop.  
The best feature of the Eastman's Museum release of Too Much Johnson is the commentary provided by preservation manager Anthony L'Abbate and associate curator Caroline Yeager. The duo retraces the locations around New York used by Welles. It should be noted that many of the locations Welles chose in the interwar period were selected to look turn-of-the-century given that Too Much Johnson was set in 1912.  Since many buildings were demolished at one point or another during the twentieth century, L'Abbate and Yeager narrate for the viewer their archaeological research as they tried to piece together – comparing film footage to historical records–the exact coordinates of some of the sites selected by Welles.  It is fascinating seeing New York captured in a moment in time, seeing its meat markets, interwar Greenwich Village, and even a staged Suffragette rally in Battery Park.  L'Abbate and Yeager give the viewer a hilarious nugget of Wellesian history involving the working quarry in New York selected by Welles as his location for a Cuban plantation. Welles rented palm trees and placed them throughout the quarry to give it more of a Cuban feel.  When the press picked up on Welles's project, workers in the quarry were quoted as saying that they felt "hounded by a mob of ham actors." The workers were indeed some of Welles's toughest critics.  
While Too Much Johnson is obviously not up there with Welles's greatest works, L'Abbate and Yeager's narration, the new musical score provided by Philip C. Carli, and the wonderful and careful work done by all the folks at the Eastman Museum; certainly enhances the viewing experience for fans of Welles. Most of all, it is a meditative experience seeing how New York has changed, how cinematic cities like New York and Los Angeles play roles in films of a certain era, then go through a costume change, and play a different role in another era. In many ways, film is a Proustian project, a search of lost time.
– Ray Lobo (@RayLobo13)