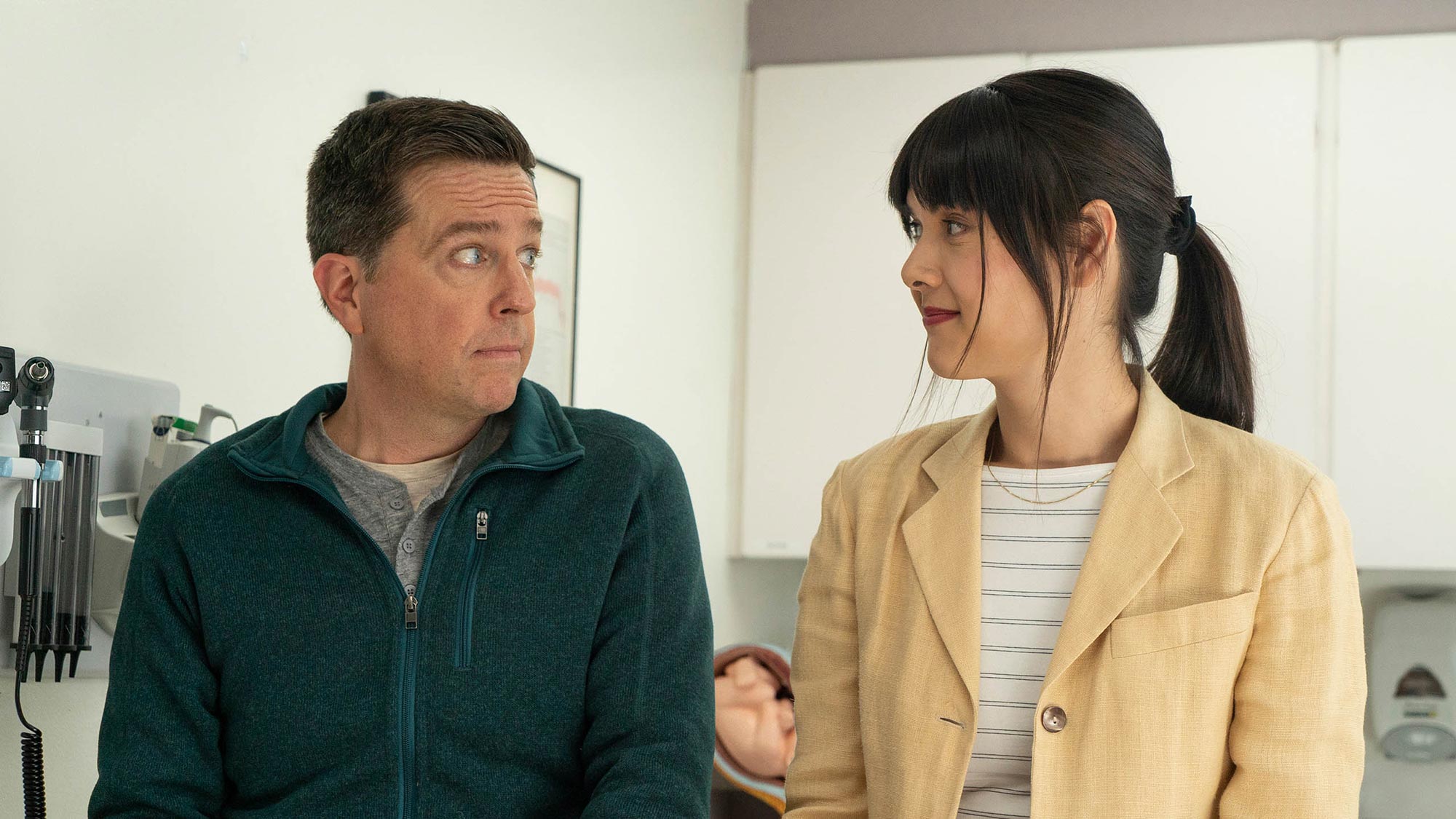 (The 2021 Sundance Film Festival ran January 28- February 3, all virtually as well as with drive-ins sprinkled around the U.S.. Hammer to Nail is bringing you a ton of coverage so, keep coming back! Like what you see here on Hammer to Nail? Why not give just $1.00 per month via Patreon to help keep us going?)
Perhaps i need to qualify this review by admitting I have never needed to see a comedy so much as I needed to after I watched the film Mass, the Fran Kranz drama about the aftermath of a school shooting. It is under the weight of that overwhelming intensity that I tiptoed into Together Together, a comic two-hander about the single (and non-gay) man played by Ed Helms who finds a surrogate to carry his baby in comedian Patti Harrison. Most of the film is spent watching Ed Helms navigate the expectations of the relationship between surrogate and the parent-to-be. Often crossing the line of what would be considered suitable, the nerdy computer programmer turned Manhattan millionaire tries to befriend Anna, as well as control her diet and her sex life. They even move in together. As they attend a variety of third-party collaborators, such as Tig Notaro as a surrogacy therapist, Matt and Anna struggle to find comfort in this forced relationship where they press against the borders of normalcy.
Writer-director Nikole Beckwith milks the situation for as much humor as possible, broad laugh-out-loud humor that should be crowd-pleasing for most audiences. Well, white, upper-middle class audiences. Like I said, it was the film I most needed at this point in time in the festival. That being said there's a certain strangeness in the premise that didn't quite work for me. It felt like a heteronormative forced plot where I wouldn't have been that surprised if the two people, despite their age difference, ended up together in some sort of glitzy, happy Hollywood ending. A somewhat more likely, and admittedly better executed, version of this film is Milkwater by Morgan Ingari, with it aging drag queen and purposeless lesbian desperate to do something to help the community. In that film we find two characters who have truly learned from each other, growing together and yet still understanding that they can never be as close as maybe they once thought they could. 
At the end of Together Together, I'm actually not really sure what either character has learned. The film conveniently ends just before either character would have to make a decision about how they fit together. Beckwith's film exists in the same sort of uncomfortable openness as her last film Stockholm, Pennsylvania. Just like the young woman returned home after years of abduction, the characters in Together Together struggle to adapt to their changing world, with no roadmap or applicable advice as they step into the unknown. The humor that arises from their uncomfortableness belies a lack of emotional maturity that neither have, and probably still have not obtained by the end of the film. Even though the journey is a joy for the audience, I couldn't help but think that the director didn't really have anything to say with the material. Or maybe it's just that the premise was so unlikely, she didn't really have anyone to say it to.
Still, Ed Helms does a solid job carrying the film, and Patti Harrison, who I had not seen prior, is a delight. The parade of 'guest stars' the pop in and out of their life, like the always perfectly dry Notaro, and Pen 15 actress Anna Konkle, and momentarily steal the scenes but the chemistry between Helms and Harrison wins the audience over time and time again, much like watching an episode, a minor plot point in the film.
– Bears Rebecca Fonté (@BearsFonte)