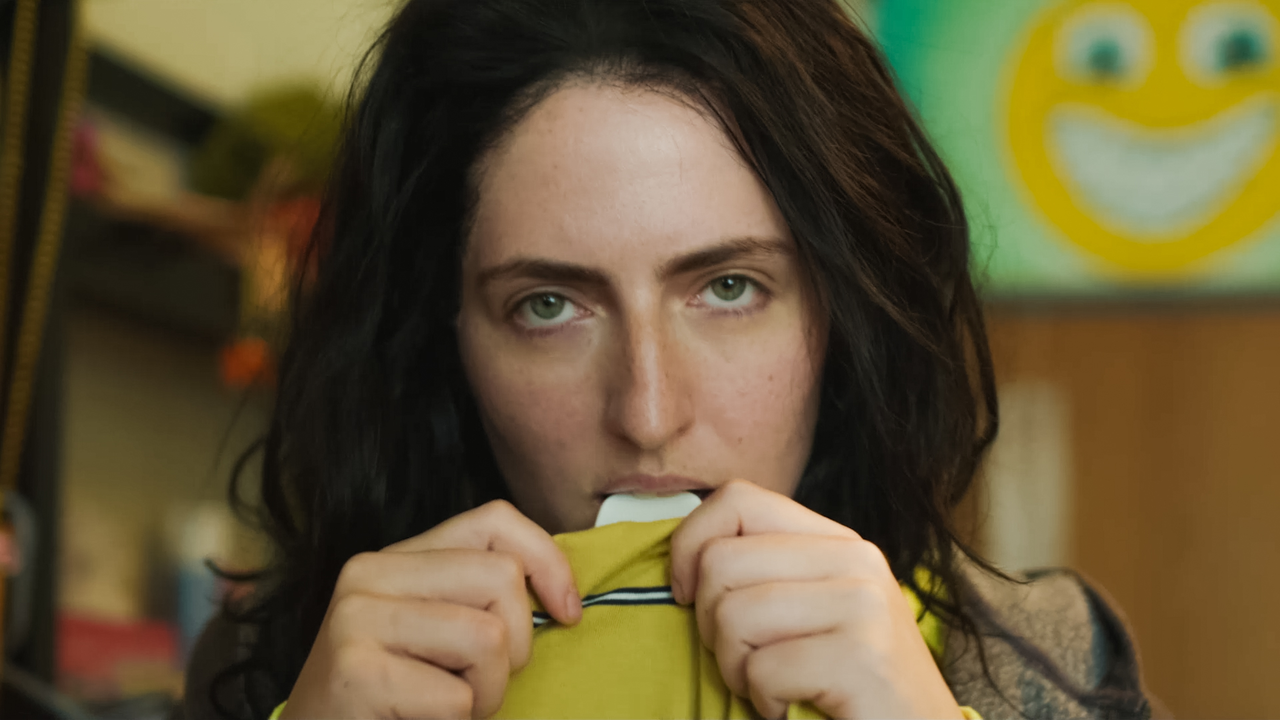 (The 2022 Tribeca Film Festival runs June 9-26 both online and in-person. Check out Matt Delman's movie review for The Year Between. Seen it? Join the conversation with HtN on our Letterboxd Page.)
In the edgy family comedy The Year Between, Alex Heller's character Clemence is a beautiful soul trapped inside a shitty person's body. Her acting out and abrasive behavior is attributed to Bipolar disorder, by an 80 year-old psychiatrist who Clemence refers to as 'the German woman'. Though the film shares some tropes with its stunted young adult film festival predecessors, a better comparison would be to Greta Gerwig's Ladybird, which revolved around the family dynamics of a young woman's normally abnormal behavior. J. Smith Cameron's terrific performance as Clemence's mom is up there with Laurie Metcalf on the no-BS-meter. She kills it. Heller writes, directs and stars in her debut feature, and though she doesn't have the movie star look of Saoirse Ronan, she does remind me quite a bit of a young Greta Gerwig. Some coincidence that Gerwig's first movie, Hannah Takes the Stairs (2007)—in which the young shorthaired actress chooses between three suitors—contains a deep conversation about her own mental health in what amounts to the film's best scene. The following year Gerwig co-directed her first feature, Nights and Weekends, with Joe Swanberg at the age of 25. Like Gerwig, Heller has a strong voice that comes through in her script and in her acting. Maybe because that voice is very, very loud. Better get used to it, because we will surely be hearing from Heller again.
The titular year is a year off college for Clemence, after her roommate reports her for whatever is a step below domestic abuse. Clemence hates the world, and why shouldn't she? Her university's Quidditch club practice is blocking the way to her dorm room. Her mom (J. Smith Cameron) yanks her home and sticks her on a makeshift bed in the basement, since her childhood bedroom has already been renovated into a home office for dad (Steve Buscemi). Buscemi and Cameron make quite the pair as the parents, earning some of the film's biggest laughs. The smarty-pants younger sister (Emily Robinson) and brother (Wyatt Oleff) are initially foils to their crazy big sis, but by the end of the film they come together as a family in a few beautiful ways. When Clemence initially applies for a job, her sister is quick to shoot her down, "let's see how long she keeps it," but by the end she is offering her bike as transportation. Moments like this win over the audience as familial love conquers over challenging diagnoses.
The editing, by former HtN short-film contest judge Harrison Atkins (Lace Crater) is chronological yet feels a bit off. There are moments where it cuts really quickly that work well, and other times where an extra breath would have made the emotion or the comedy of the scene hit harder. Perhaps Atkins and Heller wanted to match the style of the edit to the psychology of the main character. If that's true, then there is certainly a lot more mania being expressed. Somehow the lows don't feel low enough. The stakes are never raised. Nobody is ever in immediate danger, other than Clemence's half-hearted attempt to swallow an entire bottle of pills, and another character who contracts breast cancer towards the end of the film.
What the film lacks in plot, it makes up for in performances, and the family of five really warm your heart by the end. Buscemi knows how to sweeten a simple scene, and luckily he is not at all underused here. Heller makes the most of all the roles, giving depth to the supporting characters in ways that many comedies skimp on. Even the retail co-worker and drug dealer/love interest are fully realized, relatable characters that help build the world of the story. And this is Heller's world, super personal and unapologetic. She has some experience performing as a standup comic, but this is her first movie role, and she's undeniably lifted up by the actors she smartly surrounds herself with. The Year Between is the type of breakout success one hopes for as an emerging talent like Heller, a filmmaker who demands your attention.
– Matthew Delman (@ItsTheRealDel)
2022 Tribeca Film Festival; Alex Heller; The Year Between movie review