Short Film Contest Winner/Runner-Up: Winter '18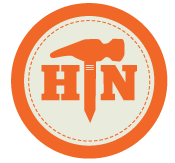 I'd love to say that I rejiggered the quarterly Hammer to Nail Short Film Contests to dovetail perfectly with "Awards Season" but alas, it just worked out that way. I DID rejigger the contests so that the calls for entries as well as the winners would kind of intermingle with both Sundance and SXSW which, as you likely know, are two of if not THE two biggest film festivals for indie cinema around. I figure more people are attuned to indie film January-April than any other time of the year and it behooves us at HtN to get more interest in the short film contests (seeing as they're the only consistent thing keeping the lights on around here!) and also, get a few more eyes on the winners. Let's see how it goes. So far, so good.
So, here we are at the announcement of the winners of our first Short Film Contest of 2018, the Winter one and boy, did we have some solid entries. I'm not totally sure that the addition of the well-known and talented "Scream Queen" Tiffany Shepis to our jury was a reason but, we received several "horror" or at least, horrifying entries this go around, more than I can remember seeing before. As with any film, some worked and others didn't and also, none of them won. Although one of the winners was indeed a bit jarring, offbeat and what some might consider a bit scary.
Runner-Up
   Splendona
(Directed by Kevin Vu; 10 mins, 4 seconds)
Kevin Vu's Splendona is no stranger to the festival circuit having already made the rounds at several festivals as well as earning the honor of an online premiere at the always awesome curated indie shorts site No Budge. After seeing the film, it's no  surprise as to why. Vu creates an eerie setting centered around a facially disfigured woman named Lydia who has recently entered the world of high fashion modeling. Much like a parent might reprimand a child for staring or pointing at a person who "isn't like them" as a viewer, we feel that same awkwardness and strain to not stare but also, suffer from the inability to look away.
As characters onscreen press Lydia on personal issues audiences instinctively read between the lines to hear "what the fuck happened to your face?" even though that's never actually blurted out. Throughout, Vu manages to not feel exploitative yet we also don't really pity Lydia either and the result is a fine tightrope walk that I felt ties in a bit with Immanuel Kant's theories on aesthetics and ugliness which are distilled down to a basic idea that applies best to Splendona in David Shier's essay Why Kant Finds Nothing Ugly. I don't want to bore you with some higher education mumbo-jumbo I learned in grad school but, I'll leave it as saying there's an attraction/repulsion to Lydia and Vu is downright masterful in his lighting and production values to really add a kind of creepy, gooey, melodramatic low-budget horror film feel to the whole affair. Splendona is wonderful and weird and definitely sticks in the craw of your cinematic throat.
Yet Splendona wasn't the winner for the Winter 2018 Shorts Contest and that's because Kamau Bilal's Sundance premiering doc short Baby Brother is quite simply an amazing work of empathetic beauty/tragedy/comedy.
Winner

Baby Brother
(Directed by Kamau Bilal, 13 mins, 39 seconds)
As Baby Brother opens, viewers are greeted by a singular man stepping off a Greyhound bus. The words "My youngest sibling, Ismaeel, left the city and moved back in with our parents." From there, Bilal utilizes a fly-on-the-wall approach to watching his titular baby brother try and get his life back together. It's…a rough start. We almost cringingly watch as Ismaeel tries to earn his keep around the house all the while, coming up short at every attempt. It's both hilarious and sad but never exploitative. In fact Baby Brother is one of the most empathetic pieces of documentary filmmaking I've ever seen. It even made Tony Oswald, one of our jurors (and winner of the 2017 short film contest) cry. I'll share his words on the film as he says more than I can articulate.
"Baby Brother I thought the editing was phenomenal, particularly was effected by pulling away at the moments one might have easily focused on (spoilers redacted here) and cutting straight to the consequence several minutes or hours later. The repetition of offscreen calamity resulting in family drama was really effective to me and smartly set up the family dynamics without ever relying on interviews or using heavy exposition, which to me speaks to the thoughtfulness of the filmmaker guiding in post and in choosing his brother as a subject.
It also references the filmmakers perspective who sees these events sort of objectively, with compassion and love for all involved but also sadness. Also the use of music and sound design to create tension (hammering the nails, dog barking, blaring boom box music), as well as the more everyday imagery to create ambiguity (off screen doctor with focus on the foot, extreme close ups on video game, the tear coming from his brothers eye – we can't know if he's still emotional or just eyes burning from playing the game) culminate in a more cinematic experience than a standard point and shoot verite style doc for me.
And ending by showing this character's heart with the newborn, settling with him not just as a self interested fuck up but as a rounded complicated dude made me empathize with not just his struggle but the Mom's, the Dad's and the brother who we don't see but hear in that last moment. I cried but I cry all the time at movies, so that's not a good gauge. " Those are beautiful words that also made Shepis cry. No word as of yet on third juror Harrison Atkin's level of tearfulness.
So, there you have it. Congrats to Kevin Yu and Kamau Bilal who will each receieve a whole bunch of film festival waivers from Montclair Film Festival, IFFBoston, Maryland Film Festival, Nashville Film Festival, Oak Cliff Film Fest, St. Cloud Film Fest,  Julien Dubuque International Film Festival,  Oxford Film Fest, Indie Memphis, Denver International Film Festival, San Diego International Film Festival, The Bend Film Festival!!
We were also stoked Citizen Jane Film Festival donated a fee waiver for a winning female filmmaker!!
FANDOR was also a sponsor with a 6 month subscription for our runner-up and a year subscription for our winner. Thanks, Fandor!
And thanks for our jury members as well:
Harrison Atkins is a young and talented producer, editor and director who burst on the scene with his touching yet surreal short films Blissful Banquet and Chocolate Heart. His feature debut Lace Crater was also bizarre yet humanistic and he's currently serving as producer on Joe Swanberg's Netflix series Easy.
Tony Oswald is a Brooklyn based filmmaker. His awesome short film Great Light won our Summer 2017 short film contest.
Tiffany Shepis is well-known as a "scream queen" and her cinematic debut was at the ripe old age of 12 in Troma's Tromeo and Juliet. Since that time she's been steadily working to the tune of 133 screen credits including more recently The Night Watchmen is available now and was also produced by HtN editor Don R. Lewis.
We'll be back shortly (hahahaha!) with our Spring Shorts Contest so, stay tuned…
– Don R. Lewis (@HammertoNail)