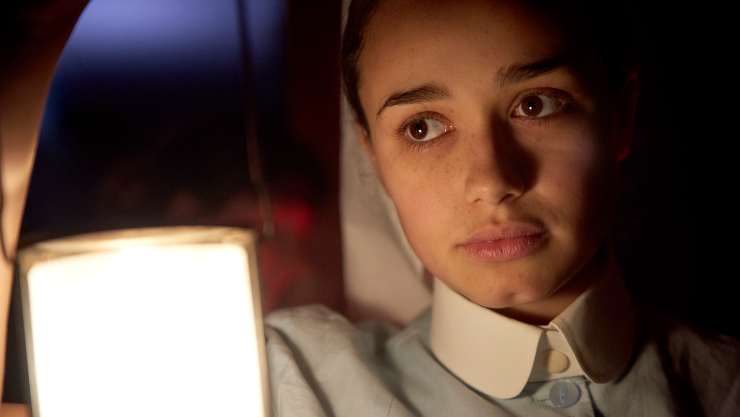 (Corrina Faith's debut feature, The Power is streaming now on Shudder. Like what you see here on Hammer to Nail? Why not pay just $1.00 per month via Patreon to help keep us going?)
Corrina Faith's debut feature, The Power, is a haunted hospital story with social justice overtones. Set during the real-life planned power outages in 1970s Britain, it follows a fledgling nurse called Val (Rose Williams, Changeland), on her first day at a hospital in the East London neighborhood where she grew up. But her fortune quickly turns when a vindictive supervisor assigns her to the night shift. Val soon becomes aware of a malevolent supernatural presence that may hold the key to a conspiracy within the staff to cover up abuse. It's part classic ghost story, part intricate commentary on the myriad power dynamics at play in the healthcare system, even in a country with socialized medicine. 
It's a busy day at East London Royal Hospital, as the staff prepare to transport most of the patients to a nearby facility in anticipation of the scheduled overnight blackout. The only patients left behind are a handful of newborns and those on life support. When Val accidentally angers her new supervisor, Matron (Diveen Henry, Grow Your Own), she is sentenced to the night shift – which is especially problematic for Val because she has a fear of the dark brought on by a childhood trauma. Nevertheless, Val knows this is her one chance to prove her worth, so she stiffens her upper lip, pulls her skirt 3 inches below her knees, straightens her head piece, and prepares for a long night in a definitely haunted hospital. This dilapidated behemoth boasts pitch-black corners, creepy murals, and a utility closet that just won't stay shut. As the night wears on, Val becomes increasingly certain that everyone is in danger, whilst her incredulous and condescending colleagues take her warnings as a sign of her mental deterioration.
The best horror films are rooted in reality. The Power is historically-based, but it also highlights systematic oppression that continues to rage to this day across the so-called First World. In the early 70s, most electricity in Britain was produced by coal-burning power plants. The conservative government in charge claimed that the striking coal miners forced their hand into enacting the blackouts to conserve electricity. In actuality, essential services such as hospitals and supermarkets were exempt from the restrictions. But who's to say they wouldn't overlook an underfunded hospital in a poor part of town. 
Faith does an excellent job of setting up the dynamic between the staff before rolling out the supernatural element. But Val isn't just at odds with Matron. She also clashes with Babs (Emma Rigby), a colleague and former school mate who carried her bullying tendencies into adulthood, the judgmental newborn nurses, and a dangerously lecherous custodian. Only Saba (Shakira Rahman), an overlooked, ailing tween who speaks English as a second language, seems to care that Val became a nurse because she wanted to enact systematic change. Saba and Val wordlessly bond over their trauma and band together to make it through the night. 
The title is clearly working on multiple levels. The Power doesn't just refer to electricity. The union dispute that spurred the Three-Day Week is a power struggle between a conservative government and the working-class people of Britain. Within the confines of the hospital, there exist numerous power struggles and imbalances. Saba is beholden to the doctors for her medical care, but she is also discouraged from self-advocating because of her age, the language barrier, and the color of her skin. Within the nursing staff, there are myriad power dynamics at play. Val is the new girl, and she grew up in an orphanage. Everyone looks down on her for her background. Babs uses Val's tragic past as a way to discredit her with the other nurses. Matron is the head nurse, but she is also a woman of color and that, especially in 1974, implies a hard-won management position. The night janitor wields his masculine predatory behavior against Val. The nurses aren't allowed to speak to the doctors, even when spoken to first, which is what lands Val the penance of a night shift in the first place. Her crime is expressing an interest in connecting illness and poverty. The doctor she speaks to wrote a book on the subject, but his motivations may not be as philanthropic as they seem.
But it's not all social commentary. Faith is also studied in the slow-burn atmospheric horror genre. She knows how to dimly light a room. Simple effects and jump scares keep the tensions high. Val must navigate a particularly ominous and tall spiral stairwell several times. It seems inevitable that someone will eventually plunge down that long shaft. Saba has a predictably creepy sketch book that plays a pivotal role in the narrative. Williams milks her lead role with microscopic and understated paranoia and determination, before letting loose with the full-on possession crawl. There's a lot of range on display. 
A recurring theme in this film is about who is and isn't believed and how incredulity perpetuates abuse. Marginalized people will still be at odds with other marginalized people with the white men at the top, watching it all unfold like entertainment. As one nurse plainly puts it, "You'll find speaking your mind is not popular around here." If you want to get on, you have to keep your mouth shut and fall in line. Here's hoping films like The Power will shed some enough light on the corruption that it can no longer hide in the shadows. 
– Jessica Baxter (@tehBaxter)