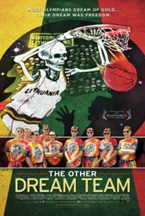 (The Other Dream Team is now available on DVD
and at Amazon Instant through Lionsgate. It world premiered at the 2012 Sundance Film Festival and was first released theatrically on September 28, 2012. It opens in Austin, Texas, at the Violet Crown Cinema on November 9th. Visit the film's official website to learn more.)
From reading the description, it might seem like one needs to be a diehard basketball fan to appreciate Marius Markevicius's The Other Dream Team, when that isn't, in fact, the case. The cultural and historical component of this film is actually the real reason to check it out. Watching a bunch of Lithuanian dudes wearing Grateful Dead-sponsored tie-dyed uniforms while displaying exceptional bball skills only adds spice to an already hearty soup.
At the 1988 Olympics, the world was quite dismayed when the USSR defeated the USA in men's basketball. This American "humiliation" was one of the driving forces behind the 1989 rule change that allowed professional athletes to compete in Olympics basketball. The dramatic shift from amateur to professional athletes brought to life the original "Dream Team" of '92 and every subsequent so-awesome-they're-utterly-boring version. But it also gave birth to another, far more special "Dream Team."
Though the USSR flag was the one that was raised in the '88 games, the more complicated reality was that four of Russia's starters weren't Russian at all. They were Lithuanian. The clear leaders of this team were the small-but-ferociously-strong guard Sarunas Marciulionis and the 7-foot-plus-but-incredibly-soft-handed Arvydas Sabonis. Since 1940, Lithuania was occupied by Russia, and here these young men were, trapped in a position to win a gold medal for their oppressor? Markevicius includes heartfelt present-day interviews with these now much older men, yet they still can't seem to find the appropriate words to express their inner turmoil at the time.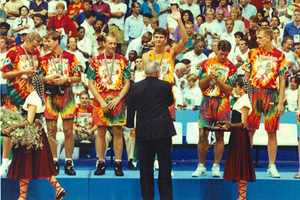 Fortunately for them, the falling of the Berlin Wall and the Tienenman Square protests—themselves inspired by Russia's own perestroika movement of the 1980s—in turn inspired Lithuania to declare their independence of the Soviet Union on March 11, 1990. Initially, Mikhail Gorbachev threatened to invade, but the Soviet Union backed off, leaving Lithuania to resume its status, 50 years later, as a nation unto itself.
This historic development is what led to the "Other Dream Team" of the '92 Olympic games, a Lithuanian squad that never had a chance at toppling America's mighty giants—they were, in fact, destroyed by the USA in the semifinal round—but that didn't matter. Perhaps most importantly, this defeat granted them the opportunity to play Russia for the bronze medal and exact revenge for five decades of occupation and oppression.
The Other Dream Team firmly rebukes the age-old adage that "it's only just a game." In this particular case, the rebirth of the Lithuanian men's basketball team and their swift rise to worldwide prominence in 1992 is a powerful reminder that in cases such as these, a victory on the court means so much more than a mere check in the win column.
— Michael Tully